A spectacular Qinling Golden Snub-nosed Monkey, seen during my three field days in the region!
Sichuan & Shaanxi Nature & Wildlife!
Be sure to check out our Pbase China galleries for more spectacular images of Sichuan & Shaanxi
Qinling Golden Snub-nosed Monkeys of Foping
Other Mammals & Critters of Sichuan
***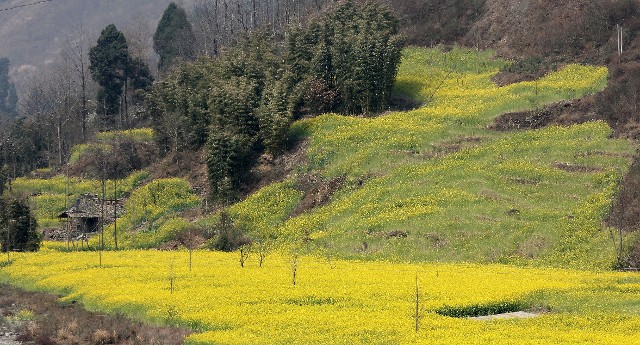 Sichuan in spring..
Once again in Sichuan! Now this time I am going to try for some of the province's most charismatic species – the Takin, Chinese Serow and Goral and even some Golden Snub-nosed Monkeys. Who knows, maybe I will be lucky and see one, most or heaven forbid, all of them? Oh well, in any event, it's just great to be here breathing the fresh air and taking in all of the spectacular scenery, especially considering how bleak and horrendously smoggy Shanghai has been this winter. I am glad to be in Sichuan! With the help and professionalism of Jia Min of Birds China, operating out of Chengdu, I was able to put together this very successful and productive wildlife expedition to Sichuan. I can highly recommend Jia Min - she knows the region, the species and what wildlife enthusiasts are looking for! Here is her email and webpage.
***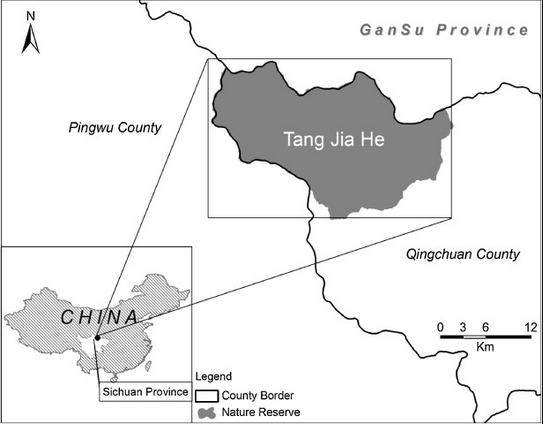 Location of Tangjiahe, Sichuan. (Linked from Sciencedirect.com)
***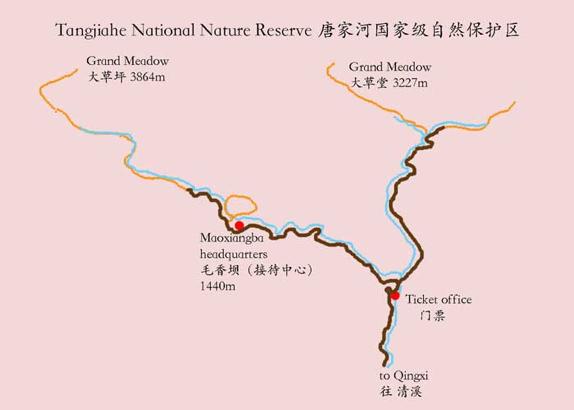 General map of Tangjiahe. From the ticket office we spent our time exploring the main tracks of the reserve with great luck!
***
Foping National Nature Reserve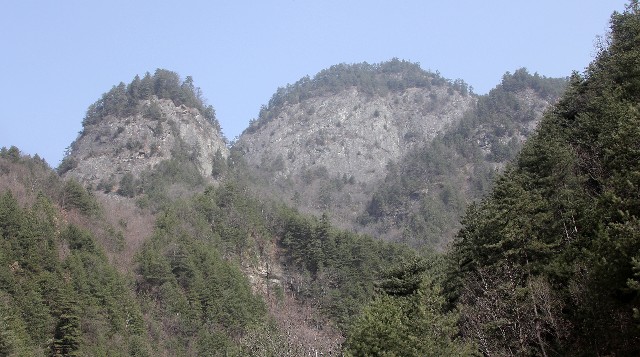 Foping National Nature Reserve. Although the core area appears to be permanently closed to the public, it was still nice to trek the reserve's other areas in search of Golden Snub-nosed Monkeys and Golden Takins.
***
Well, I've been on the road for three days actually and didn't really start in Sichuan. The first couple of days were spent back in my old haunts in Foping National Park in Shaanxi Province, to the north. I knew some good photo-ops for the Golden Snub-nosed Monkeys were virtually guaranteed there, so I opted to hit that part of the heart of China first. I was not disappointed – the monkeys were there and in very good numbers and in stunning light! Great photo-ops for sure! While this group was fed and therefore a sighting was pretty much guaranteed, the surrounding region was good for spotting monkeys anyway – we did come across others while approaching and leaving the newly made "Monkey Valley".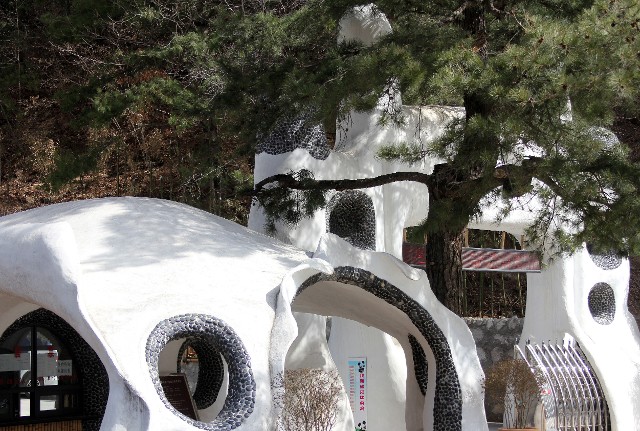 The entrance to Foping's new "Monkey Valley". Two years ago, this was not here at all!
***
Qinling Golden Snub-nosed Monkeys
(Rhinopethicus roxellana qinglingensis)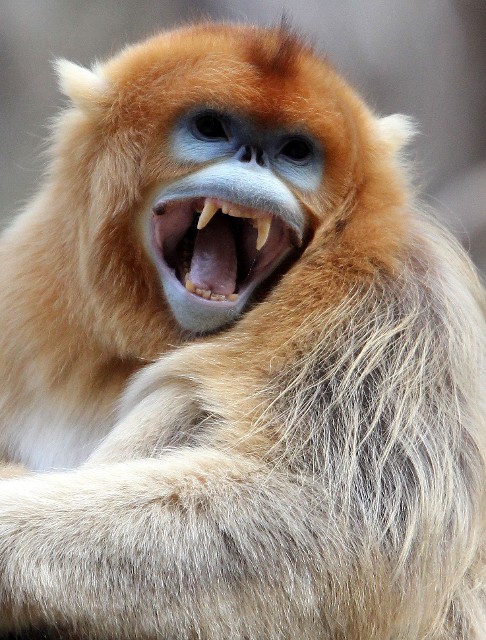 We missed this spectacular primate the last time we were in the area. It was great to see them in such great numbers and amazing light this spring though.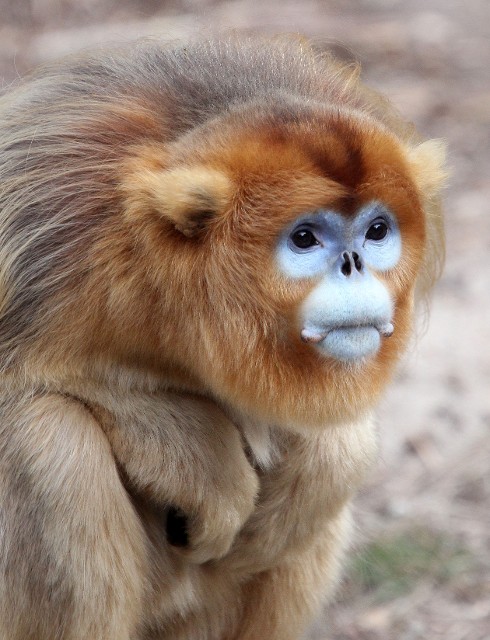 A curious Golden Snub-nosed Monkey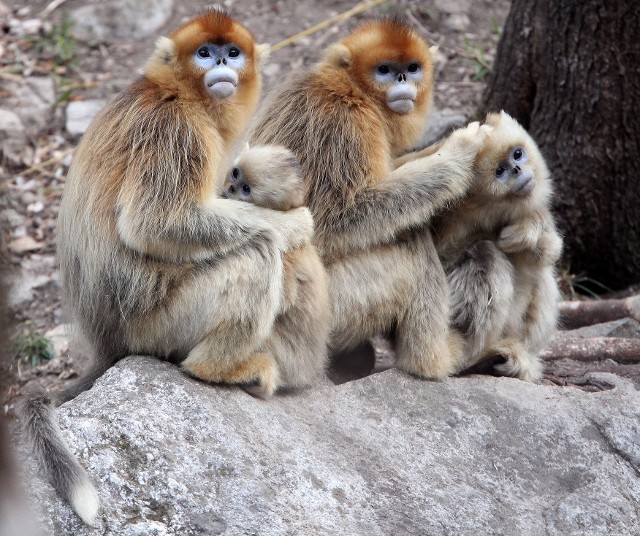 A couple mothers and their kids....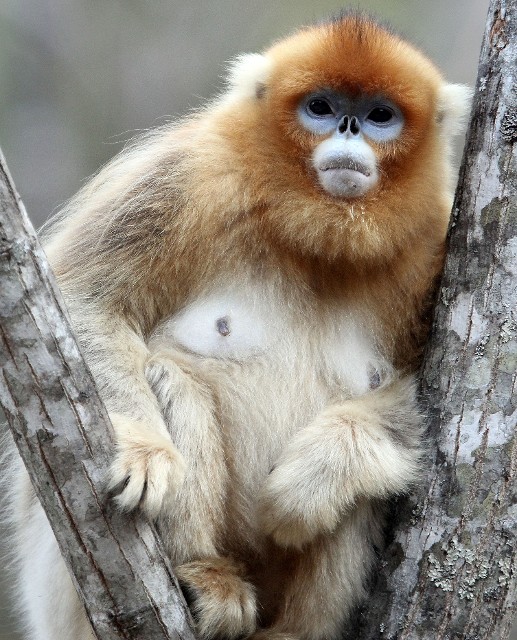 My favorite primate species of all!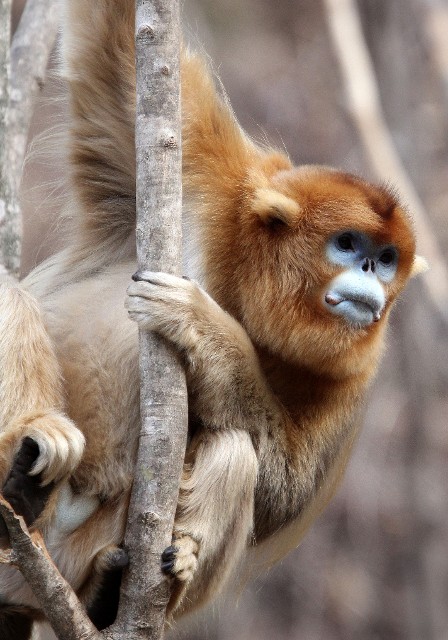 The feeding zone is switched monthly.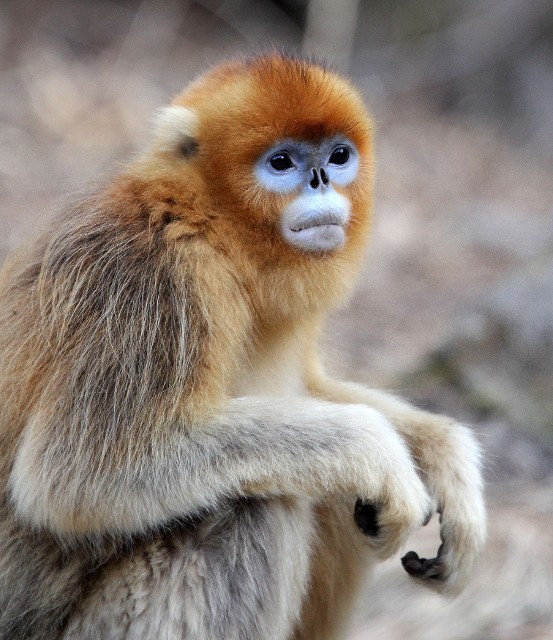 Golden Snub-nosed Monkey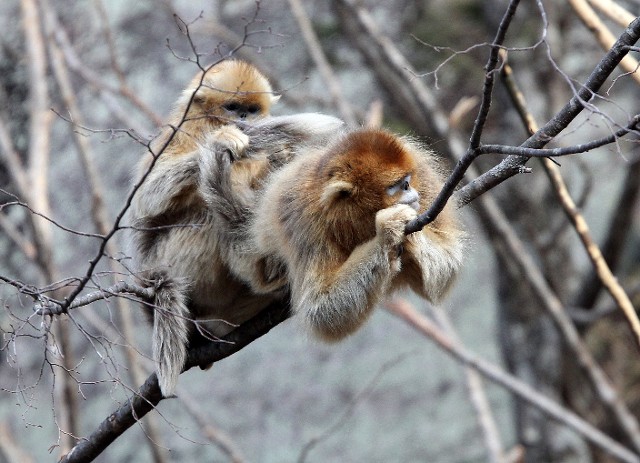 I was able to spend a few hours observing this troop and watching their behavior, which basically amounted to squabbling over who knows what and some relaxing grooming...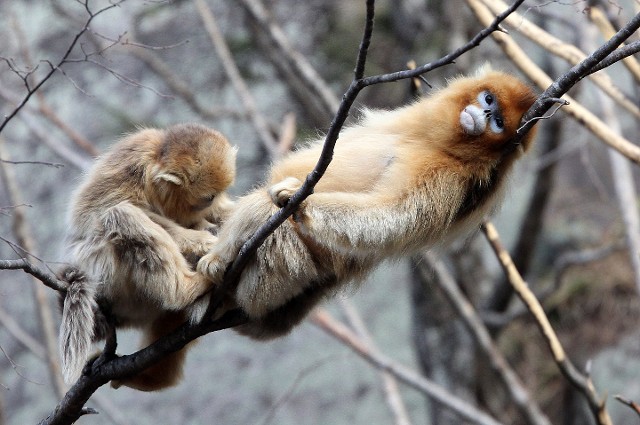 Relaxing...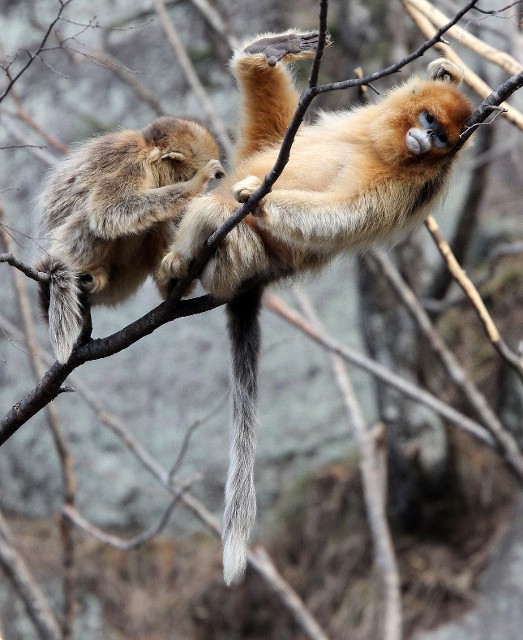 A little to the left...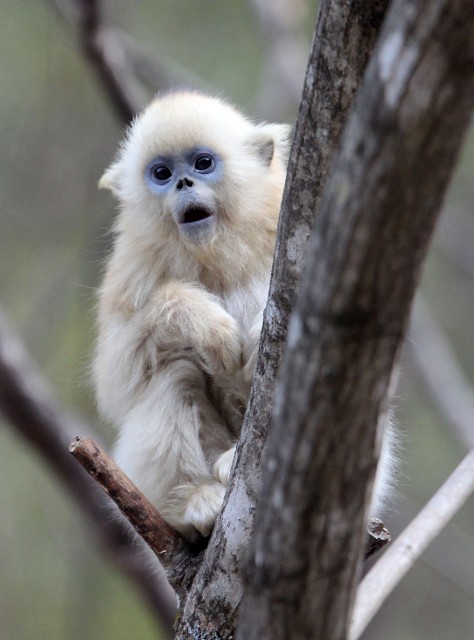 There were many young ones in the troop this season.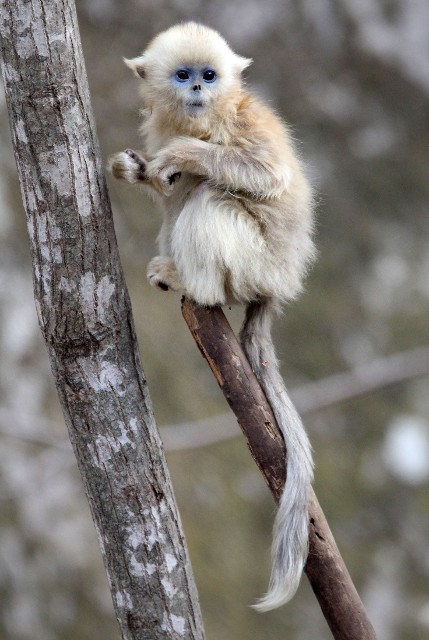 Absolutely spectacular!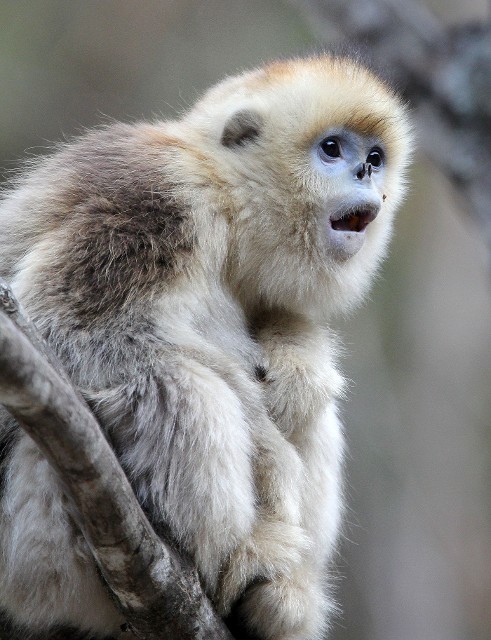 Sub-adult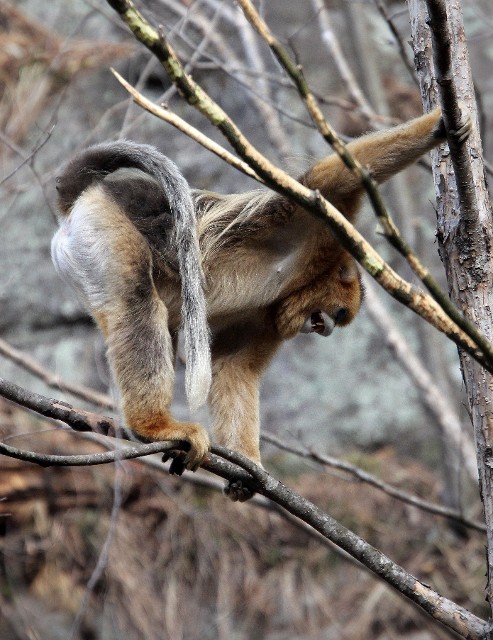 There are three accepted subspecies of Golden Snub-nosed Monkeys. The Qinling species is known to be the lightest in coloration and is found at the northern extension of the species' range.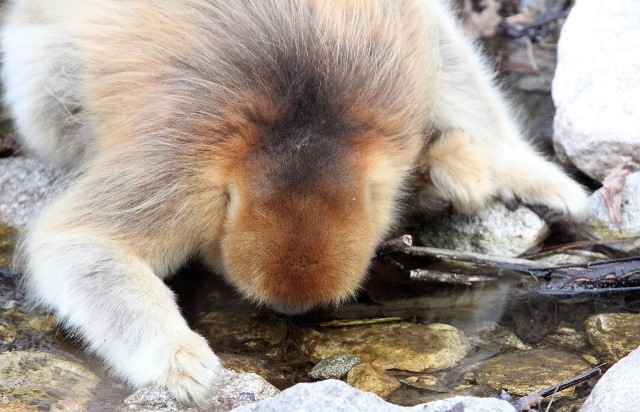 A bit thirsty...
I did trek the road beyond the monkey feeding zone for a couple kilometers and came across scat from at least three different carnivore species. I am thinking that Yellow-throated Martens, Leopard Cats and perhaps Dhole are common in the area based on the sign I saw on the road in Monkey Valley.
Interestingly, the place to see the monkeys is located just down the road from where we launched our great Giant Panda expedition a couple years earlier. In fact, I had many moments of de ja vous this day– the same road and spotting the same Ibisbill in the same curve of the Foping River just east of Foping City, which ironically was totally unrecognizable with the amazing amount of "progress" which had taken place since our last visit.
But the real kicker was when we pulled up to ask directions (to a supposed Takin sighting of all things…) at the exact house I spent time in with one of our guides two years earlier! I only wish he had remembered me….He said he "remembered a little bit…" I am sure if Cokie and Som were with me he'd remember alright… They're so much cuter than I am…. In any event, it was really great to see him and his grandpa. They were gracious enough to prepare lunch for our hungry crew.
Old Friends....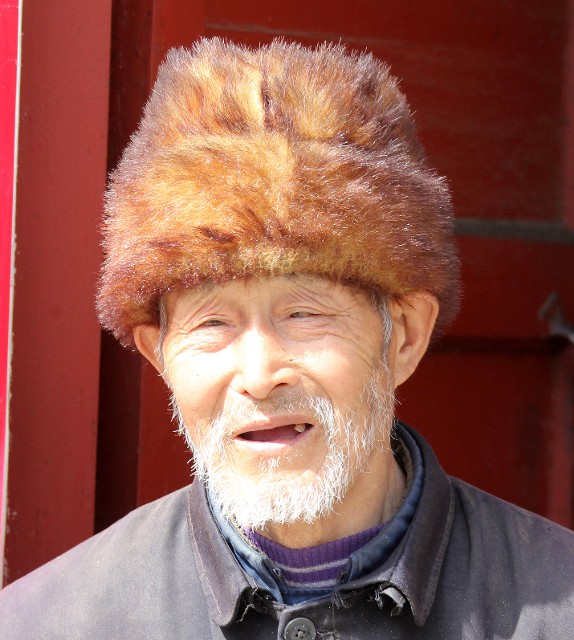 Our host - the same gentleman who we visited two years earlier after our Panda Trek (Link here to trip report)!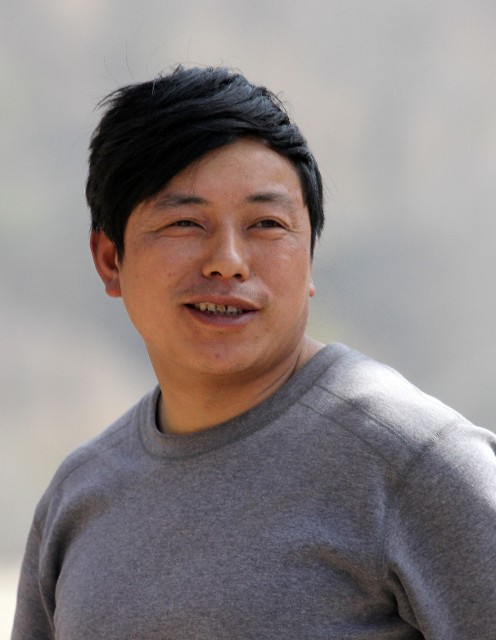 One of our main trackers for our great Panda Expedition of 2011! Great to see him again...But I am not really convinced he remembered me...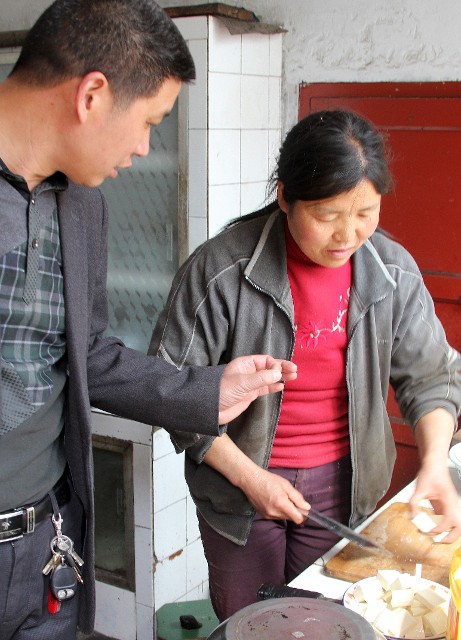 My driver giving cooking advice to our host. I am not sure how much she appreciated the advice.... But one of the things that endears me to China is how you can arrive unannounced to a home you've never visited, and the next thing you know, they're cooking a three-course meal for you....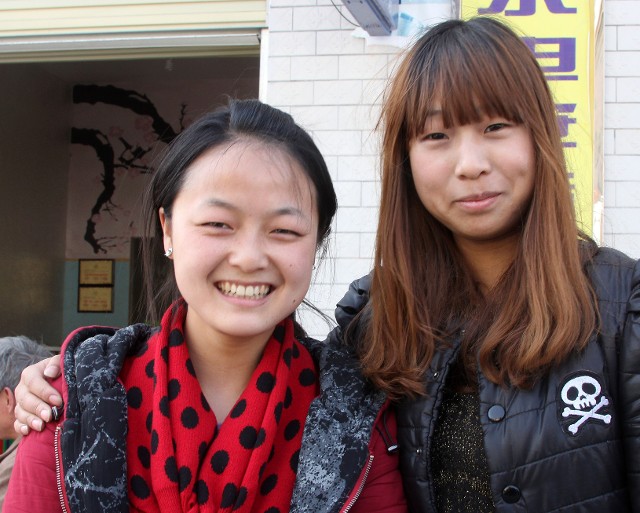 My local guides! Jenny and Ms. He.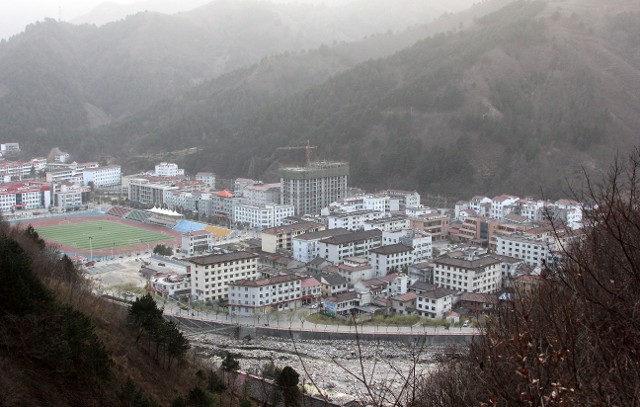 Foping City - I could hardly recognize the place!
After some great time searching for Takins (not to be found…again) and other critters, we got on our long haul to Sichuan. But first we had to search the high-altitude road that leads to the top of Foping Reserve, in hopes of spotting a Takin. We did make it past the spot where we got nearly hopelessly stuck in the snow and nearly slid off the ravine a couple years ago…. But as we made it to the check-point we found Foping to be predictably closed. I mean it was closed tight! And the check point, including its museum and park were decomposing right before our very eyes. The place has been completely unplugged from the budget it would appear. I can only imagine was happening to the infrastructure of Foping Reserve's core area, now that the tourist dollars are seemingly permanently cut off. A more short-sighted and arbitrary action would be hard to imagine. So many incomes cut to zero and so many missed conservation opportunities…
Ibisbill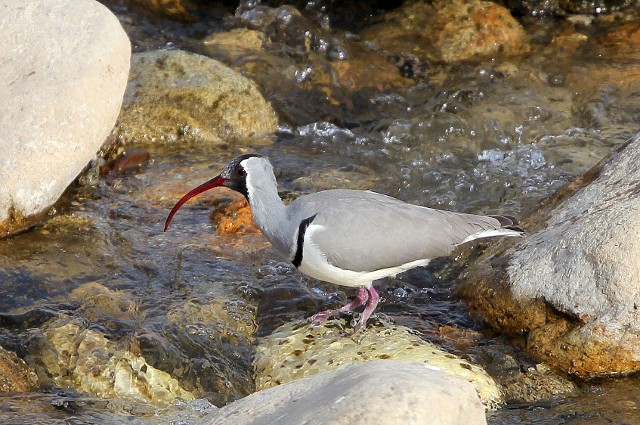 Just east of Foping City, I stopped at the exact same spot we visited a couple years earlier to see if I could find my old friend, the Ibisbill....There he was!

They can be a bit challenging to find in the rocks and coble of the large rivers of the region....But if you look hard enough...
After a couple hours after leaving the Foping region, we called it a day in Nanzheng city which was perhaps one of the most depressing and smoggy places I had ever been in. My eyes and throat were stinging with the acrid smoke filling the region. I suppose it was a nice in-between location for a night but after viewing for the better part of the day what China calls "air", I was really starting to become depressed and pessimistic about our future on this planet. At least the Qinling Mountains were nice as usual. And after just a few more hours of the crap air, we eventually entered Sichuan, with its mountains, rape-flower fields in full bloom. The air started to clear and the mountains were amazing.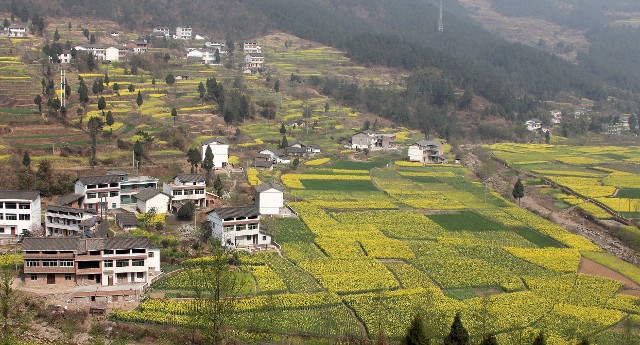 The spring views were amazing as we drove through the countryside of Sichuan.
Donghehou Village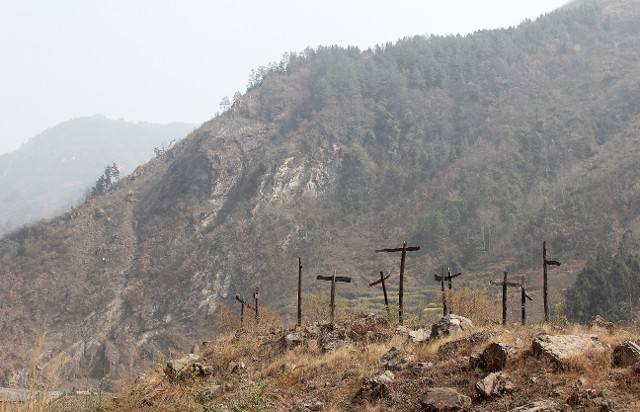 Underneath this pile of mountain is the entire village of Donghehou, which was destroyed during the infamous Sichuan earthquake of 2008.
***
Today was mostly a driving day but there was a bit of sight-seeing to be done. Upon entering the Longmen Mountains, I began to see signs of the famous Donghehou Village, the sight of one of most destructive earthquakes in China's history. On May 12, 2008, the entire village of Donghekou was buried with over half its population under 100+ meters of debris from an adjacent mountain. I took time to trek the small memorial park sitting atop the debris mound (that is now basically the tomb for all of the villagers). The feeling was powerful and very surreal. Looking at the peaceful spring valley, filled with sweet smells and vivid colors of the blooming fields, it was hard for me to imagine the carnage that happened here just five short years earlier.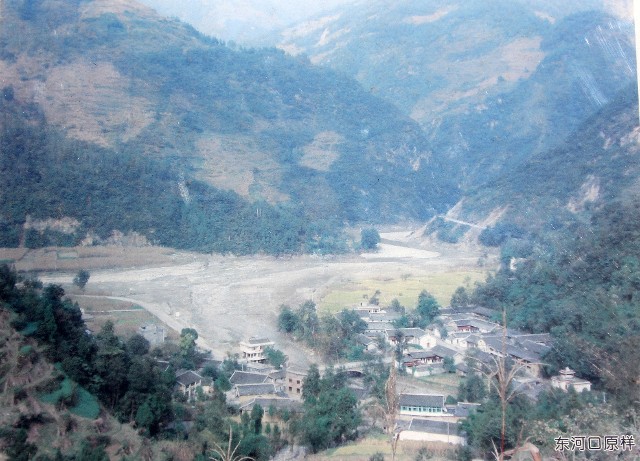 An image of the village before 2008. This was a very powerful place.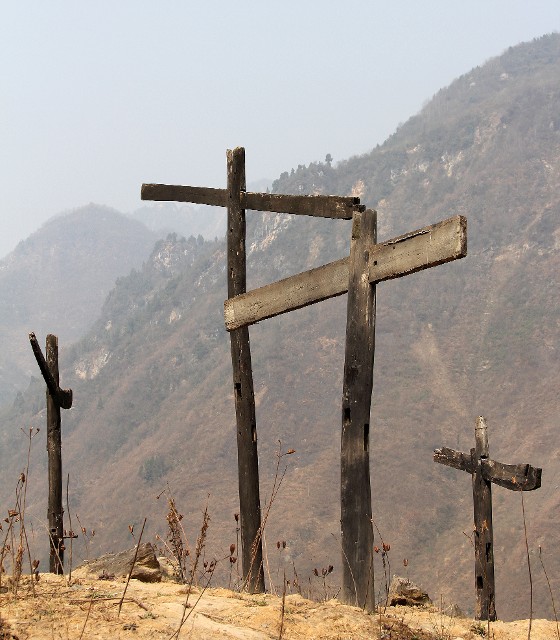 Donghehou
Tangjiahe National Nature Reserve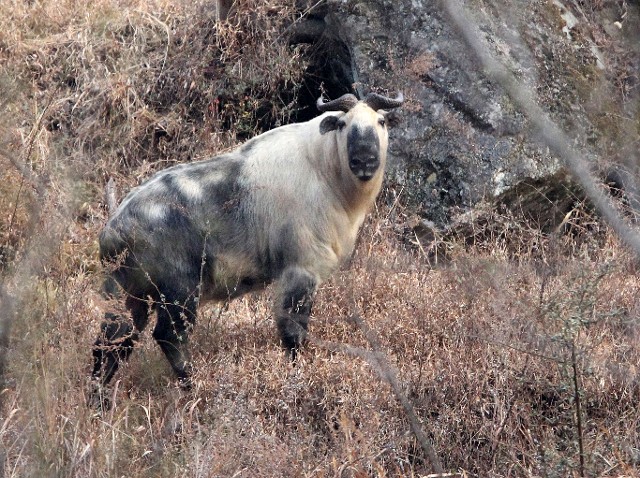 Ever since reading Jon Hall's Sichuan trip report (see it here!), I've wanted to go to Tangjiahe myself to see the Sichuan Takin...
***
Now I am in Shangli Ancient Citywaiting for tomorrow to come. We have the entire day slated to be filled with hopeful wildlife spotting in Tangjiahe National Nature Reserve. I am not sure what to expect, especially after checking in at the visitor's center and seeing the massive facility filled with turnstyles and long line barriers anticipating hoards of tourists…and tomorrow is the weekend!!!! Oh lordy…
***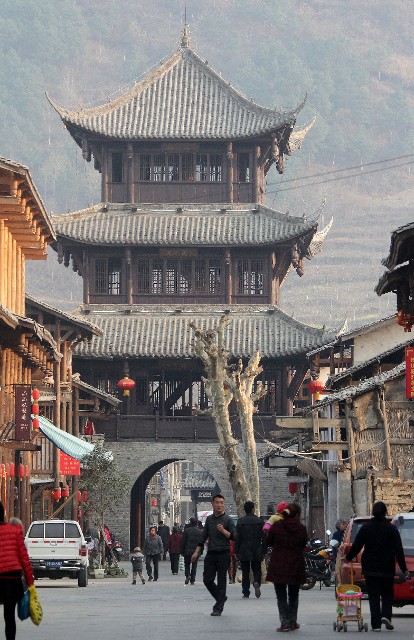 Shangli Ancient Town - home base while at Tangjiahe. Take the term "ancient town" loosely...In China that often means, "brand-new-town-made-to-look-old-town".
***
Well, we just finished the night drive with only two species spotted and unfortunately they were the same species (and maybe even some of the same individuals) we saw during the day. But the good news is we nailed SEVEN new species for the trip! And six of them were lifers! Well at least they were lifer subspecies!
I had no idea that Tangjiahe was such an amazing place. Aside from the outstanding scenery and landscapes, the biodiversity is astounding and in your face. This morning's game drive (yes that's right – game drive – the fauna is most easily spotted by driving the two main roads of the park!) started promptly at seven AM and it didn't take long at all for us to spot a massive bull Takin right in the road ahead of us! He was just as surprised as we were, and after a few minutes of starring at each other, he bolted over the guard rail and plunged down a very steep embankment and across a rocky river and directly up the hill across from us. The whole even took less than a minute for sure, but it was very cool to watch. This bull was soon joined by at least two others. We observed them graze the steep hillside next to us for about 30 minutes before deciding to move on only to spot at least two to three more! Tangjiahe is Takin-ville without a doubt!
***
SichuanTakin (Budorcas taxicolor tibetana)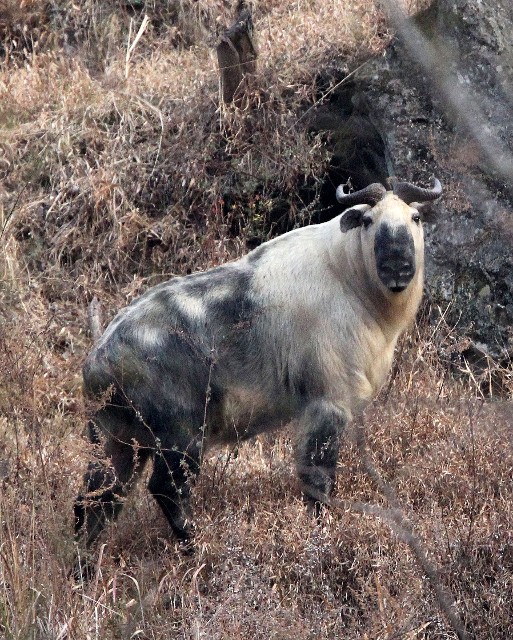 The variety of coloration for the Sichuan Takin is high. Some were nearly golden like the Qinling subspecies and others were nearly black.
Click Here for a look at the Golden Takin of the Qinlings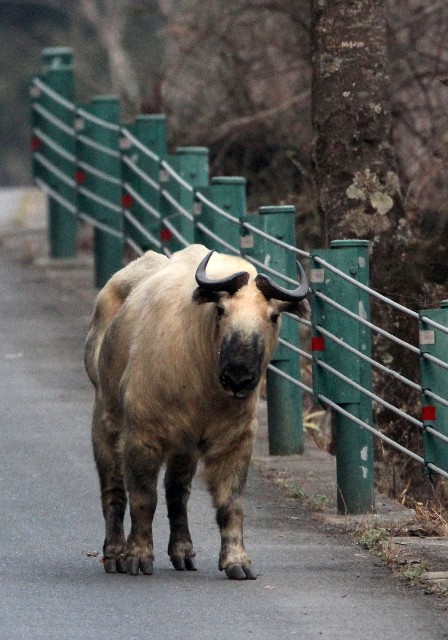 Just after we arrived around 7:30AM, we came across our very first species for the trip - a massive bull Sichuan Takin! He was a bit trapped on the main road and was pretty nervous...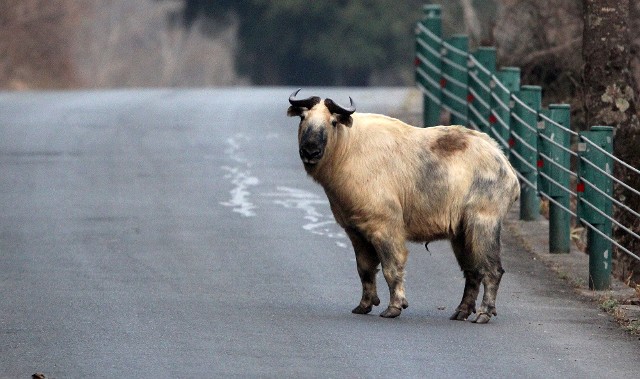 "Hmmm....What do I do?"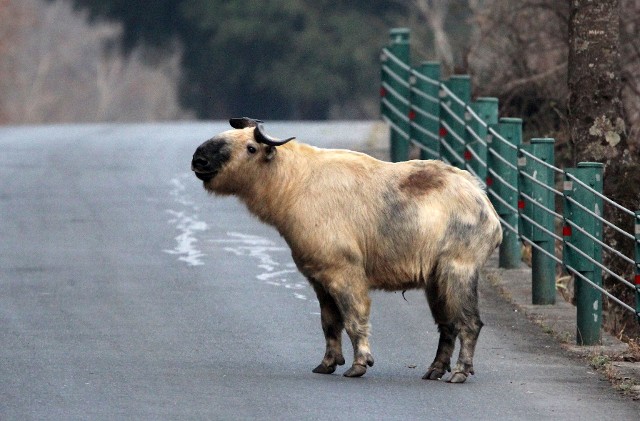 Making a decision...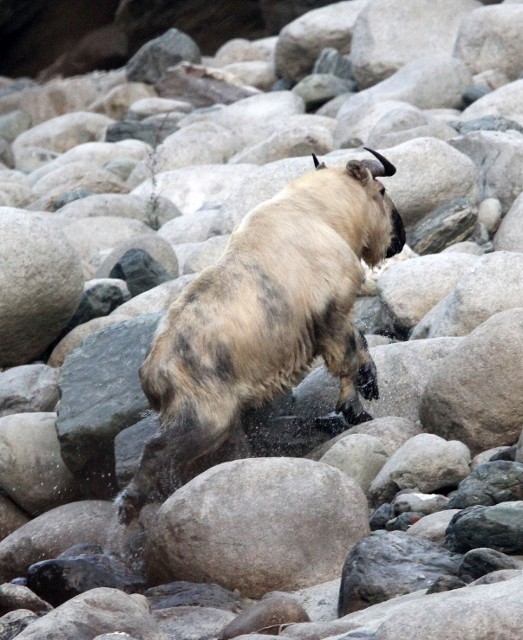 Then, "bam!" Over the fence and then down and across the river! I could not believe how fast these massive animals could move...It caught me by surprise so I missed some of the better photo-ops...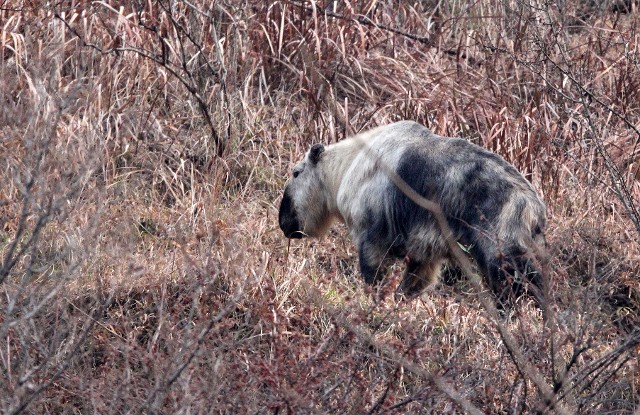 Interestingly we came across this hornless Takin, a species were both sexes has horns....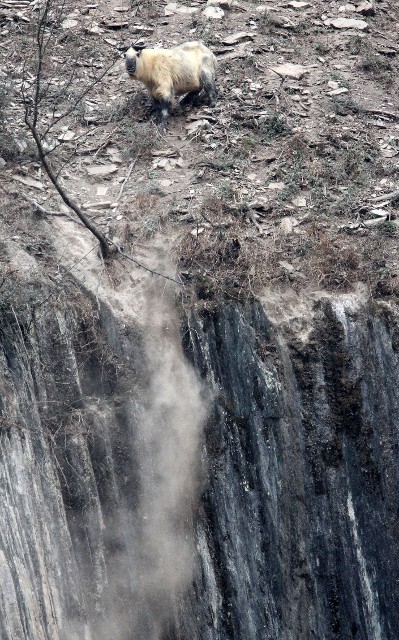 A massive bull Takin across the canyon causing a mini-avalanche...
At the same time we were watching the Takin, Mr. Hu, my very adept guide, spotted a small orange thing in the brush across the way that ended up being a Reeve's Muntjac. Based on the enthusiasm Mr. Hu displayed in trying to snap its picture, I gather that the species is rare or at least rarely photographed. But the end of our first day however, we did end up with well over 10 of these little devils!
***
Reeve's Muntjac (Muntiacus reevesi)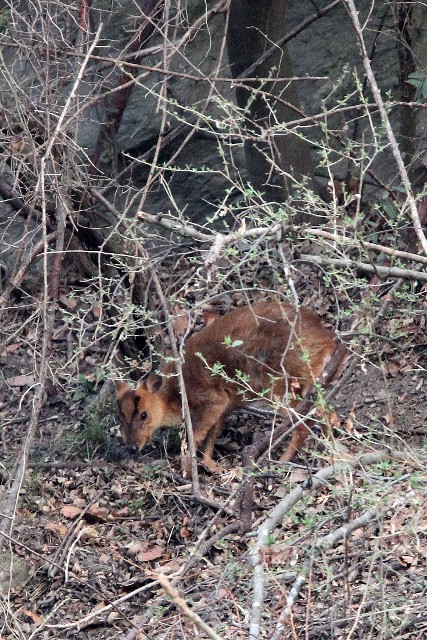 We came across well over ten of these little Reeve's Muntjacs but most were well camouflaged and difficult to get great images of...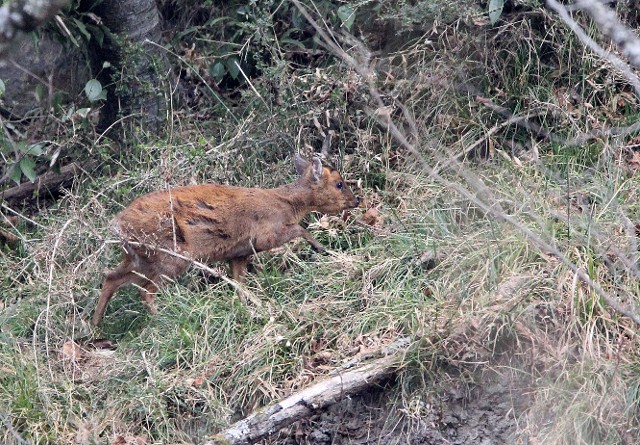 Reeve's Muntjac
Along the road that extends to the west part of the park, we stopped at what looked like a future visitor's center or souvineer stand. Almost every dwelling in Tangjiahe is brand spanking new. I was amazed with how much money had been sunk in to the infrastructure of this rarely visited park. Well, at least I think it is rarely visited – here it is Saturday and I am pretty much the ONLY soul in the park who doesn't work here! Good for me but I suppose bad for the investors…. There is a brand new 4-star hotel in the core area (yah you heard me right – CORE AREA!) and there were now guests. And based on the amount of dust on everything, I am thinking that this is the norm. I guess this is a classic example of "build it and they will come…"
***
Take a look at the official Tangjiahe website for details
***
Well at the souvineer stand, Mr. Hu asked something to a man sitting on the porch who pointed up to the top of the hill. And sure enough there was a Tufted Deer grazing away about 500 feetabove us! We watched this spectacular little cervid for some time, hoping that it would eventually turn and face us for a good shot…and it did….But luckily we ended up finding two others throughout the day to improve our image collection…So we were now up to three species. Oh wait a minute! I almost forgot the little Pere David's Rock Squirrel that bolted directly in front of us while we trekked the main track for a few kilometers. Four species! Well, five if you count the very old and weak Wild Boar we spotted on the way back down the western road. Poor little devil could not even climb up the slight incline of the hill across from us. But he was a very skilled swimmer! Didn't even know pigs could swim!
Tufted Deer (Elaphodus cephalophus ichangensis)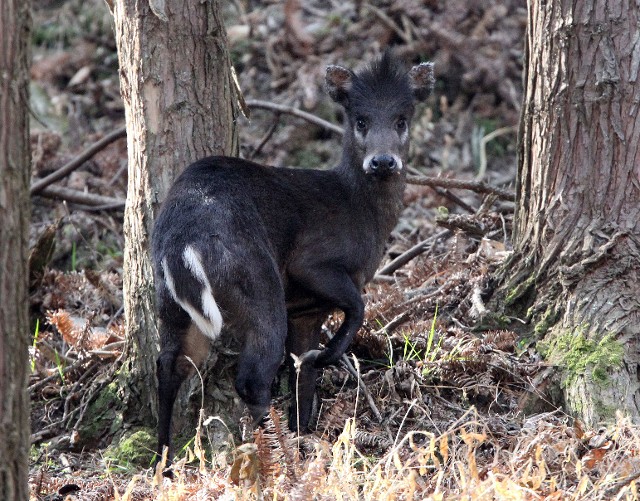 One of the many Tufted Deer seen at Tangjiahe this weekend. What a great animal!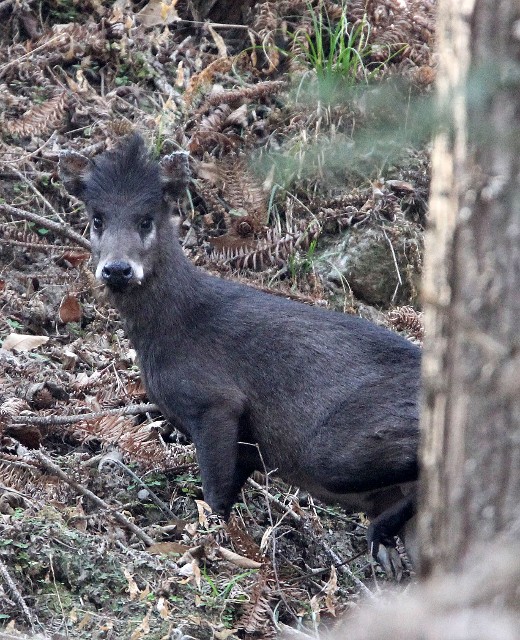 Tufted Deer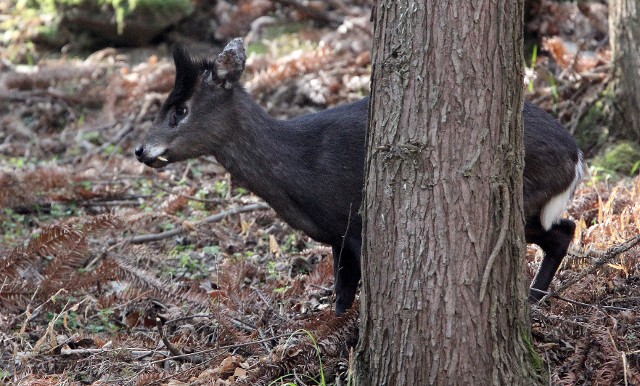 Fanged Tufted Deer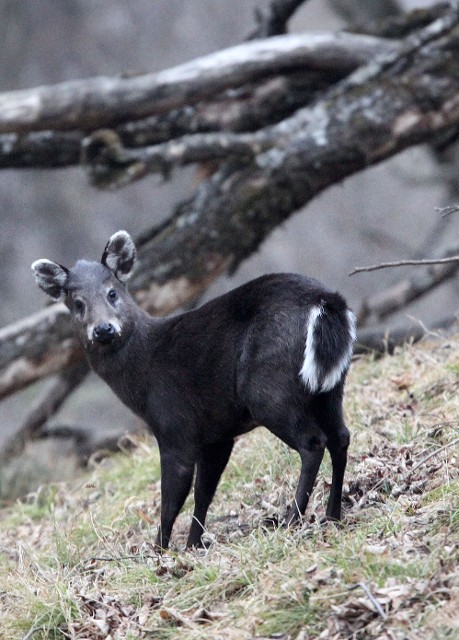 This one was spotted after trekking to about 3600 meters showing they have quite an elevational range.
***
***
Wild Boar (Sus scrofa cristatus)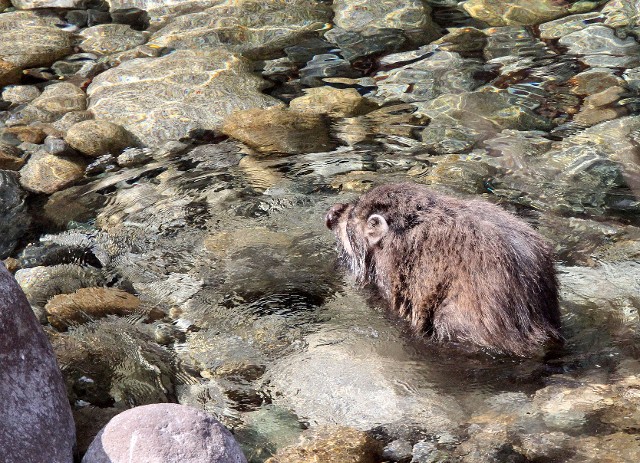 I think this was the first time I had ever seen a swimming wild boar!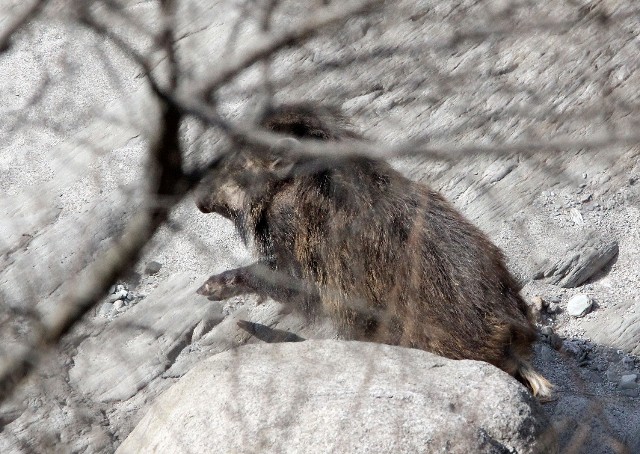 Sichuan Wild Boar (Sus scrofa cristatus)
A very successful morning to say the least. We spent only three hours to nail five species. Not it was time to rest, so back to Ginkgo Plain where Mr. Hu lived for a couple hours of lunch and rest. There could be far worse places to kill a couple hours – Ginkgo Plain is a spectacular spot where two rivers converge and there is an ancient stand of Ginkgo biloba, well over 1000 years old! In fact these trees are purported to be Sichuan's oldest. I sat and bird watched for a spell taking in the smells of fresh air and the sights of an amazing Sichuan spring day. Wow.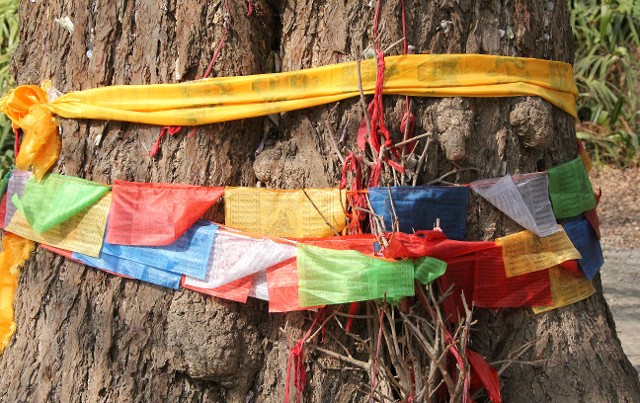 The thousand-year-old Ginkgo biloba at Ginkgo Plains.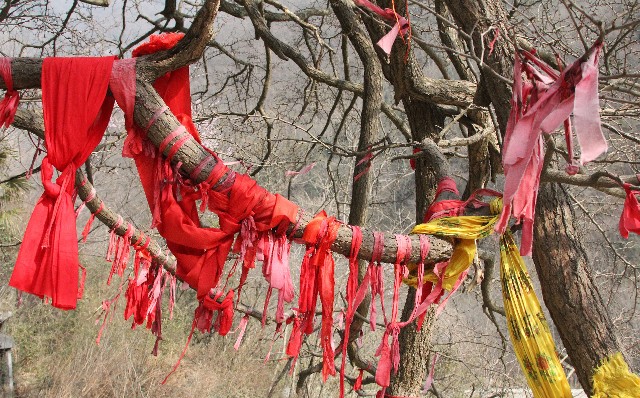 This area was filled with many cultures - Tibetan included.
So four o'clockeventually came and we were off on a Chinese Goral and Serow search. We soon found ourselves next to some of the most perfect Goral karst anywhere on earth. These cliffs were outstanding in their prominence and vegetation – perfect for Goral. Alas, none were there this afternoon…Maybe tomorrow. It was spectacular scenery nonetheless…
We continued for a bit and then all of the sudden, I spotted a Chinese Goral drinking in the river below! I was worried he would see us and bolt but when I noticed he had a bum eye, I knew we were safe to approach. So we got some decent images of the old bugger and had a few minutes with one of the most rarely spotted ungulates in Asia. Sweet! And then a few meters later, we nailed our 7thspecies for Tangjiahe – a nice loan male Tibetan Macaque, feeding on the bamboo. Absolutely spectacular day.
Chinese Goral (Naemorrhedus griseus)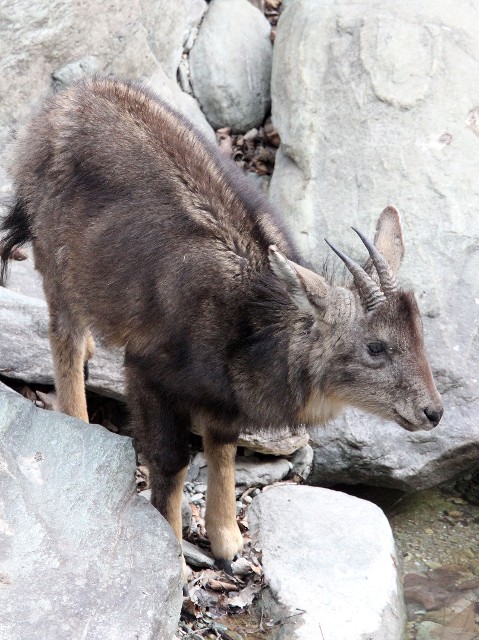 Our first Chinese Goral (Naemorrhedus griseus)! We were successful in sneaking up on this one while he was enjoying a drink from a local stream.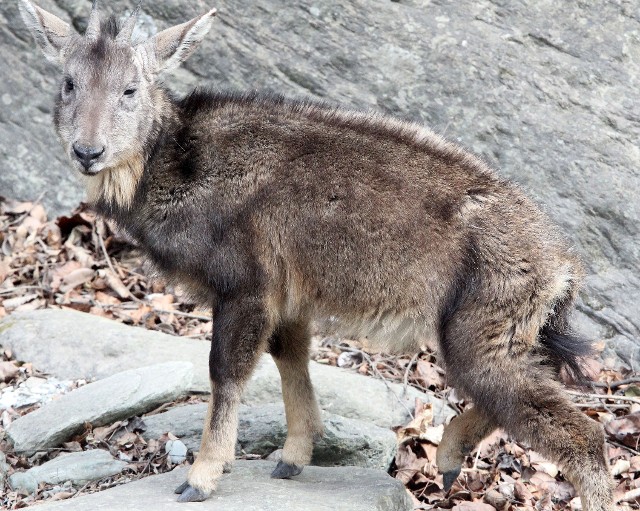 Chinese Goral (Naemorrhedus griseus)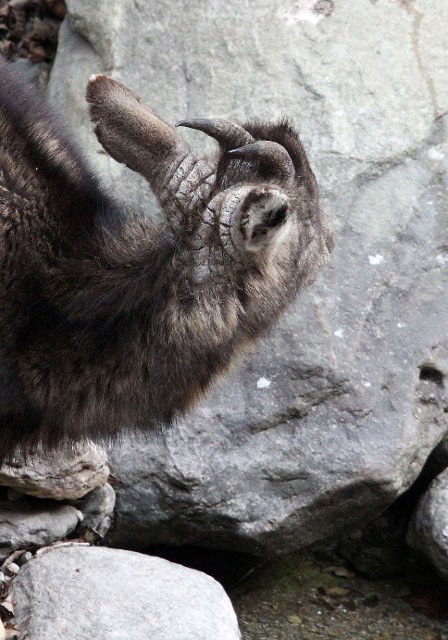 The Chinese Goral at Tangjiahe seem to be suffering from a viral infection of some sort. Note the very rough skin behind the ear. I saw images from my guide, Mr. Hu, that showed goral that were completely overcome with this fleshy ick!
Tibetan Macaque (Macaca thibetana thibetana)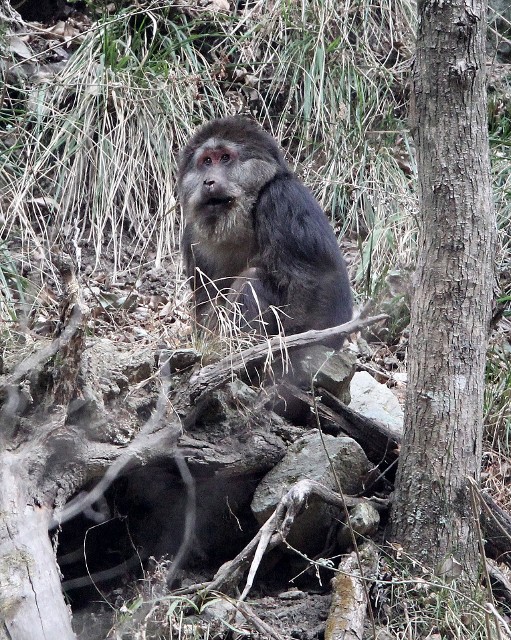 Our lone Tibetan Macaque, spotted just a few meters away from our first Chinese Goral. Compared to the Huangshan Tibetan Macaques, they are very dark. (See Anhui report here)
What a difference a day can make. While yesterday will go down in the annals of one of the better wildlife days spent here in China, today (day #2 in Tangjiahe) was relatively quiet. The weather had changed dramatically and we were now back in a winter regime, and I remember how that impacted the viewings in Foping a couple years earlier. At least our first day in Tangjiahe was spring-like and warm – filled with activity!
We started the day by being skunked yet again at the goral karst cliff face on the north road of the reserve. Well we did see a nice bull Takin still grazing the cliff edges. And oh ya, Mr. Hu spotted a young, perhaps early teens…, Takin working its way of the scree of the apposing slope. It was nice to finally see a young one. My guess is that the birthing season was still a bit off, which explained why we saw no very tiny ones at all.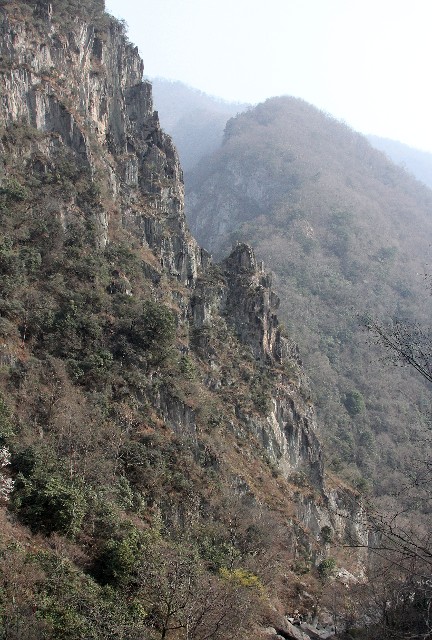 "Goral Escarpment" At least this is what I named it while at Tangjiahe. My guide Mr. Hu regularly spots Chinese Goral on these impressive rock-faces, just not today.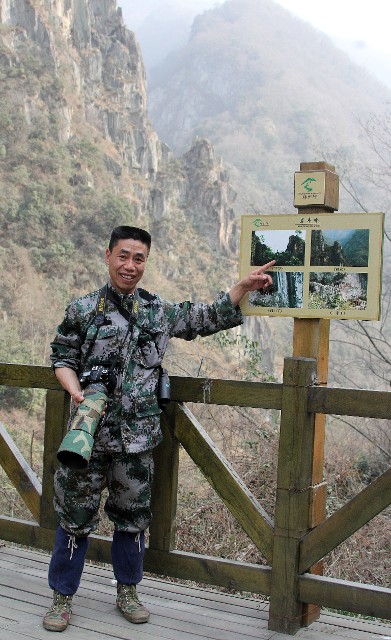 Mr. Hu is a very accomplished professional photographer. I was very fortunate to have him as my guide while at Tangjiahe. His images were literally everywhere, from the signage at the view points to the books on the natural history of Tangjiahe and all over the net.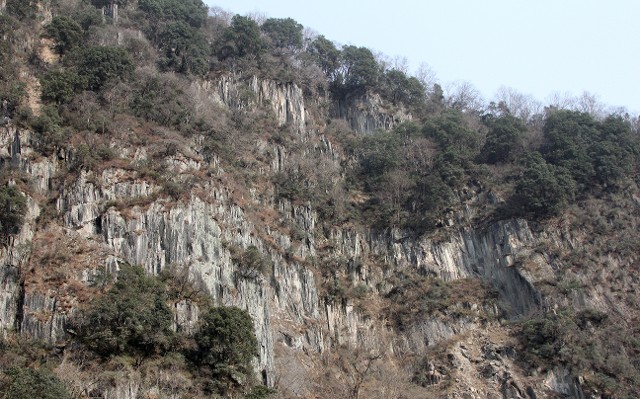 Goral Escarpment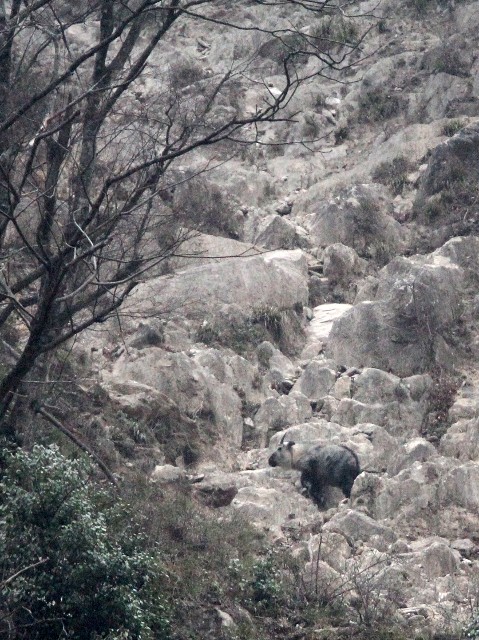 Our only young Takin for the trip was spotted on a rocky slopes facing Goral Escapment.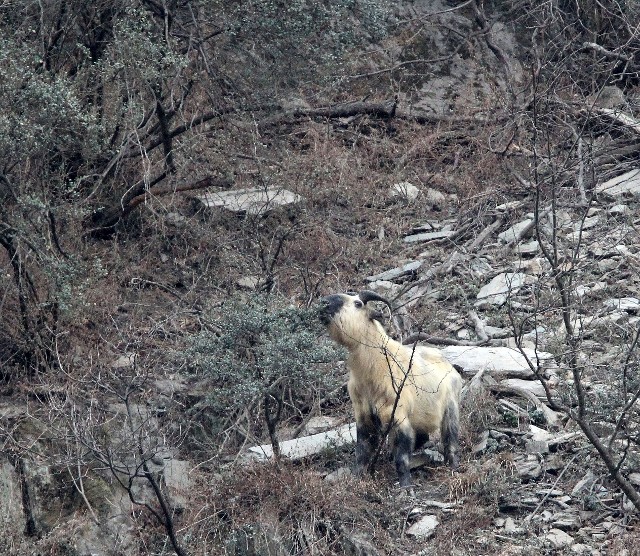 Although we did not spot any Chinese Goral on the escarpment, we did see yet another spectacular Sichuan Takin. This one was pretty close in appearance to the Qinling subspecies - more golden than mottled.
As we proceeded north on the Yinping (?) Ancient Trail Road, we did spot one more Chinese Goral. I say one more because the one we say the day before was actually a goral and NOT a serow as I thought. The common name system for these animals is a bit confused evidently. The Japanese Serow (see picture here taken last year in Jigokudani) is called a "serow" but evidently is actually a goral. And when I spotted the Chinese Goral here in Tangjiahe, and noticed it was virtually indistinguishable from the Japanese Serow, I of course assumed that I was looking at the Chinese Serow. Now I had seen a true serow (Sumatran Serow) before down in Khao Sam Roi Yod NP in Thailand (see picture here) and definitely saw a distinct difference here but never really gave it much thought….Until I did a bit more research…..It's a Chinese Goral!
I wanted to catch a glimpse of the Sichuansubspecies of the Golden Snub-nosed Monkeys so I suggested to Mr. Hu that we try the trail that had their picture at the trailhead. He gave me a slightly strange look and agreed. Then when we were getting ready to take the trek to attempt a sighting, I noticed he was preparing his gear for a major trek. I asked in my very poor Chinese, combined with some kanji writing in the dust covering the van window, and I finally learned that I was committing myself to a FIVE hour hike over several mountains and up to the top of one of the taller mountains in this section of the reserve!
So I said, "screw it!", and we headed up a very steep trail for over an hour or so. I was pretty winded but it felt great to work a bit on what had up to this point been a pretty lazy wildlife expedition. The forests were spectacular. The transitions from the riparian habitat below populated by Gingko biloba and Prunus species gave way to a mixed conifer forests with stands of Armand's Pine (Pinus amrandii), Yunnan Yew (Taxus yunnanensis) and George's Fir (Abies georgei). The giant Rhododendrons at this elevation had yet to bloom as was just beginning at the lower regions. It was sublime both in its stunning beauty and its biodiversity. Listening to the iced-over waterfalls from across massive canyons break away with thunderous destruction was awesome.
The Plant Communities of Tangjiahe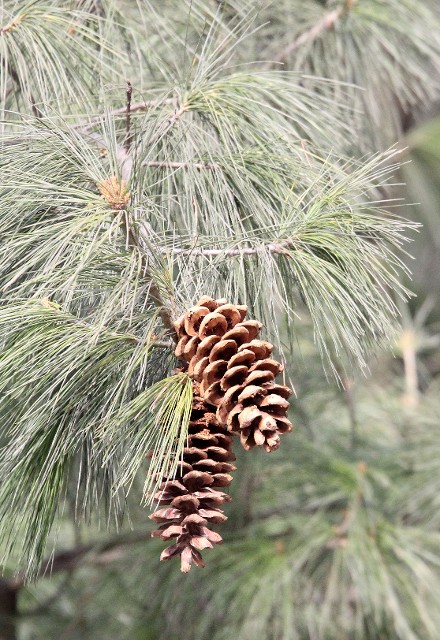 Armand's Pine (Pinus amrandii) was the dominant conifer in the forests of Tangjiahe.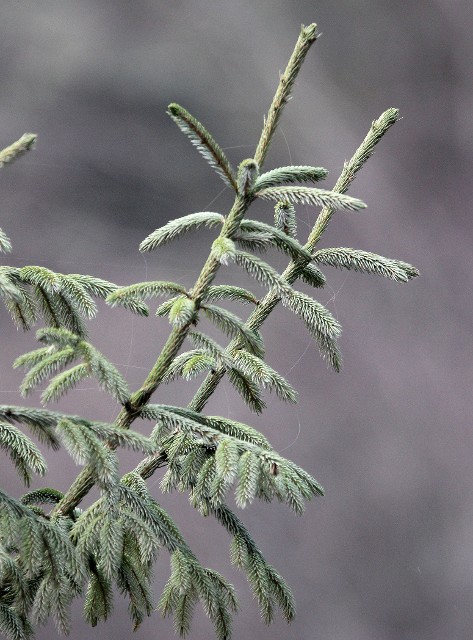 George's Fir (Abies georgei) was another conifer of the area. These were limited to the higher elevations.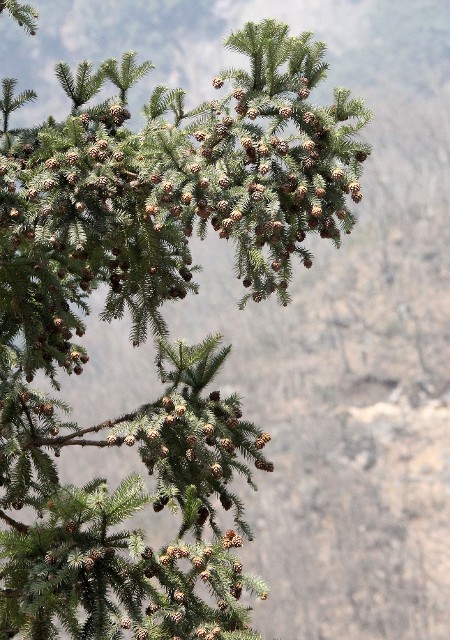 Yunnan Yew (Taxus yunnanensis) were another common species at Tangjiahe.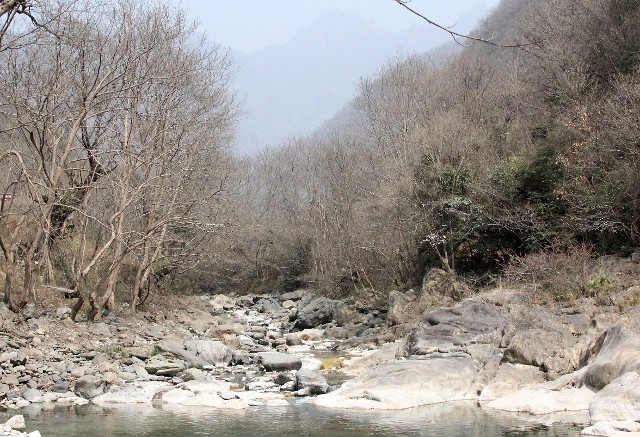 The riparian habitats of Tangjiahe were in good shape. There were many stands of old Gingko bilobaand other species I could not ID. Fall would a be a spectacular time to visit the reserve.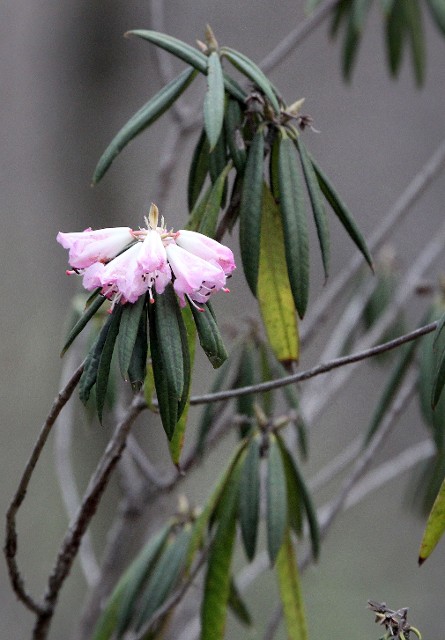 Rhododendron rubiginosumwas a very common species in Tangjiahe, but we only found one in bloom during the early spring visit.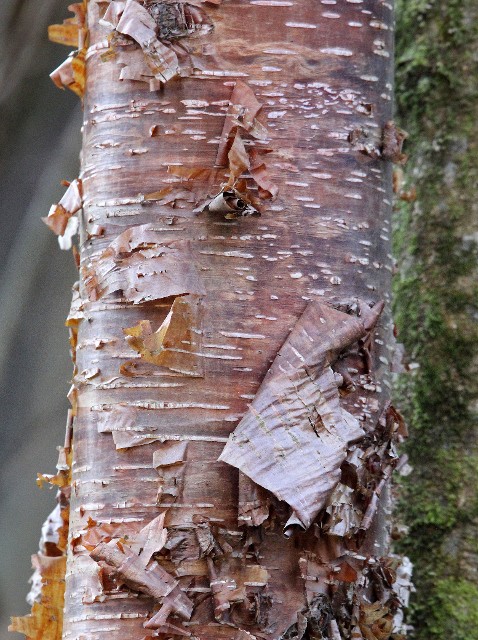 There were many familiar species in the forests of Tangjiahe. I believe this to be the Sichuan Birch (Betula szechuanica).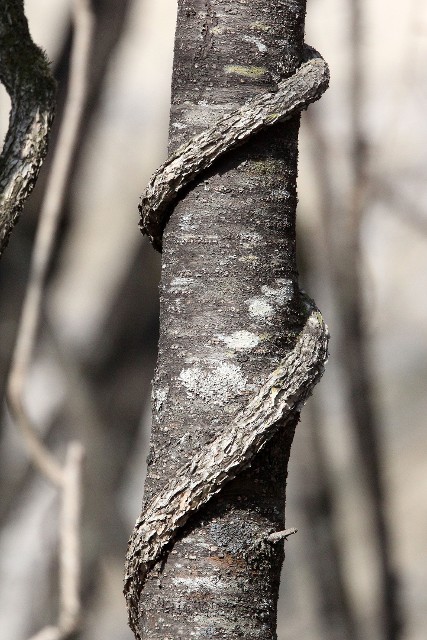 It was easy to see we were in a temperate-tropical botanical convergence. All of the deciduous and conifer tree species indicated a temperate zone, but the Liana that we see here indicated sub-tropical. What a great flora...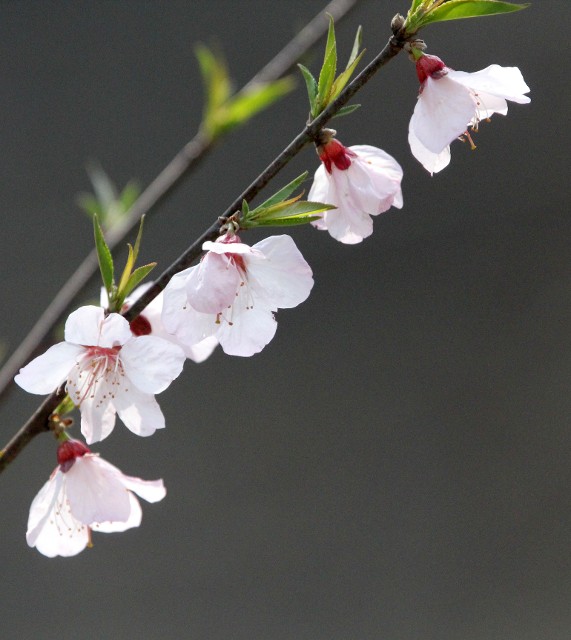 The mountains were alive with floral explosions from the Sichuan Cherry (Cerasus szechuanica).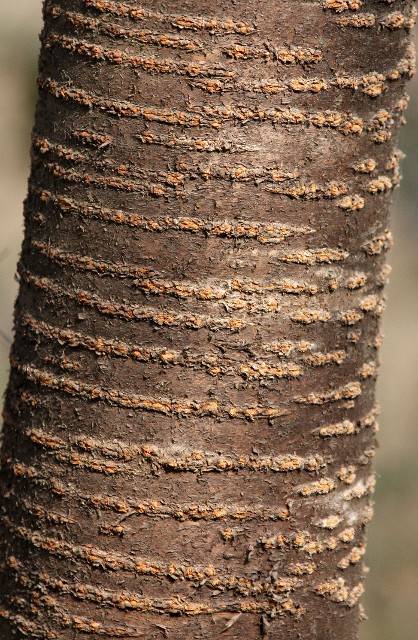 Cerasus szechuanica
We did get some good views of a few interesting species on the trek, just not the monkeys we were searching for. They were gone somewhere very far up the mountains. Probably due to the warming trend that the region recently experienced. We did see loads of sign where we trekked though – lots of half-eaten twigs and scat littered the entire trail, telling us that we had missed them by a day or so. Along the trek we did get another great glimpse of a spectacular male Tufted Deer and a Pere David's Rock Squirrel as well as many bird species. It was a great hike. If I ever return I would definitely like to spend more time on this trail and make it to the top of the alpine zones were pika and other species are known to be. And I believe that Tangjiahe would be a place where a quality Giant Panda sighting would not be unexpected. We did see browse-sign at many locations done this season by Giant Pandas and Mr. Hu had seen and documented them on many occasions.
Pere David's Rock Squirrel (Sciurotamias davidianus)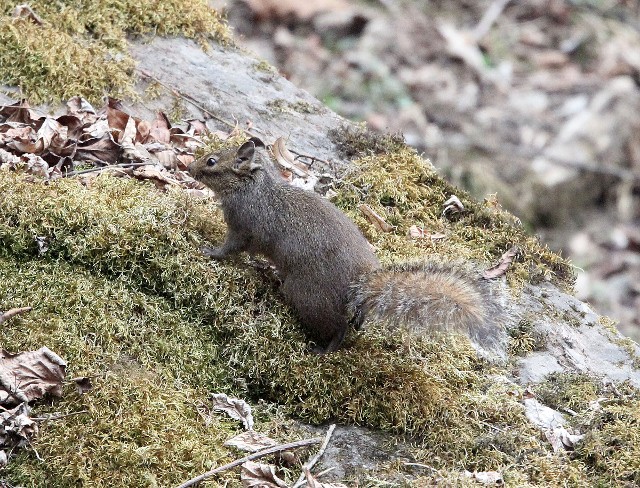 Although we had been spotting them all along, this was the only one that stuck around long enough for a shot.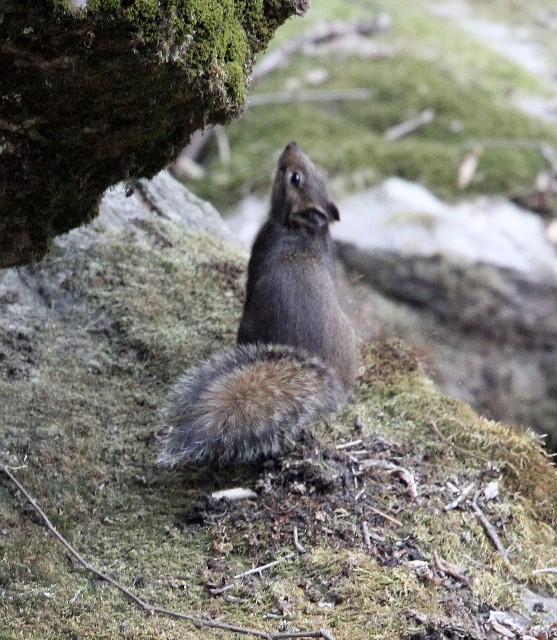 Pere David's Rock Squirrel (Sciurotamias davidianus)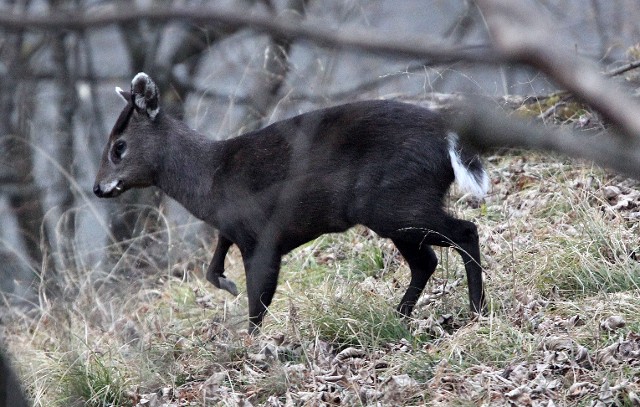 Tufted Deer deer were very common on the higher elevation trails.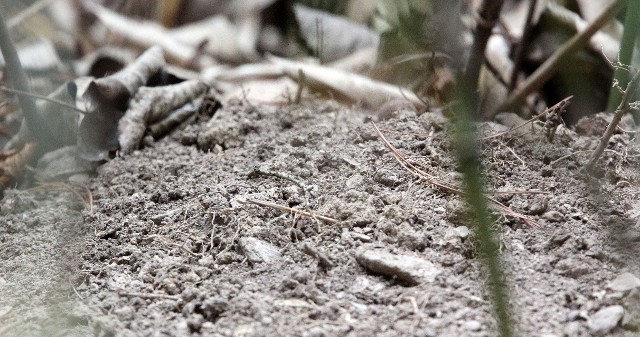 We came across quite a bit of Chinese Bamboo Rat sign and mounds while on our trek to the higher elevations. Too bad we could not find a live one to photograph!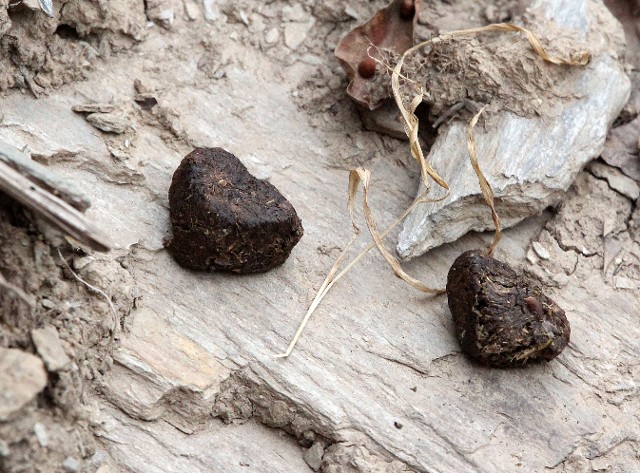 While we never actually spotted a Sichuan Golden Snub-nosed Monkey, we did see quite a bit of fresh sign, including these cute little heart-shaped turds.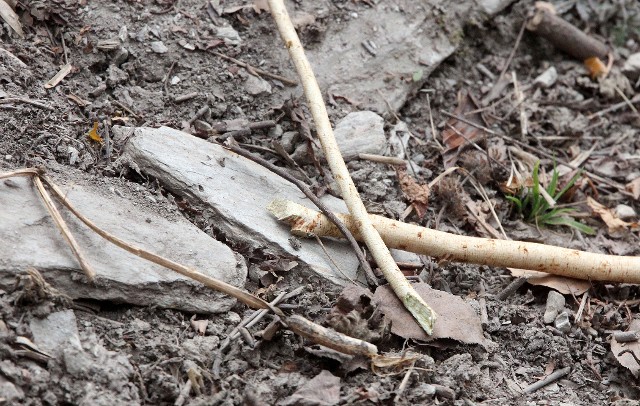 The entire 5 km trail was littered with freshly eaten sticks - the monkeys had been there very recently...just not today!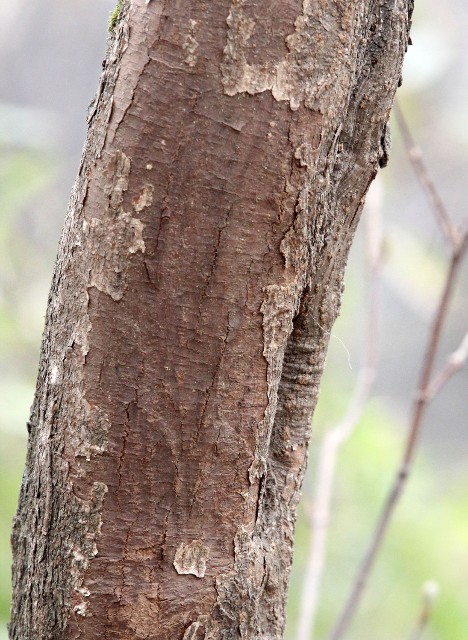 There was quite a bit of Takin sign on the trail to the top as well. Note the rub marks on the tree as well as the single Takin hair...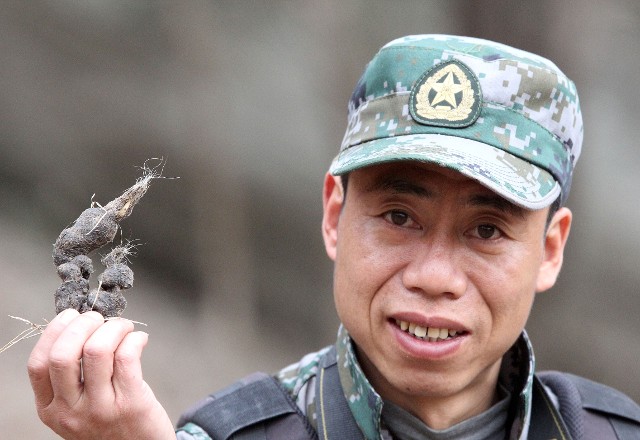 There was tons of sign of numerous species on the trail to the summit. Mr. Hu is pointing out some scat of the elusive Leopard Cat, a common predator in Tangjiahe.
***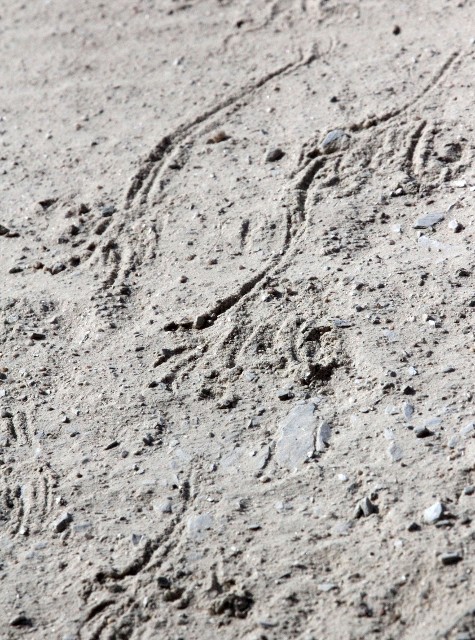 Another interesting animal sign spotted was this curious set of tracks most likely left by a Chinese Zokor.
The rest of our second and final day in Tangjiahe was so quiet it was a bit anticlimactic. The non-stop action of the previous day gave way to a quiet wintery feeling of a region bracing itself for another winter deluge. We did conclude the day with a return to the Goral Cliffs only to be skunked again but it was still nice to spend some time there breathing the fresh air and taking in the quiet majesty of Tangjiahe.
I have been fortunate with the opportunity to have experienced perhaps all totaled two weeks of my life in this mountainous region of China, both here in Sichuan (Tangjiahe and Wawu-shan (See report here)) and Shaanxi's Qinling Mountains. Now that my days here in China are numbered with another big move on slate, I am particularly thankful for the nature and wildlife I have been presented. I have learned so much about China's outstanding nature from my experiences and my many discussions (in sometimes very entertaining sessions of pointing and grunting and writing in the dust….) with my local guides. I will never forget the sublime beauty of these very special places – the quiet solitude and majestic grandeur of the mountains, streams and forests. These places and experiences have made the China chapter of my life rich beyond words.
***
***
Some More Mammal Picks From Sichuan & Shaanxi!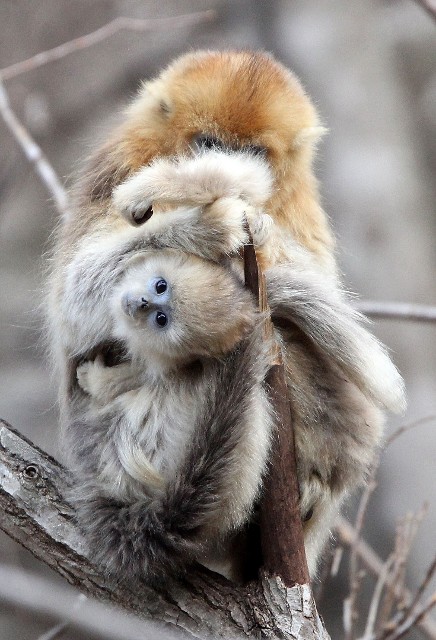 Such a spectacular primate.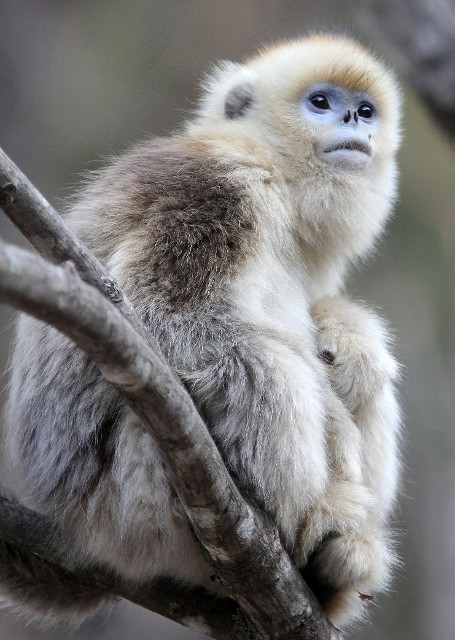 Sichuan Golden Snub-nosed Monkey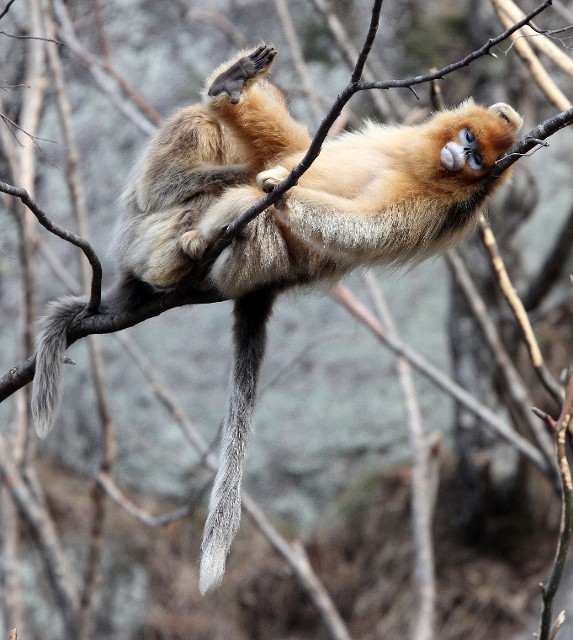 So relaxing...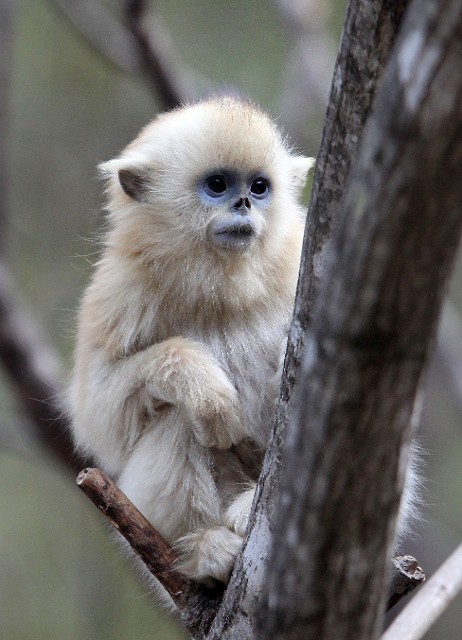 The young ones were spectacular.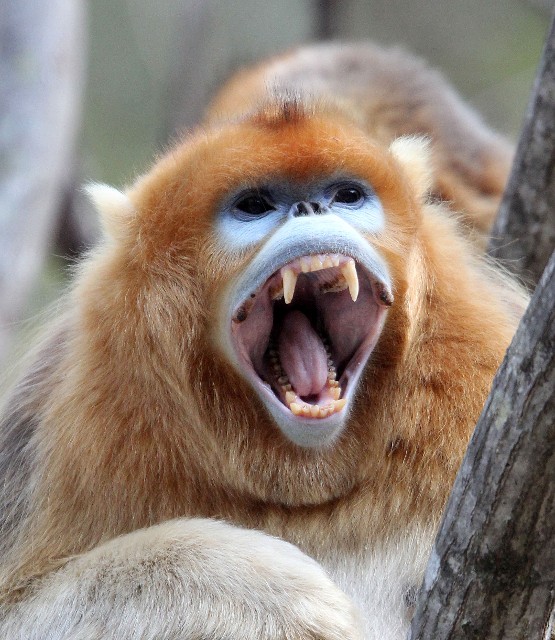 Wow!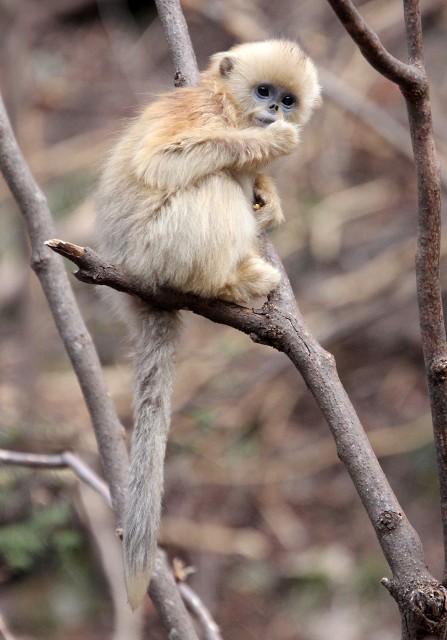 Cutie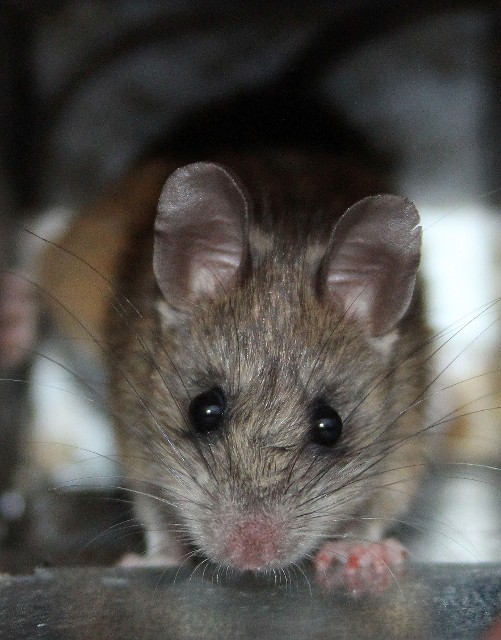 Most likely a Sichuan Niviventer, at least this was the consensus of all of the rangers in Tangjiahe...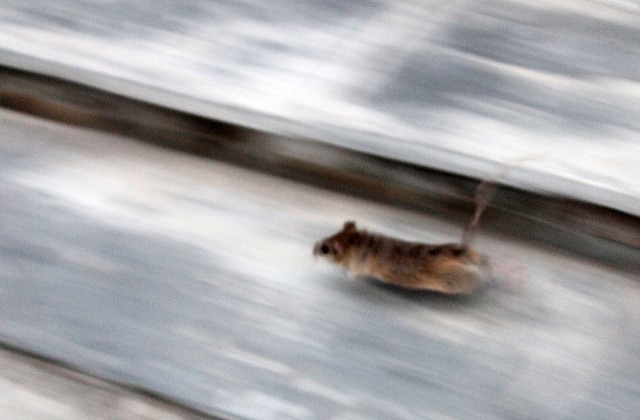 Sichuan Niviventer bolting to safety!
***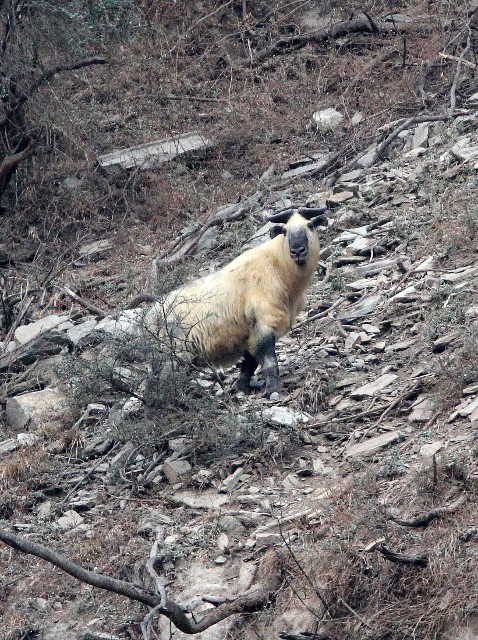 Sichuan Takin of Tangjiahe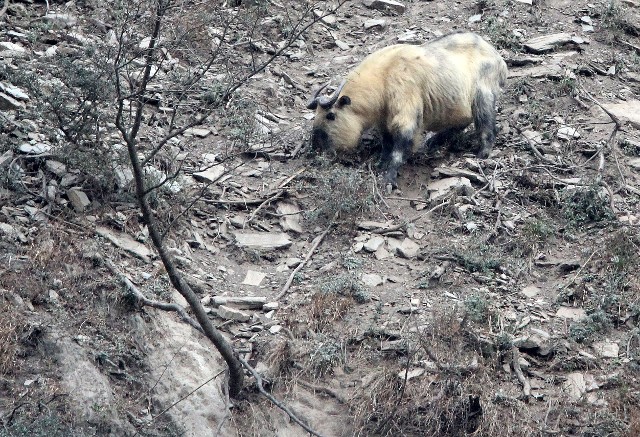 Sichuan Takin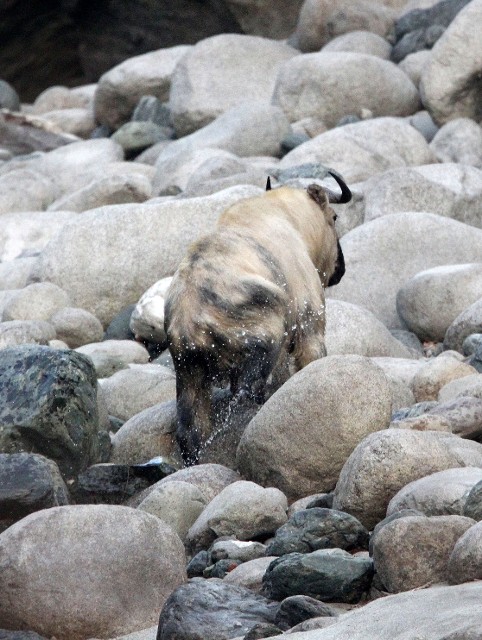 I'm out of here!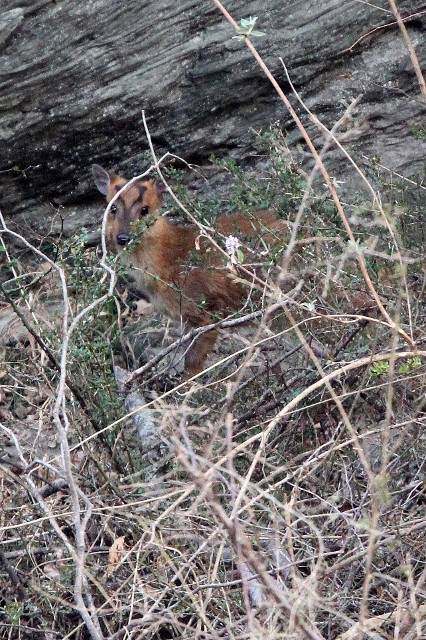 Reeve's Muntjac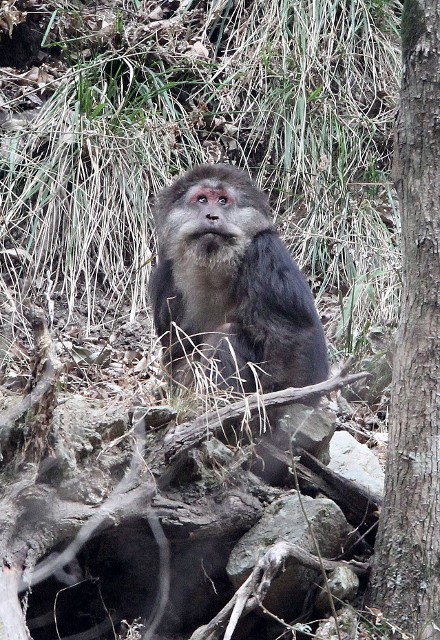 Our lone Sichuan Tibetan Macaque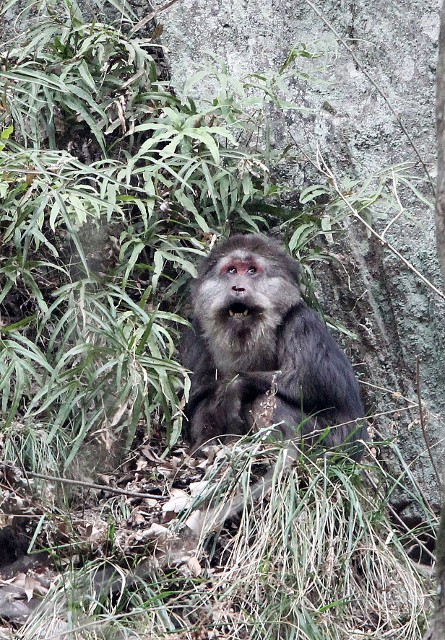 Sichuan Tibetan Macaque
***
Late addition!
Chinese Water Deer (Hydropotes inermis)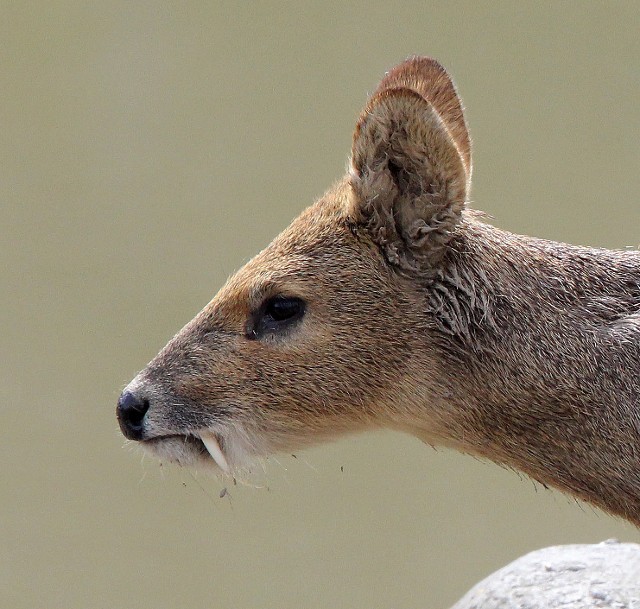 Chinese Water Deer - while this was not seen in Sichuan, I spotted this in Shanghai at Huaxia Forest Park during the same week as this trip. They've been re-released here to create a population in their former range. I could not think of a better place to display the image so here it is!
***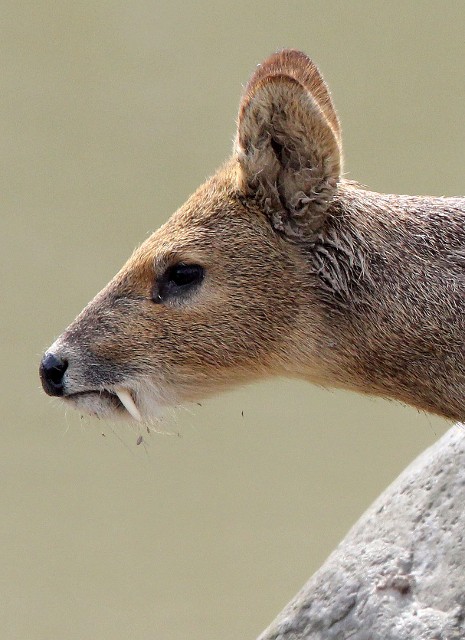 CChinese Water Deer. There is another released population at Binjiang Forest Reserve in Shanghai as well.
***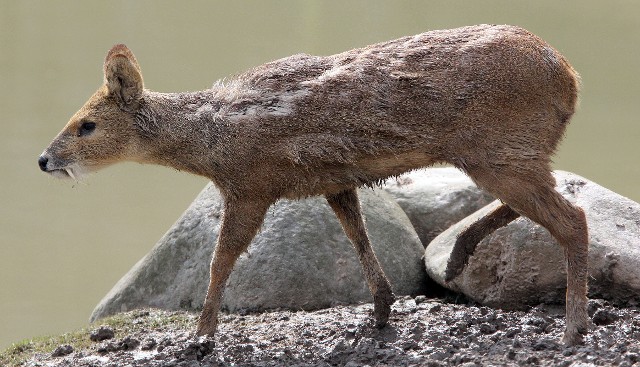 Chinese Water Deer
***
Sichuan Mammal List
Qinghai Golden Snub-nosed Monkey (Rhinopethicus roxellana qinglingensis) 30+
Pere David's Rock Squirrel (Sciurotamias davidianus) 4
SichuanTakin (Budorcas taxicolor tibetana) 8-9
Tufted Deer (Elaphodus cephalophus ichangensis) 4
Reeve's Muntjac (Muntiacus reevesi) 12+
Chinese Goral (Naemorrhedus griseus) 2
Tibetan Macaque (Macaca thibetana thibetana) 1
Wild Boar (Sus scrofa cristatus) 1
SichuanNiviventer(Niviventer excelsior) 1
Pearson's Horseshoe Bat (Rhinolophus pearsonii)
Sign, Roadkill & Near Misses
Leopard Cat (Prionailurus bengalensis) – scat everywhere
Rhesus Macaque (Rhesus mulatta) – just missed them twice and scat everywhere
Sichuan Golden Snub-nosed Monkey (Rhinopethicus roxellana roxellana) – sign and scat common on Golden Monkey Trail to the summit of the mountains where they are normally found in the north region of Tangjiahe.
Chinese Zokor (Eospalax fontanierii) – fresh tracks on dirt track in western section of the reserve near Gansu border
Chinese Bamboo Rat (Rhizomys sinensis) – fresh mounds on Golden Monkey Trail in bamboo stand
Yellow-throated Marten (Martes flavigula) – scat at Golden Monkey viewpoint in Foping
Birds of Sichuan!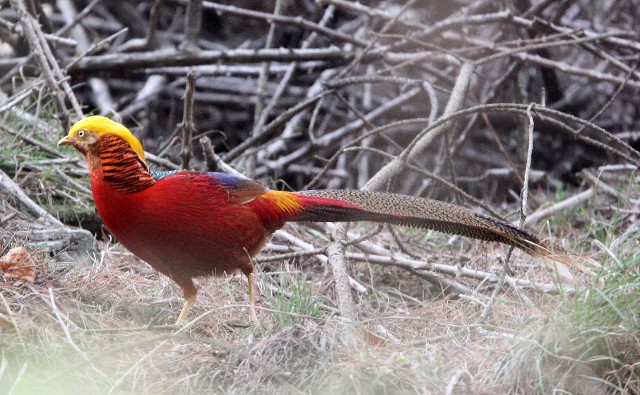 While, as usual, birding was not a primary focus of the trip, we did pretty well with some of the more charismatic species of the region. Of course the Golden Pheasant is always an avian highpoint!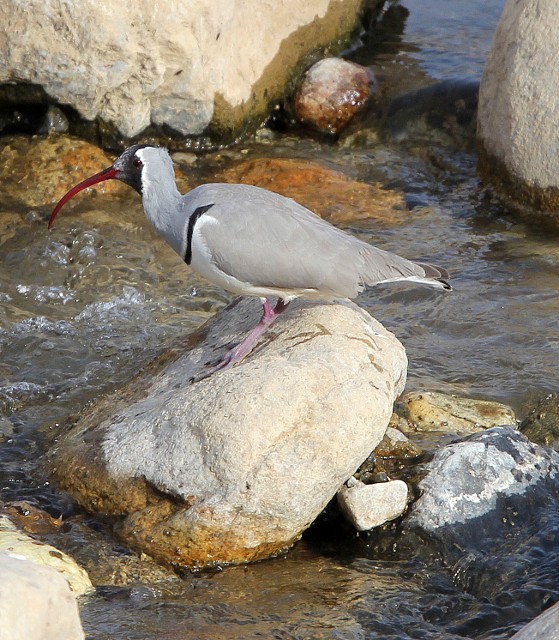 Ibisbill - another of the spectacular birds seen in Sichuan.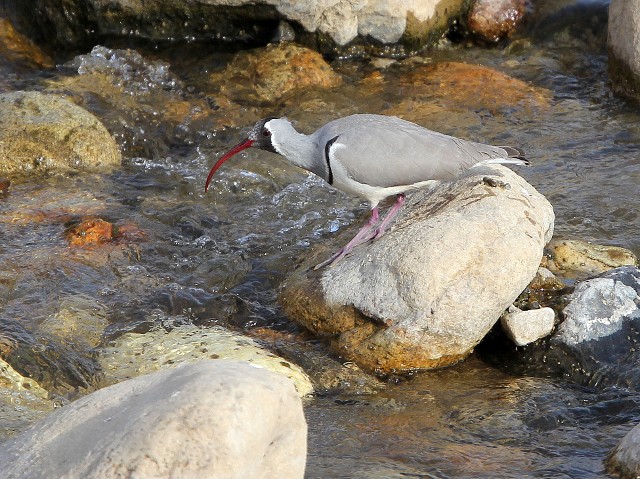 Ibisbill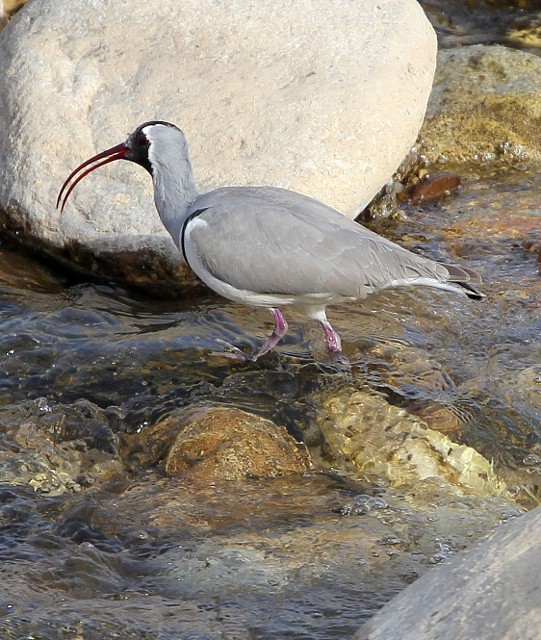 Ibisbill in Foping River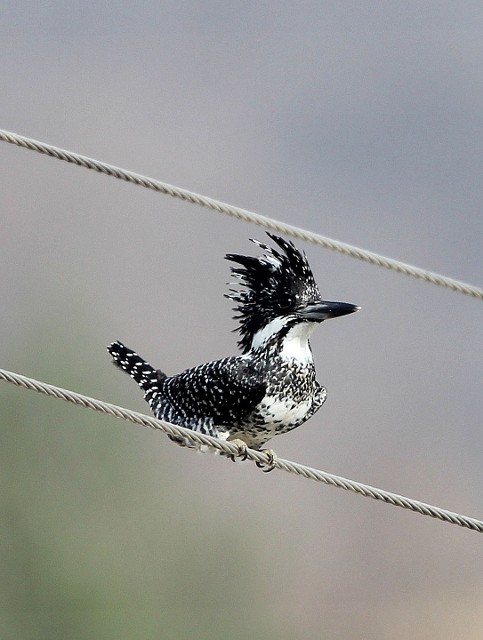 Crested Kingfisher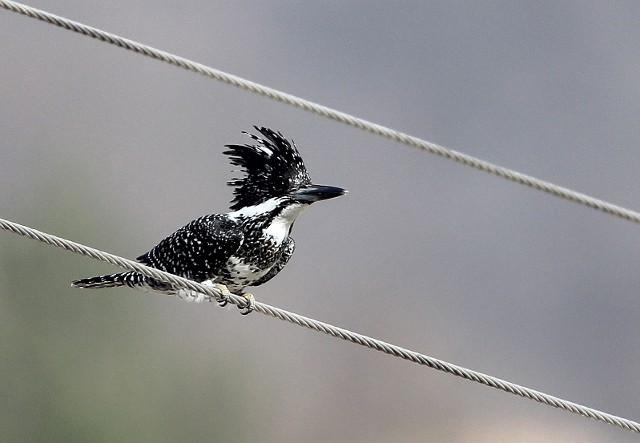 Crested Kingfisher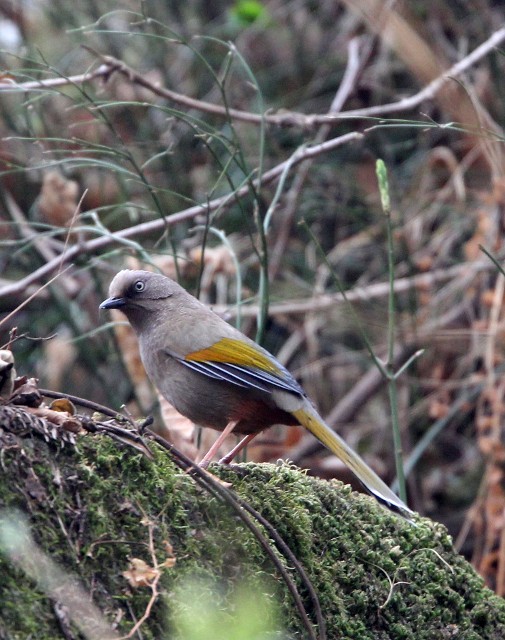 Elliott's Laughingthrush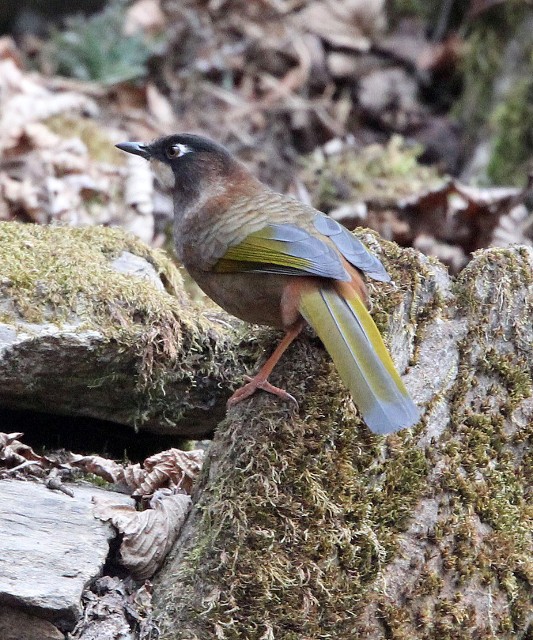 Black-faced Laughingthrush were another lifer for the trip!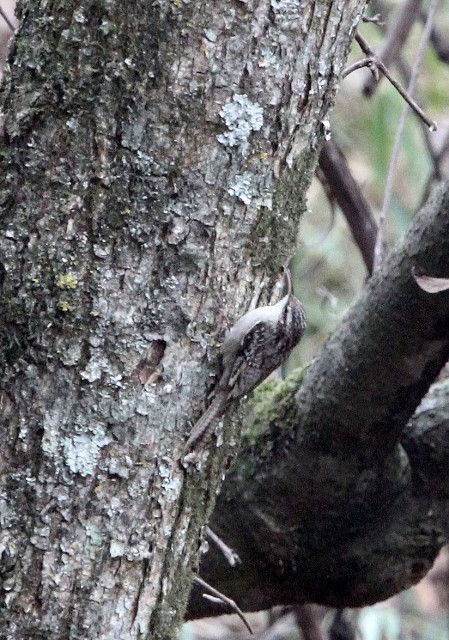 Bar-tailed Tree-creeper! Finally a clear look!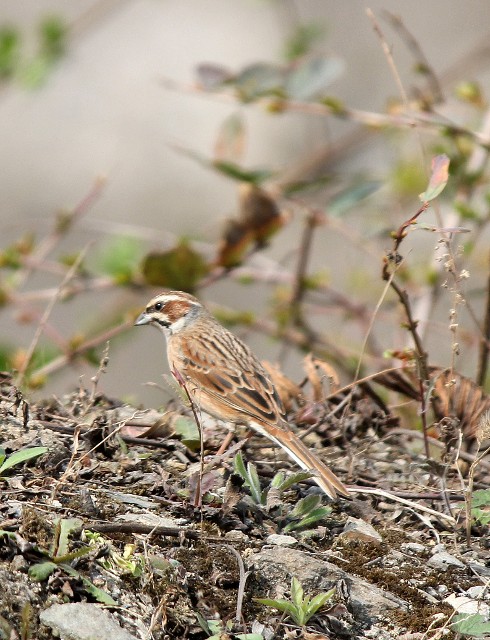 Meadow Bunting....or.....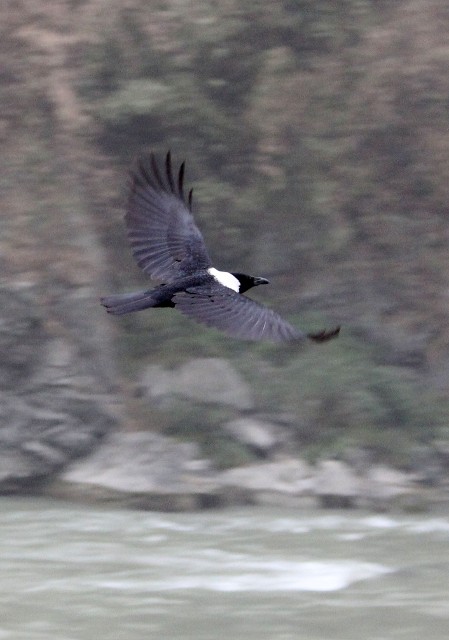 Collared Crow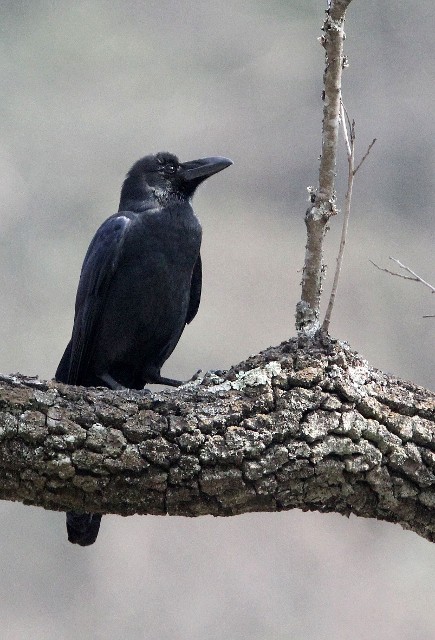 Large-billed Crow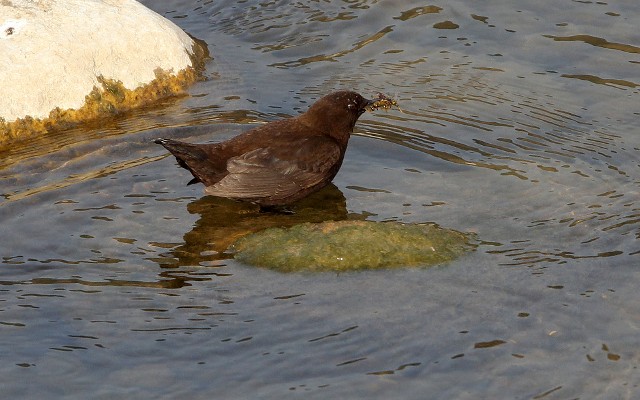 Brown Dipper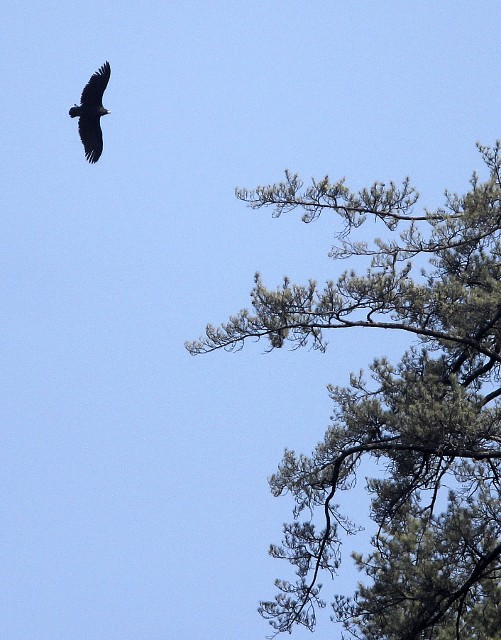 Black Eagle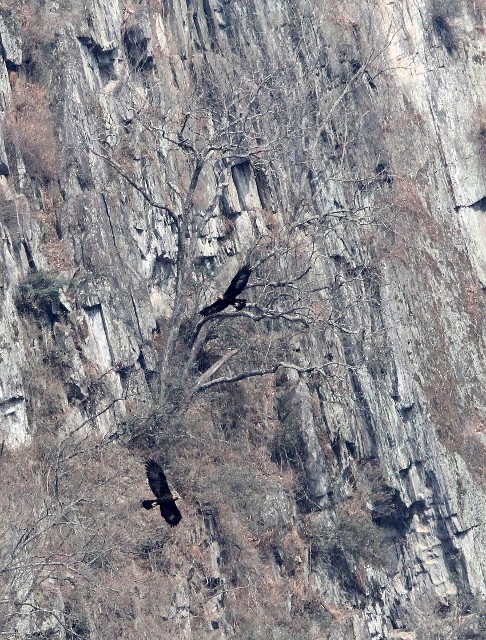 A pair of Golden Eagles soaring the high peaks of Tangjiahe.
Peregrine Falcon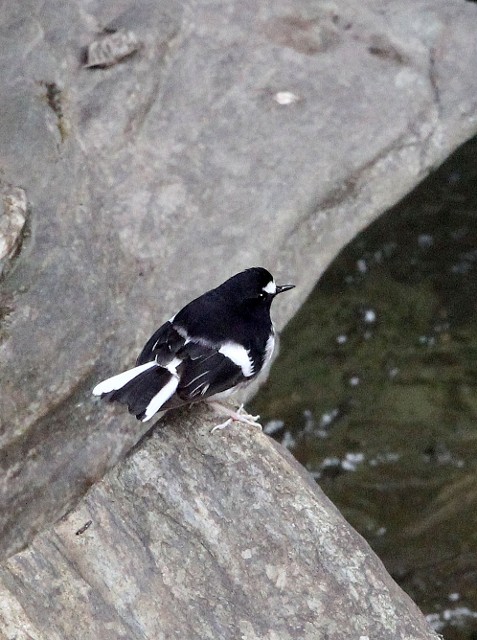 Little Forktail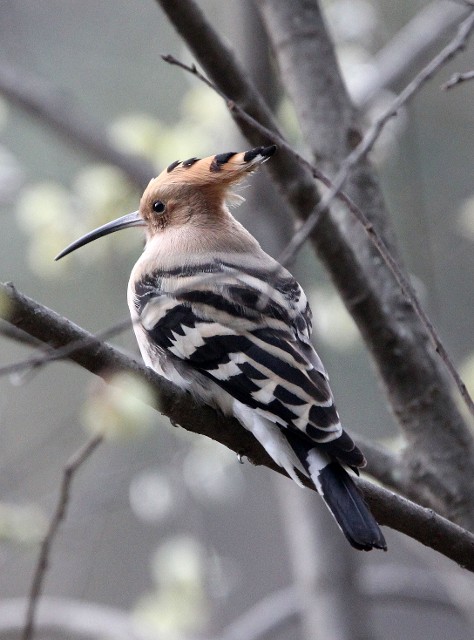 Common Hoopoe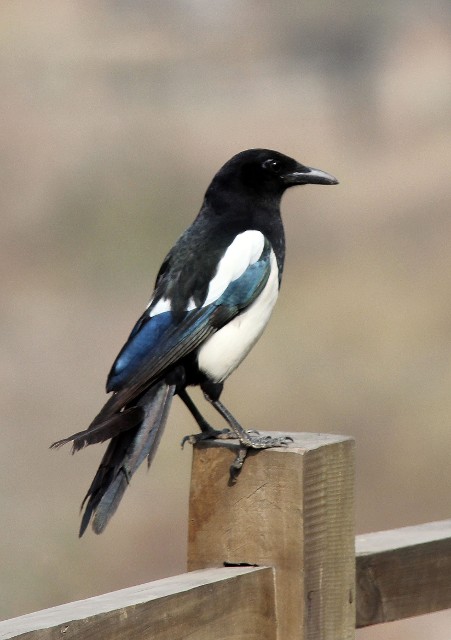 Black-billed Magpies were everywhere of course...
***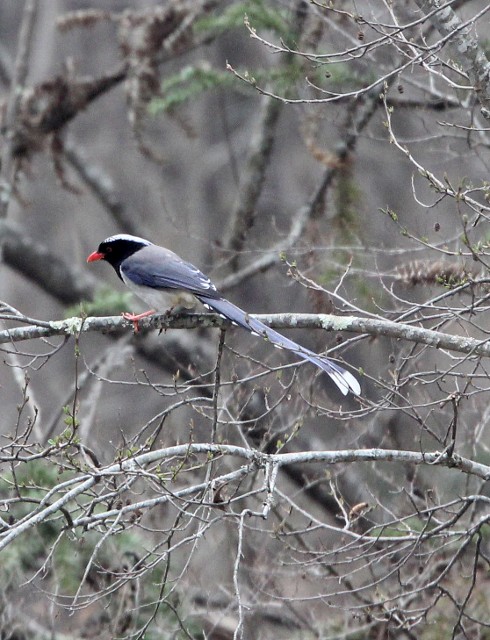 Red-billed Blue Magpies were equally common.
***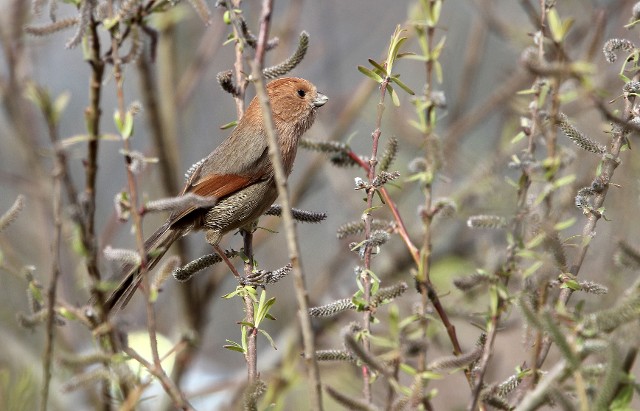 The best I could do with this one was Ashy-throated Parrotbill.
***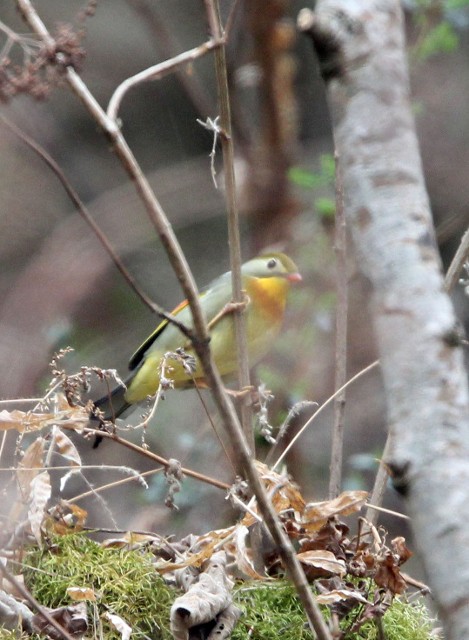 Red-billed Leiothrix
***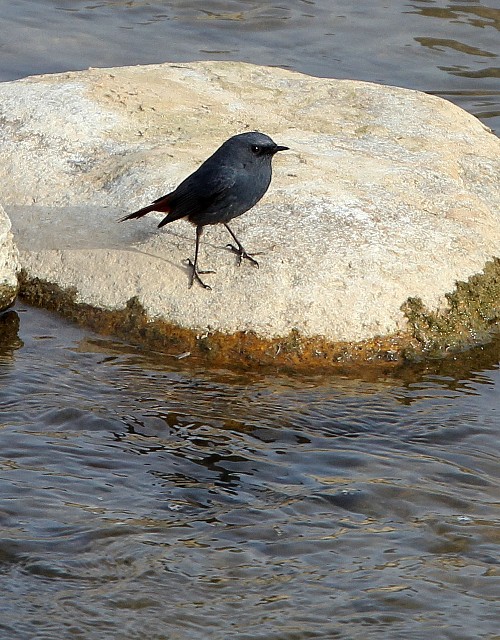 Plumbeous Water Redstart
***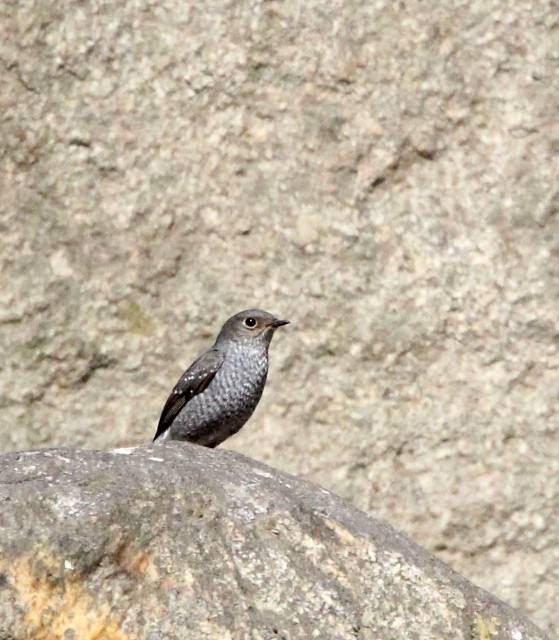 Plumbeous Water Redstart female.
***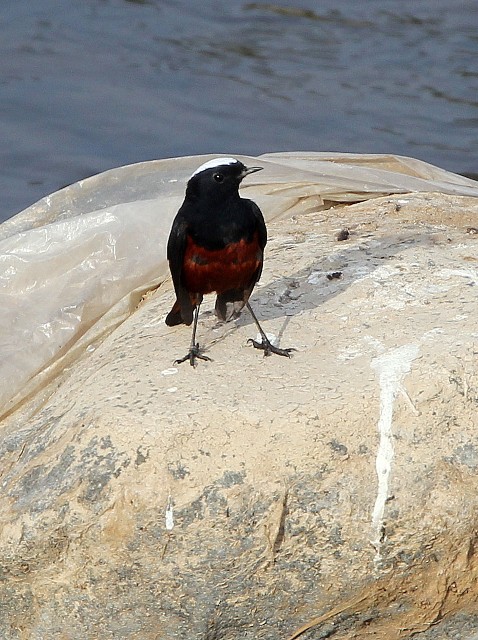 White-capped Water Redstart
***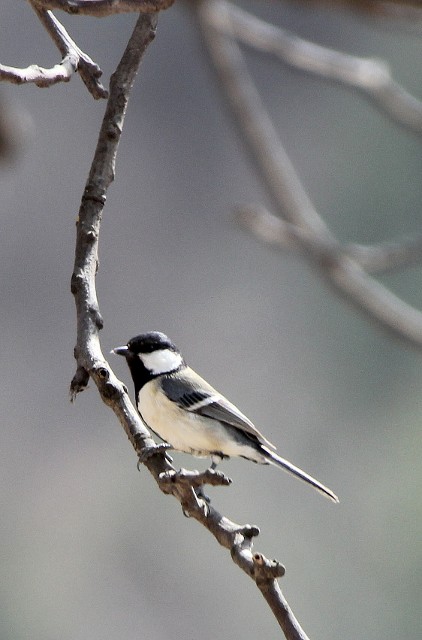 Great Tit
***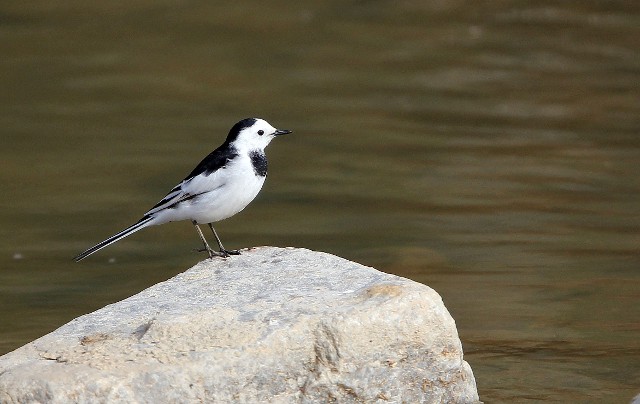 White Wagtail
***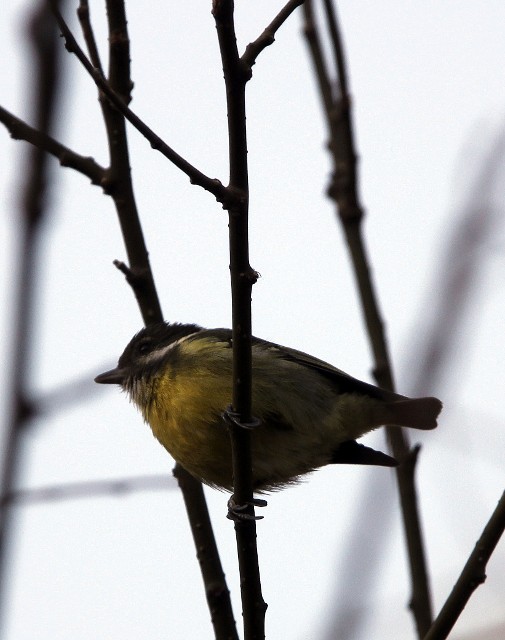 Another best guess - Sulphur-breasted Warbler
***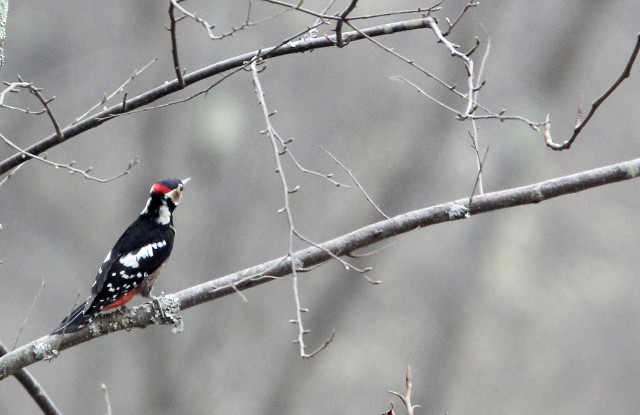 Great Spotted Woodpecker
***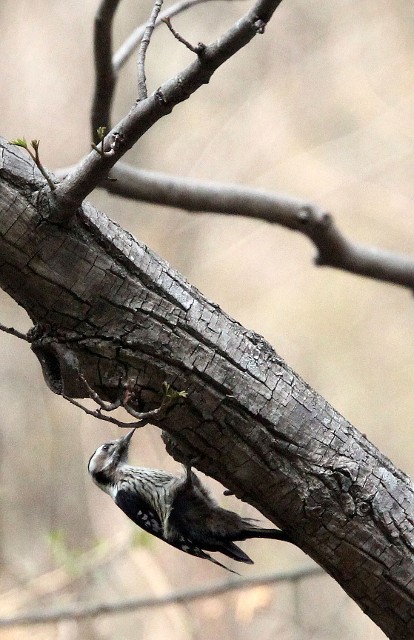 White-backed Woodpecker - a great surprise rarity!
***
***
Sichuan/Shaanxi Bird List
Temminck's Tragopan
Koklass Pheasant (Pucrasia macrolopha)
Golden Pheasant
Ruddy Shelduck
Great Spotted Woodpecker
White-backed Woodpecker (Dendrocopos leucotos)
Bar-tailed Treecreeper (Certhia himalayana)
Common Kingfisher
Crested Kingfisher
Common Hoopoe
Asian Barred Owlet (Glaucidium cuculoides)
Tawny Fish Owl (Ketupa flavipes)
Oriental Turtle Dove
Spotted Dove
Eastern Marsh Harrier
Eurasian Sparrowhawk (Accipiter nisus)
Common or Upland Buzzard
Black Eagle
Peregrine Falcon
Black-necked Grebe (Podiceps nigricollis)
Little Grebe
Little Egret
Cattle Egret
Crested Ibis
Common Magpie
Red-billed Blue Magpie
Rook
Large-billed Crow
Daurian Jackdaw
Eurasian Blackbird
White-caped Water Restart (Chaimarrornis leucocephalis)
Plumbeous Water Redstart
Darian Redstart
Asian Brown Flycatcher
Little Forktail (Enicurus scouleri)
Crested Myna
Coal Tit
Great Tit
Barn Swallow
Brown-breasted Bulbul
Sulphur-breasted Warbler (Phylloscopus ricketti)
Black-faced Laughingthrush (Garrulax affinis)
Elliott's Laughingthrush
Red-billed Leiothrix
Ashy-throated Parrotbill (Paradoxornis alphonsianus)
Eurasian Tree Sparrow
White Wagtail
Grey Wagtail
Yellow Wagtail
Meadow Bunting (Emberiza cioides)
Collared Crow
***
***
More Stuff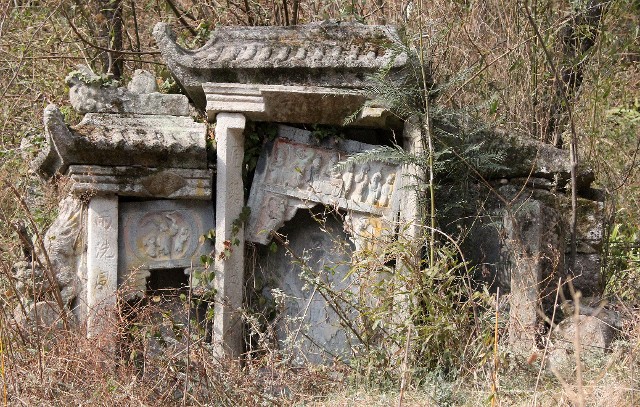 The forest of Tangjiahe had been home to people for many years as was evidenced by the rich collection of graves throughout.
***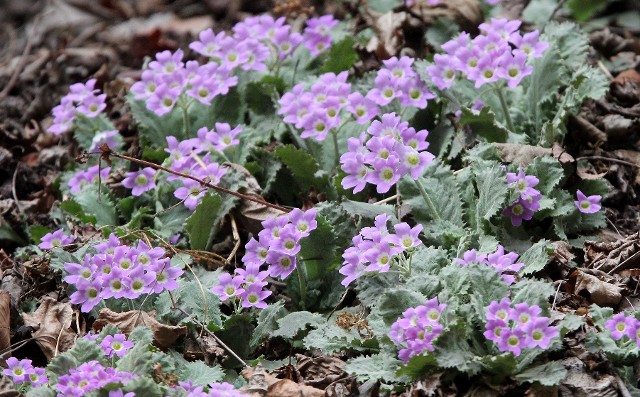 Although we were a bit early for the full spring floral explosion, we did get a glimpse of what the region had to offer. I believe these to be Primula sonchifolia (feel free to correct!)
***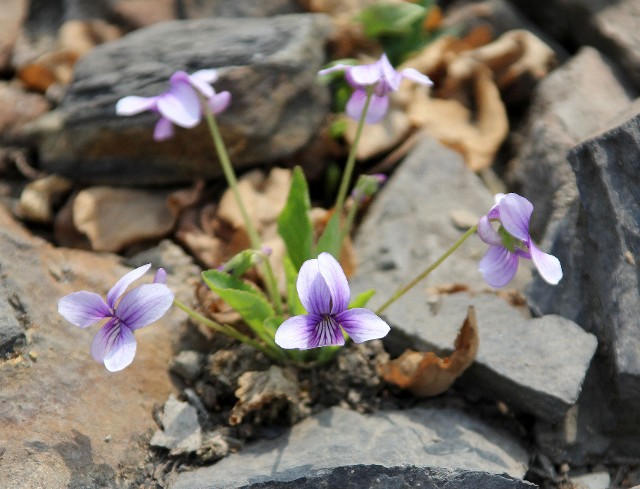 A lone Viola species found on the rubble of Donghekou Village.
***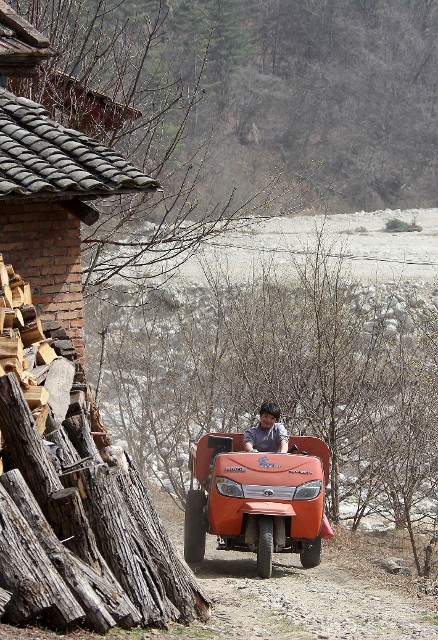 Foping Nature Reserve - a villager driving home for lunch.
***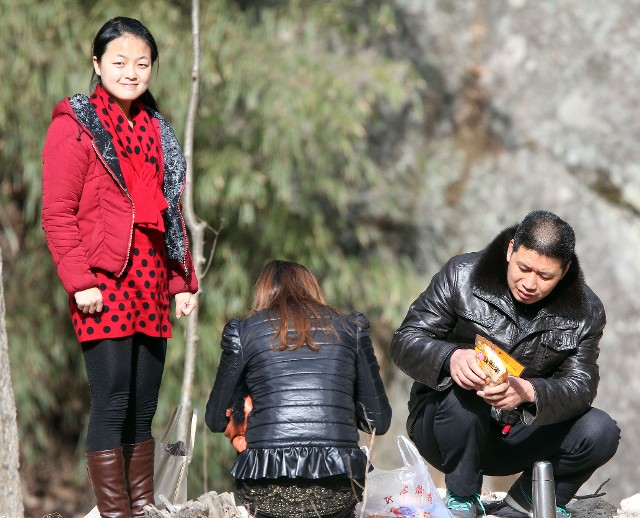 My Foping crew!
***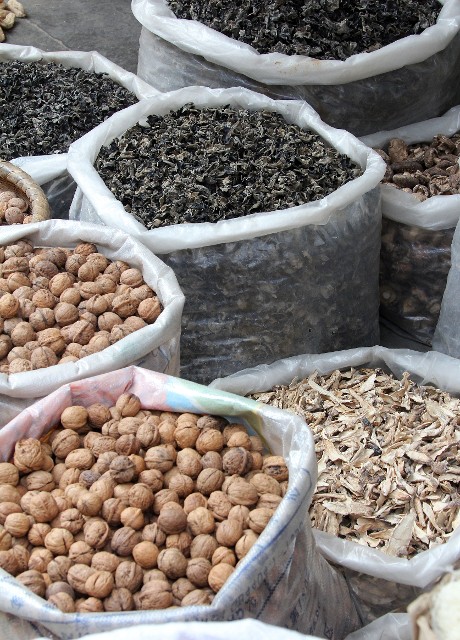 Produce of Qingchuan County.
***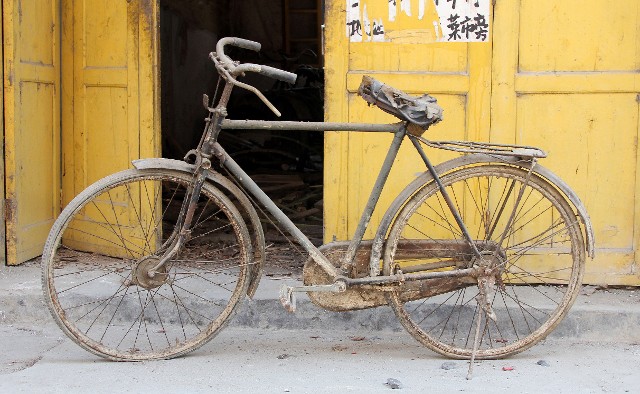 Shangli Ancient Town
***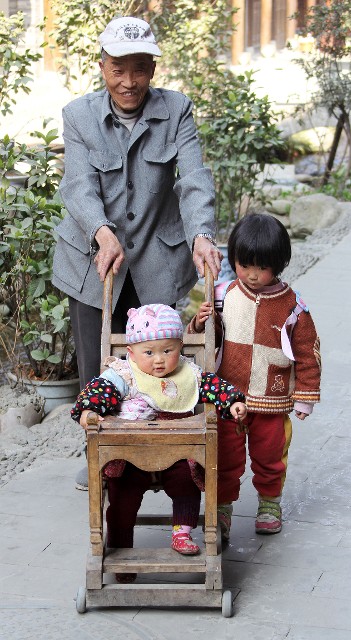 Shangli Ancient Town was actually nice to stroll. It was not quite ready for tourism although the development was proceeding at a vigorous pace. The people were still friendly and curious and I would put money that I was one of the first foreignors to walk it streets based on the look of shock and curiosity on the faces of the locals...
***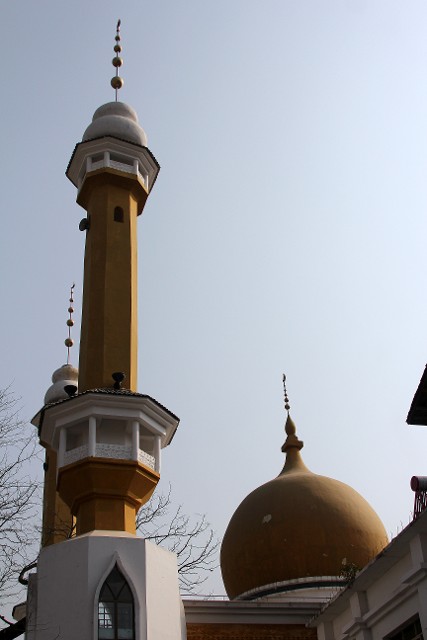 A mosque at Shangli Ancient Town
***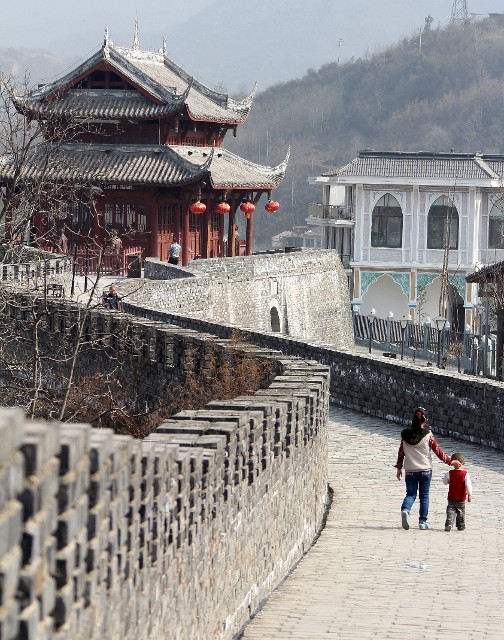 The Great Wall of Shangli Ancient Town....not so ancient however...
***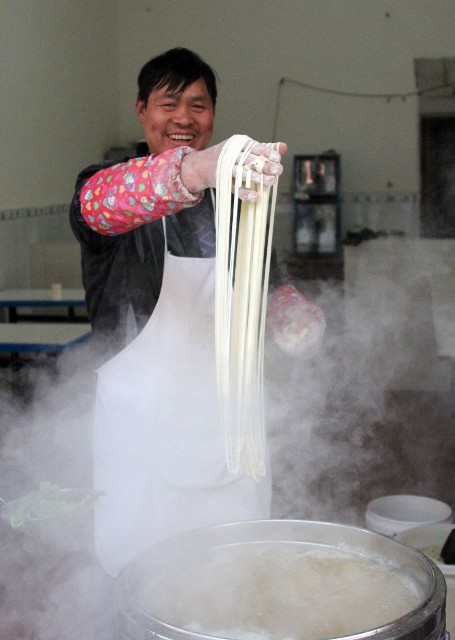 My favorite - Sichuan noodles!
***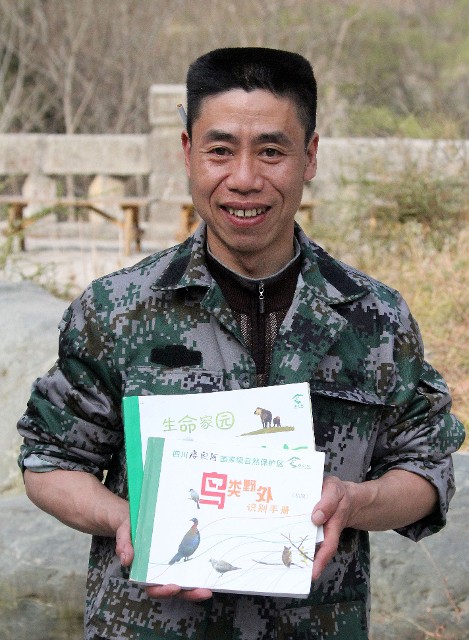 Mr. Hu is a very well-published nature photographer and here are a couple books featuring his work.
***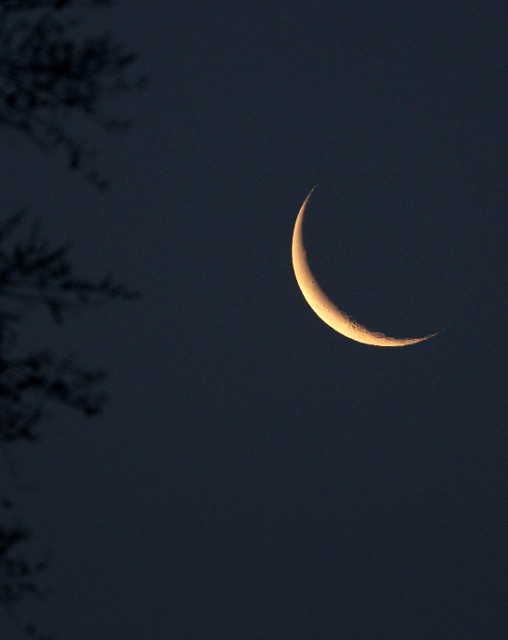 Sichuan morning moonrise
Be sure to check out our Pbase China galleries for more spectacular images of Sichuan & Shaanxi
Qinling Golden Snub-nosed Monkeys of Foping
Other Mammals & Critters of Sichuan