Three male Przewalski's Gazelles sprinting in the late afternoon light of Qinghai Lake!
Qinghai Lake: In Search of Przewalski's Gazelle!
Check out our Pbase galleries for more images of Qinghai Lake!
Przewalski's Gazelles of Qinghai-fu
People & Places of Qinghai Lake
It wasn't that long ago, Qinghai was just a pipedream for me. I often daydreamed about traveling to the high reaches of Qinghai's portion of the Tibetan Plateau for years. The meer thought of actually traveling there to see the region's spectacular wildlife was delayed time and time again for various reasons until October of 2012, when I was fortunate to spend a week in the region with extreme success with the help of my friend and Tibet expert, Steven Shi and our driver and location expert, Mr. Wang. (See the Qinghai trip report here).
During that trip, I was able to nail several species of mammals in some of the more remote regions of the province but we never really explored China's largest saline body of water, Qinghai Lake. Now this has changed.
When I returned to Shanghai back in October of 2012 and shared my trip report with my colleagues, I was surprised to see how much direct interest there was from many folks about the destination. I was pelted with questions for some time about logistics, practicalities and for general information and traveling to Qinghai. And then one day my VP, Tonya Parham, asked if I would be willing to lead a trip of students there for one of our annual China Alive options. Of course I was happy to oblige.
So in March of 2013, I hooked up once again with Steven and Mr. Wang for another Qinghai expedition. This time it was a bit more laid back and only lasted for 2.5 field days, with the emphasis on nailing down destinations and activities for the upcoming China Alive trip, and in doing so, we all became much more aware of the amazing diversity of wildlife, nature and culture this very special place has to offer. I can only hope that my students feel the same.
Our expedition of course started once again in Xining, where we met Mr. Ge Yuxiu, the foremost expert on the elusive Przewalski's Gazelle, a species I was hoping to have the students see in the wild as Qinghai Lake is famous for having some of the last remaining herds of the species. Mr. Ge is quite a celebrity having been the very first person to locate and photograph wild Przewalski's Gazelles in the wild in the mid 1990's. His resume is impressive indeed. As a result of his outstanding work on conservation he has been given many honors from both private and official sources. He has been featured on many wildlife shows and news stories, ranging from BBC, to CCTV and many more. He was even given the high honor of carrying the torch during the 2008 Beijing Olympics!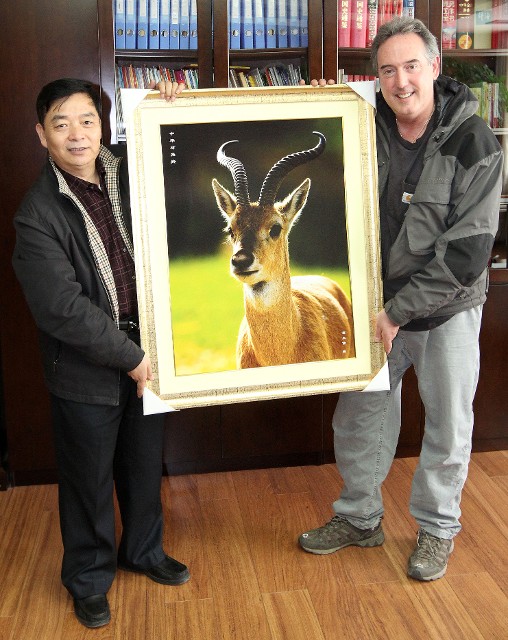 Professor Ge Yuxiu with one of his more famous images of the Przewalski's Gazelle.
***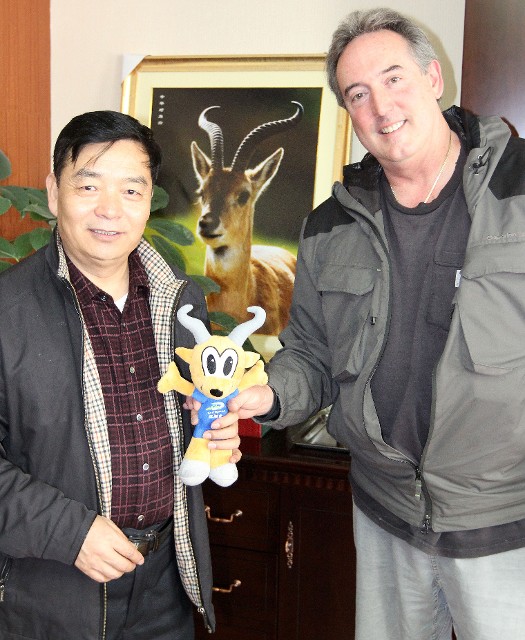 He designed the mascot for the Qinghai Bike Races that occur here in the summer. Of course it was a gazelle...
***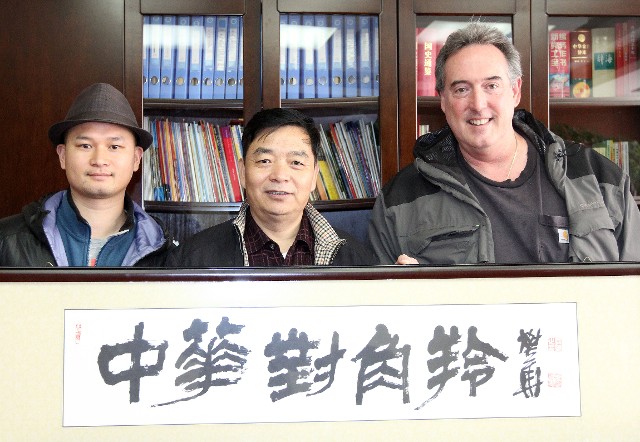 I know the Chinese word for Przewalski's Gazelle is in there somewhere...
***
Here are some links of Professor Ge's activities in the area:
***
Mr. Ge was very gracious to donate his Sunday morning to share with us his knowledge and expertise on the gazelles. After some fascinating conversations about his exploits and discoveries, he drew us some crude maps of some of the potential locations we may hope to spot them. After a couple hours chatting with Mr. Ge, we hit the road. I was anxious to see some gazelles myself! Although, while he was sure they were out there somewhere, he was not at all sure we would spot them….But, hey, we had to try!
We got on the road from Xining around 11:30AM and made the three or so hour drive to the locations that Mr. Ge thought we had the best chances. Just a few kilometers east of Gangca Town, he drew a map of a gravel/concrete road that headed toward "Sand Island", a large patch of sand dunes straddling two smaller lakes that are not far from Qinghai Lake proper, in the northeastern section of the lake. We were a bit unclear about which roads to take so we tried them all. Initially we found zilch, but did come across a Tibetan sheep herder who did tell us that there were some there as recently as that morning but doubted we'd see them at this late stage of the day. He directed us further to the west where he said there were many more usually.
He was correct. We were all very excited to see our first confirmed Przewalski's Gazelles, arguably one of the world's rarest mammals, with number hovering somewhere around 1000, but no one really knows for sure. We came across about half a dozen females and one lone young male pretty much exactly where Mr. Ge and the sheep herder told us to look. We were very happy indeed!
***
Qinghai Lake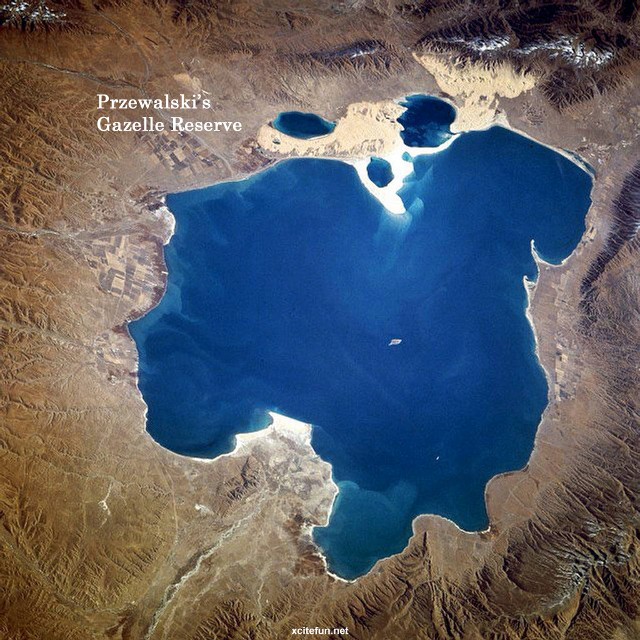 The best location to see the Przewalski's Gazelle is in the northeaster sector of the lake region.
***
******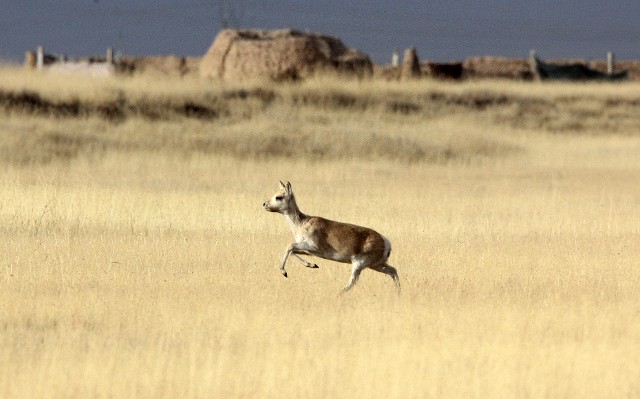 A lone female Przewalski's Gazelle prancing in the golden light of the shores of Qinghai Lake! Yes!
***
After searching high and low for more, we proceeded further west to search one other location Mr. Ge shared with us. We were searching for a location where the students and our massive bus stood a chance to enter and potentially spot the gazelles…. It ends up there is a large Przewalski's Gazelle reserve on the northern lake shores about 10-13 kilometers east of Haérgaixiang and the same distance west of Ganzihexiang Towns on G315, and this would be the best location, although far from guaranteed, to spot the gazelles as a group. Again, locating it was a problem, but a quick stop at the local police station, which doubled as wildlife protection station as well, we were able to line up a local cop-guide who very gladly volunteered to take us out to the field to search for more. The sort of act of random kindness was actually pretty much the norm on this trip.
***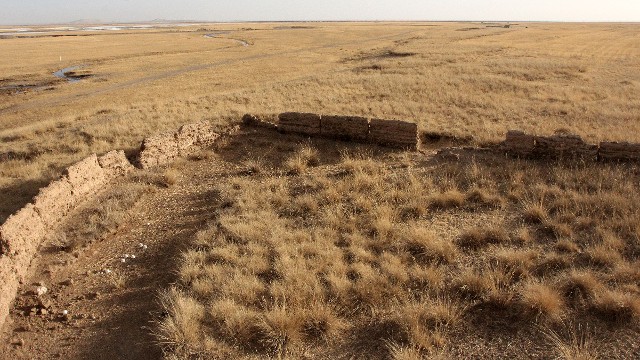 The Przewalski's Gazelle grasslands are home to 60+ Tibetan pastorlist families as well as about 20,000+ sheep....Much of the prime grass is eaten by the dometic animals before the gazelles get a chance...
***
So we drove in our 4X4, which was indeed a necessity, a few kms in to the reserve and sure enough, we came across well over 100 Przewalski's Gazelles! In good light too! We enjoyed watching them sprint and jump in the tall grasses of the Qinghai Lake near shore grasslands. Our movements elicited excited leaps and sprints that seemed to be more like play rather than predator avoidance, but I am sure they are harassed some, even though they are a class one protected species here in China.
***
Przewalski's Gazelle (Procapra przewalski)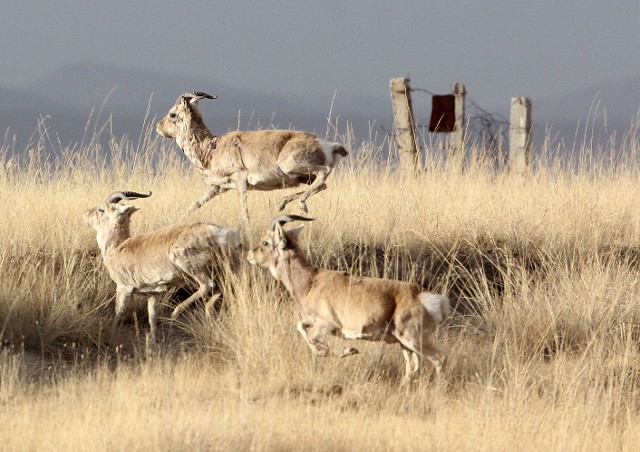 We watched for some time as the gazelles sprinted back and forth across the grasslands. They appeared both to be a bit nervous of our presence yet at the same time just showing off...
***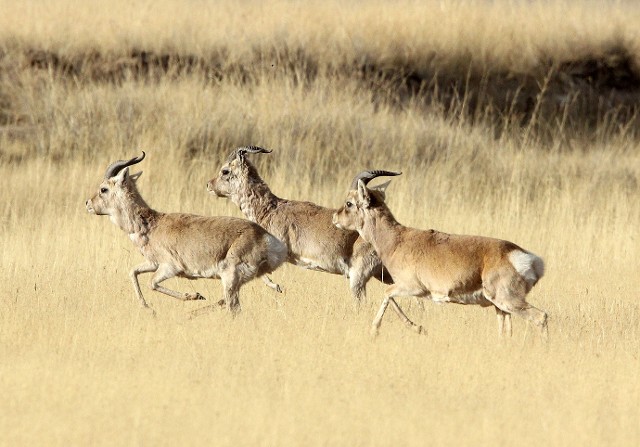 The light was fantastic this afternoon.
***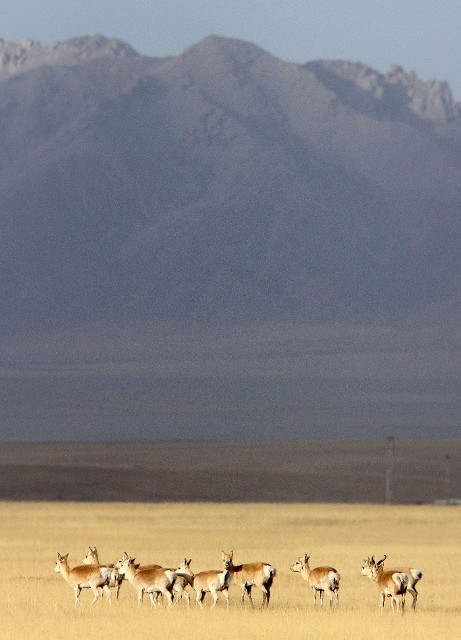 If we could take away the distant power poles, one could envision what it would have been like when they roamed the grasslands unmolested.
***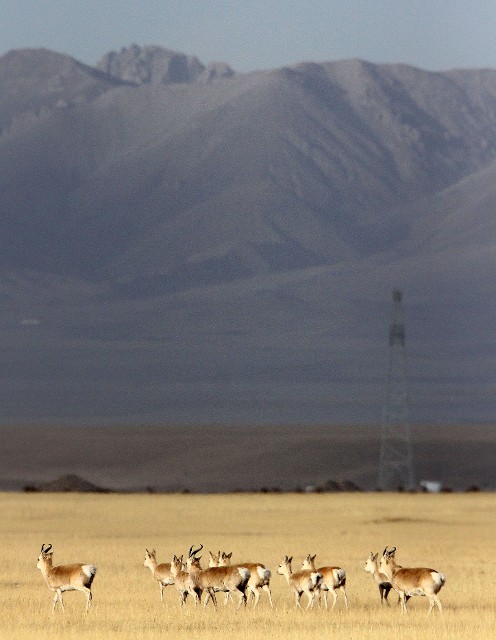 Przewalski's Gazelles on the shores of Qinghai Lake.
***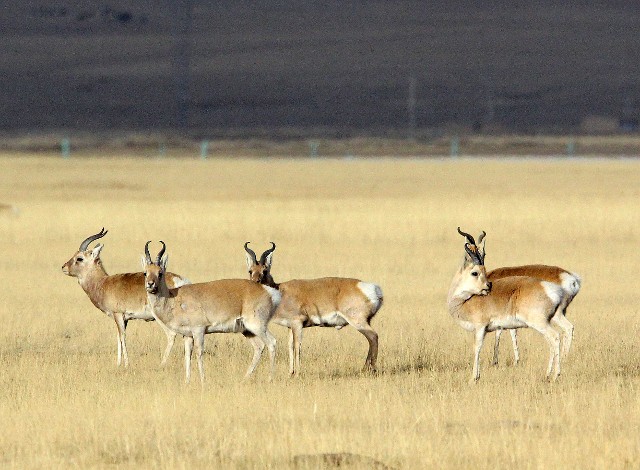 A few males taking a look at us.
***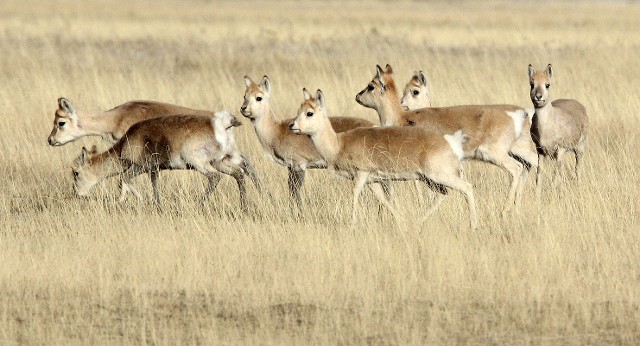 A small group of female Przewalski's Gazelles debating on what to do...
***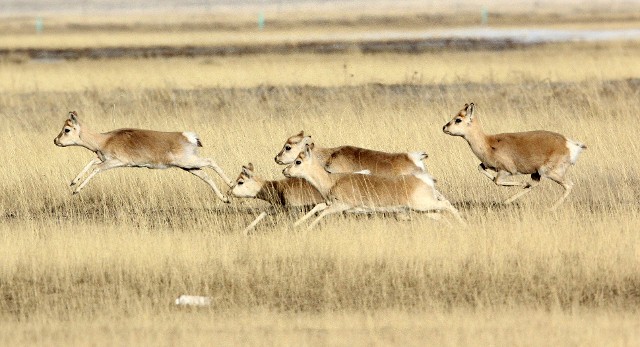 Decision made!
***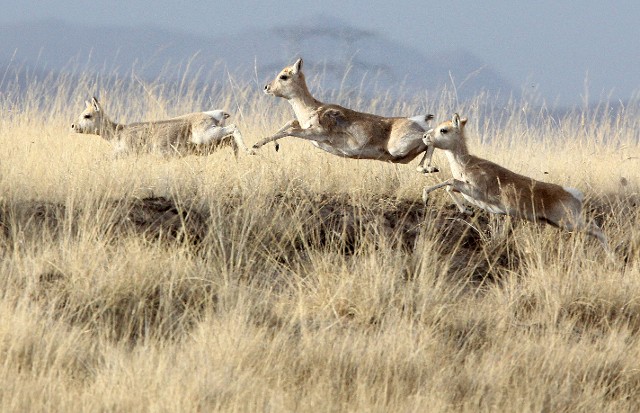 We're talking speeds in excess of 50km/hr!
***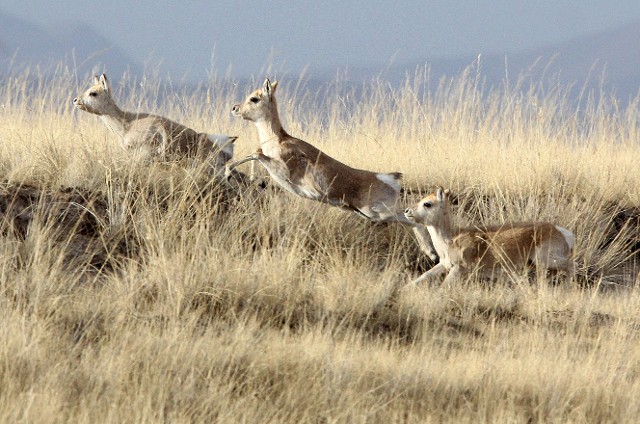 Up and over...
***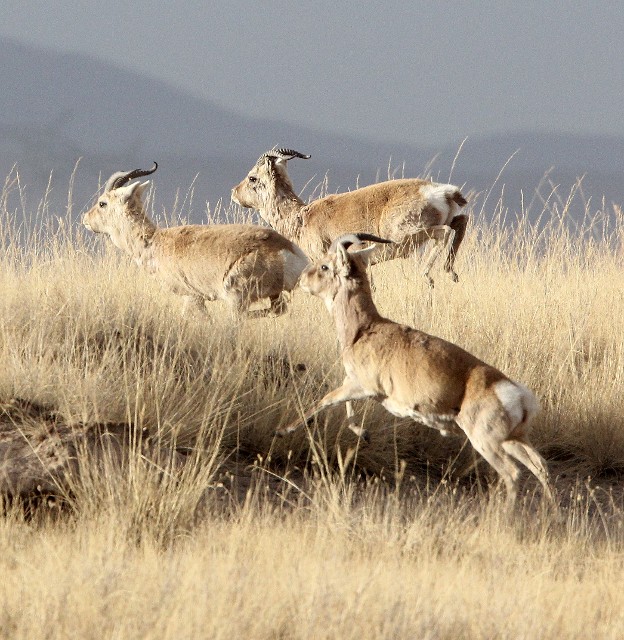 Some males following...
***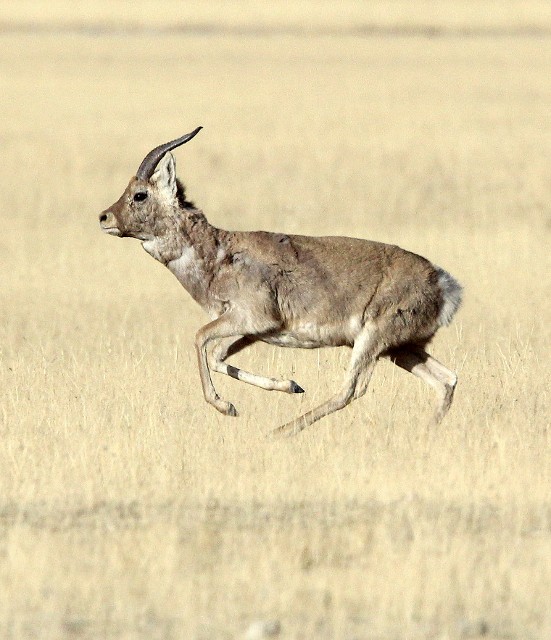 Absolutely stunning!
***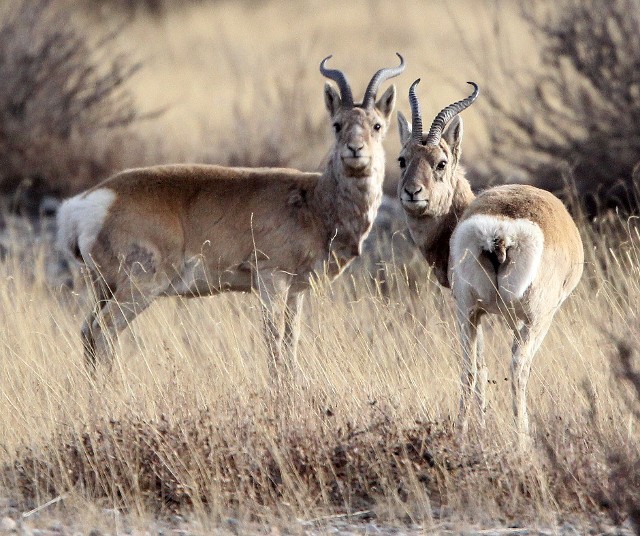 Some allowed us to approach very close, making me believe our guide when he told us they are no longer hunted and their numbers actually increasing (nearing 1000 wild currently).
***
What a thrill this was. We made arrangements to bring our students here in May of 2013 and I can only hope they have the same outstanding sighting we did. After a nice night in Gangca Town, we proceeded to scout out our remaining sights and activities. We were determined to find two very off-the-beaten path sights that Steven had learned about in his extensive research on the area. One sight was a collection of very ancient petroglyphs that were purported to be near the main road but yet several kms inland from the lake. Finding these ended up being quite a challenge.
Check out this web article featuring some of our images of the gazelles!

***
Petroglyphs of Qinghai Lake
We stopped and asked a half-a-dozen Tibetan families who all seemed to know where they were but were unable to show us directly. But eventually we zeroed in on the exact canyon in which they were located, and after some pretty creative and courageous 4x4 ice-river driving by Mr. Wang, we drove as close as we dared to the mouth of the canyon, where we then proceed to trek up the solid ice river high up in to the canyon. The rocks of the canyon were all some sort of exfoliating shale or perhaps incipient slate, and I knew immediately it would next to impossible to locate the petroglyphs without help. But we continued to trek the canyon anyway – who knew, maybe we'd get a new pica species or something equally cool. Well, I did get a fleeting glimpse at perhaps the largest hare I had ever seen….a Tolai Hare!
No petroglyphs! But then I noticed a Tibetan pastoralist on the high ridge near the mouth of the canyon and when I waved at him, he waved us over, and sure enough he was standing just above about 4 square meters of my very first Chinese petroglyphs! I was excited to see them, even though they were very simple and few compared to some of the sites I have visited in North America, the Middle East, Australia….and definitely nothing compared to Alta Norway! But it was very nice to see wild yak, ibex, antelope and camels etched in to the stone by the ancients. I was very excited to photograph them , until I was told by our local Tibetan guide, that the sheperd wanted 400RMB for the privilege!
***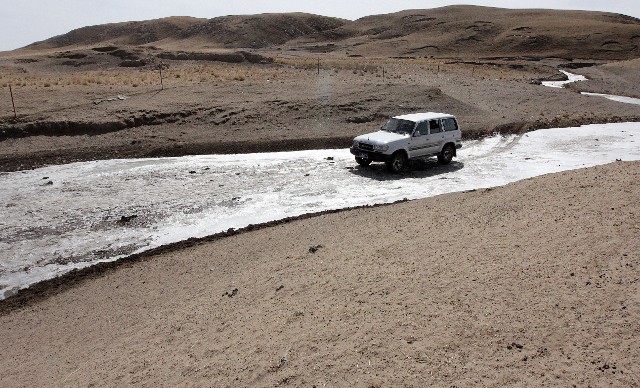 Driving the 4X4 trails (no roads) to search for the petroglyphs...across rivers, up frozen streams...across dunes...Great fun!
***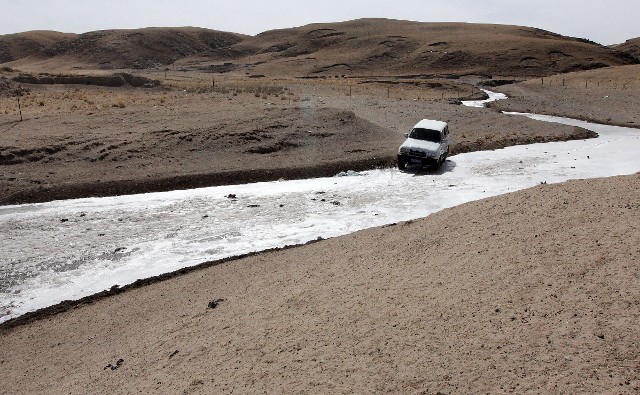 Where the heck are those petroglyphs!?
***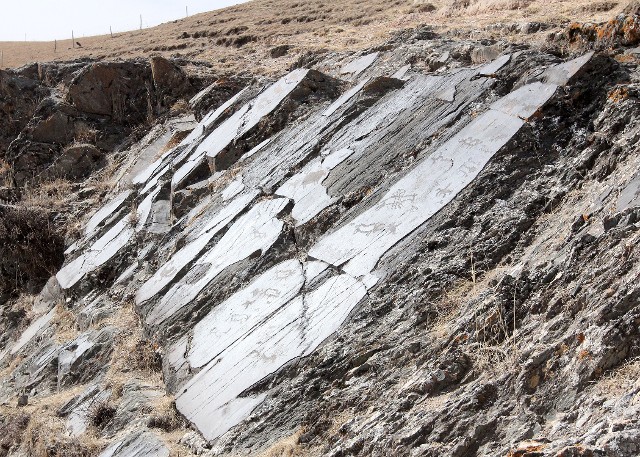 Finally found them! High on top of one of the ridges in the canyon we were searching.
***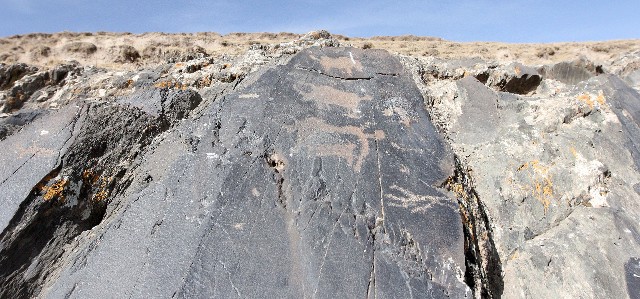 A basic set of petroglyphs, but very cool nonetheless...
***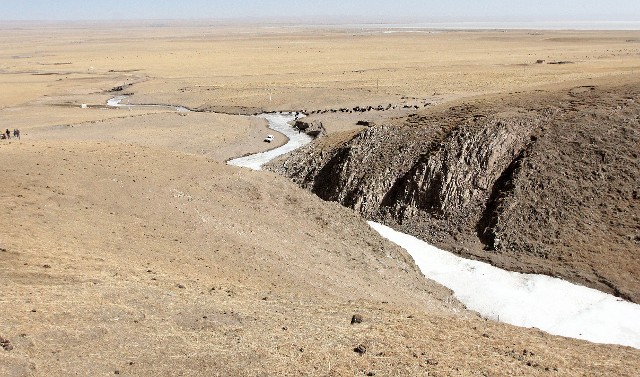 Looking at the grasslands and vastness of Qinghai Lake from the petroglyph vantage point...
***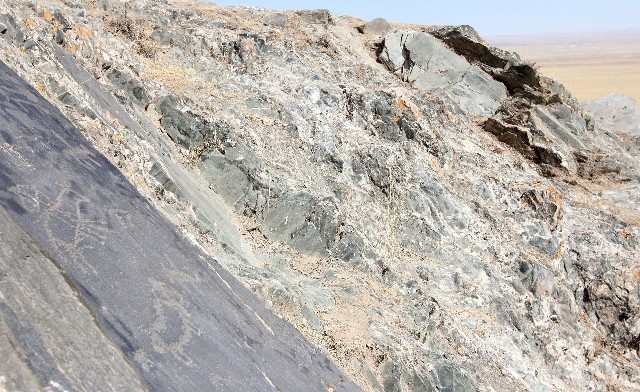 Qinghai petroglyphs
***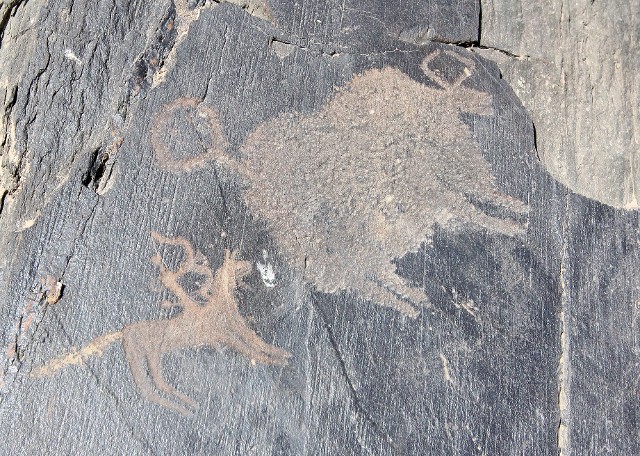 Very cool to get this glimpse of the lifestyle and fauna of the region. Wild yaks!
***
Well, there was no way I was going to pay anywhere near that much to photograph these works of art. After a bit of back and forth and some extreme intransigence on the shepperds part, we decided to pay our respects and walk away. I even offered to pay him more than what he was asking for the right to take the pictures and bring 30 9th graders here the following month. Now he wanted 60RMB per student! OK, we'd had enough. Thanks but no thanks, bye bye now….We started walking down the hill back to the car. Well, in true Shanghai Sci-Tech Fake Market-style, he chased us down, accepted our original offer and we made arrangements to come back with our kids in May! Got some pics and had an amusing cultural exchange.
After having some noodles for lunch in a nameless town, a few kilometers south of Bird Island Town, we had to find our next sight, a set or ancient ruins deep inland (near Tiebu Jiaxiaglai) from an extinct tribe about which no one knows squat! After consulting many locals, we did find the ruins which were about a square kilometer walled city, that if you were not paying attention, you'd think was simply a large mound of earth in the desert. But upon close inspection, it became clear that this was once a great fortressed city of a civilization that prospered for centuries before being wiped out by the invading Tibetan tribes about 1200 to 1300 years ago. I learned three things this afternoon: one, that there were vast and advanced civilizations in this remote corner of the earth so long ago; two, that there were civilizations that existed here and no one has any clue at all who they were; and three, that the Tibetans were a very violent, warlike tribe originally and only accepted the more peaceful, Buddhist lifestyle for which they are now famous, only much more recently.
The afternoon trekking the ramparts of the walled ruined city was sublime. The quiet of the desert with the soaring Upland Buzzards and the random popping head of a Plateau Pika and the endless views toward and away from the lake, were all great ways to conclude our time exploring the hidden areas of Qinghai Lake. While of course there is so much more to learn and experience about this spectacular region, I feel I now have a greater depth of understanding and experience for Qinghai-fu. I only hope that my May visit happens and is filled with even more rich experiences.
***
Plateau Pika (Ochotona curzoniae)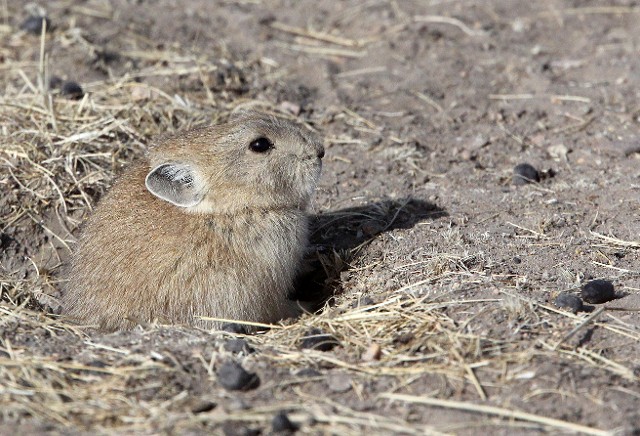 While it was still deep winter, we were still able to see numerous Plateau Pika.
** ****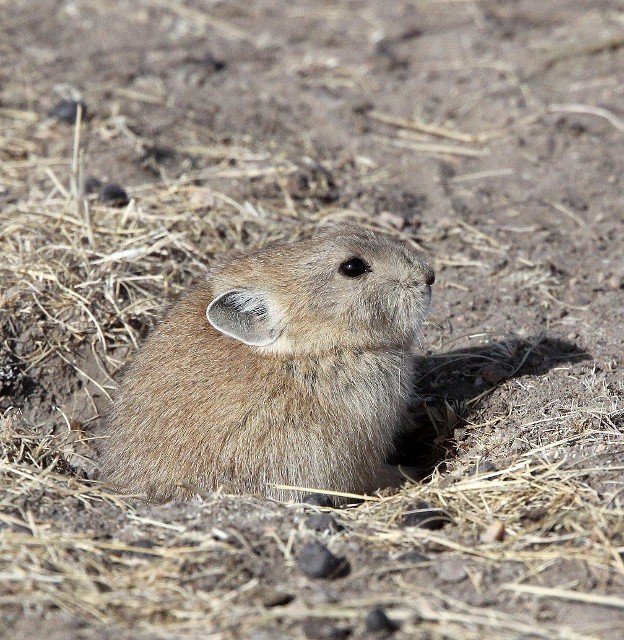 Ochotona curzoniae
***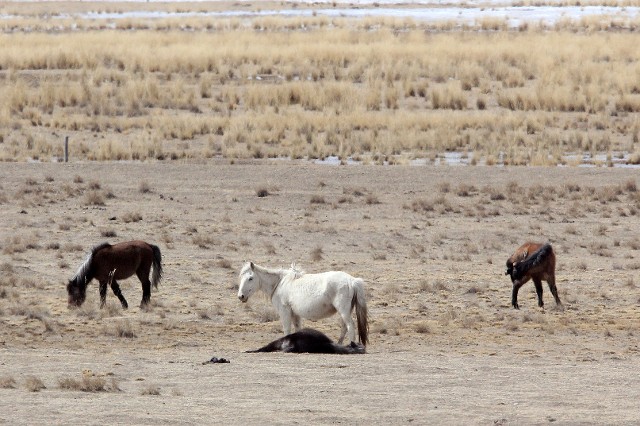 We saw many domestic Tibetan Pony (Equus ferus caballus) on the drive around Qinghai Lake. This are one of the only surviving subspecies of the wild horses, Equus ferus.
***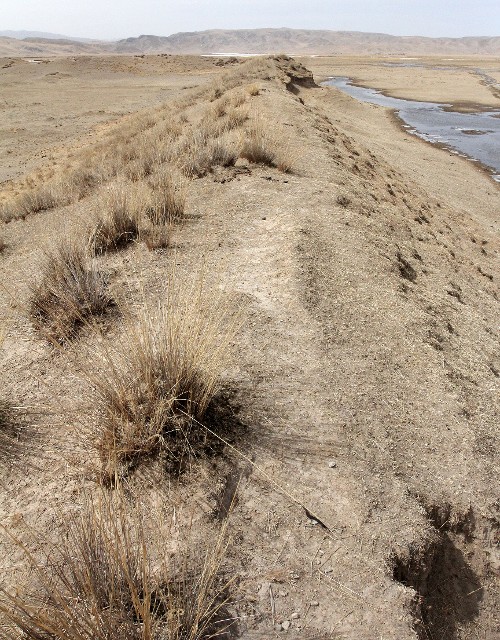 The ramparts of the massive walled city, abandoned in the high deserts of Qinghai.
***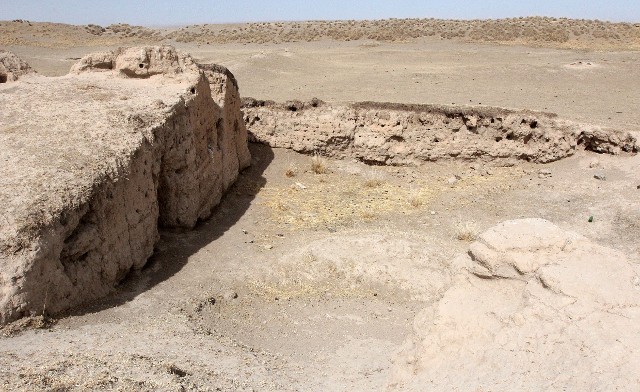 It was awesome trekking the ancient ruins of this civilization.
***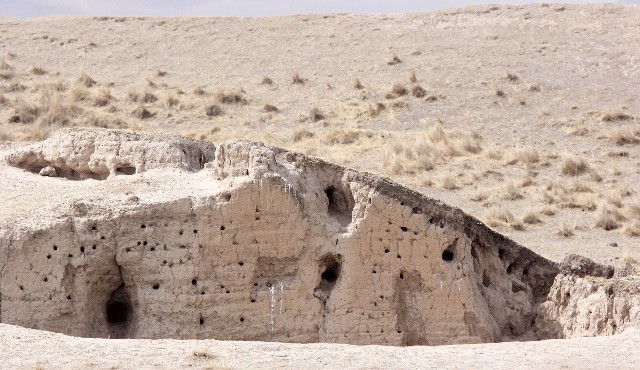 Who knows that this structure was...
***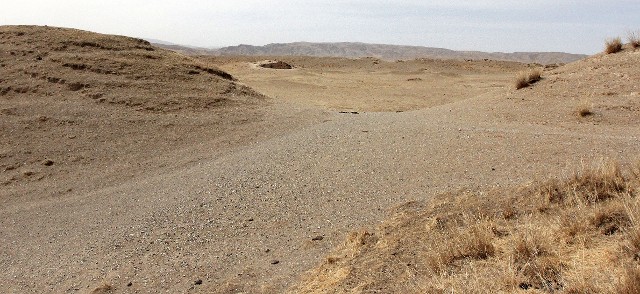 The entry gate to this city...
***
***
Some More Images of Przewalski's Gazelles (Procapra przewalski)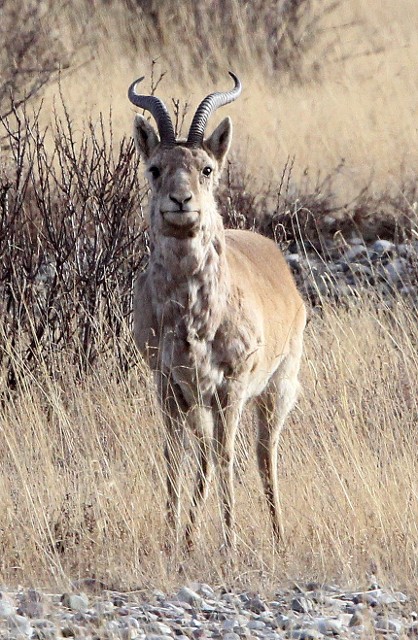 Przewalski's Gazelle
***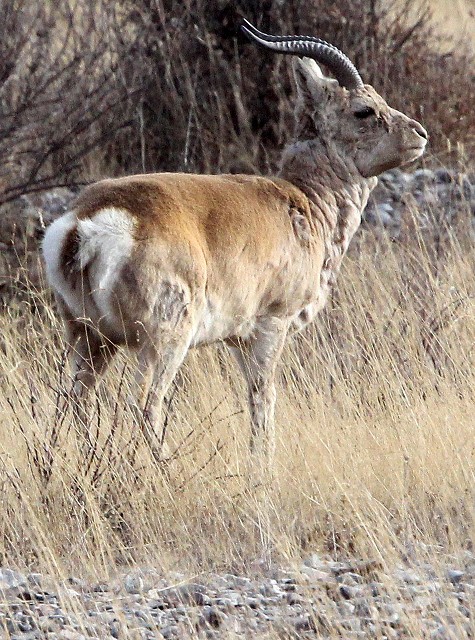 Very distinct compared to their Tibetan Gazelle cousins.
***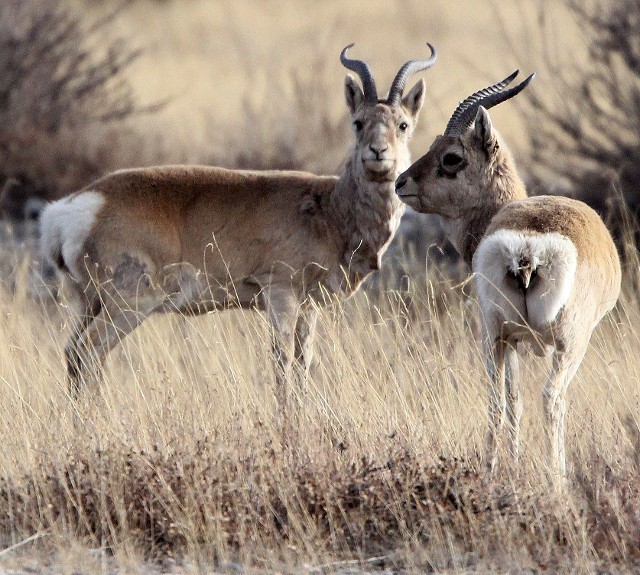 Przewalski's Gazelles at Lake Qinghai.
***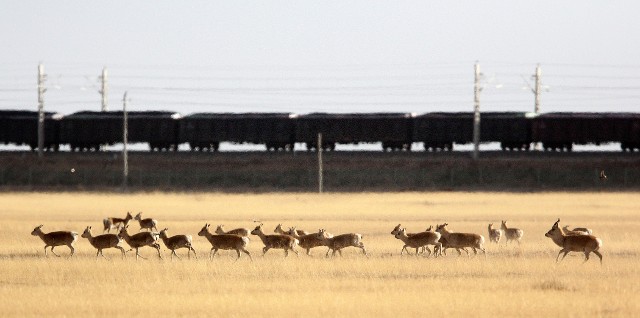 Their proximity to train tracks and main roads makes road kill surely an issue.
***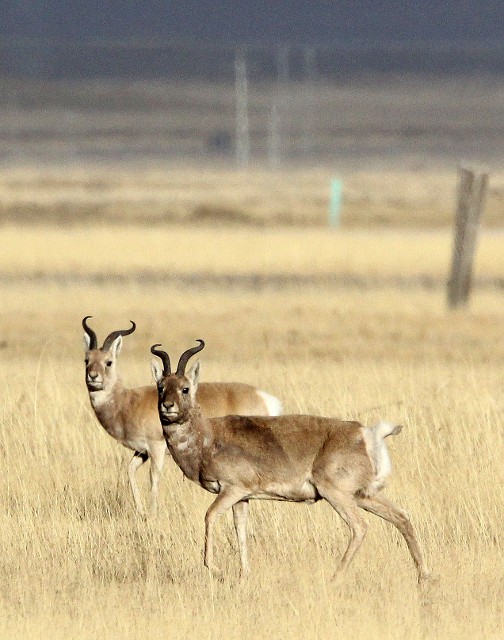 Very cool!
***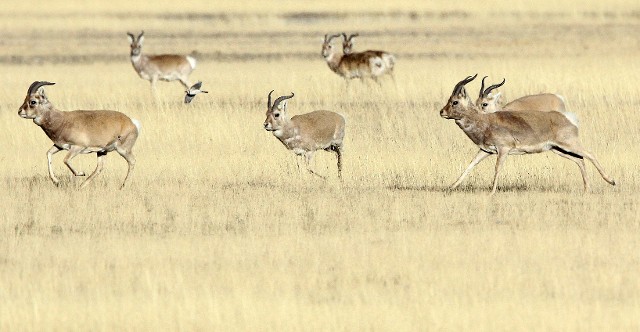 Amazing afternoon with the gazelles.
***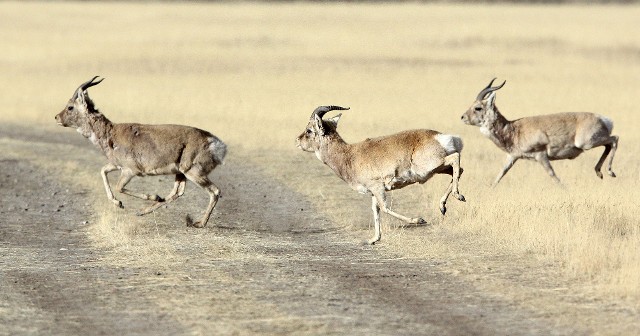 Crossing the main track of the reserve.
***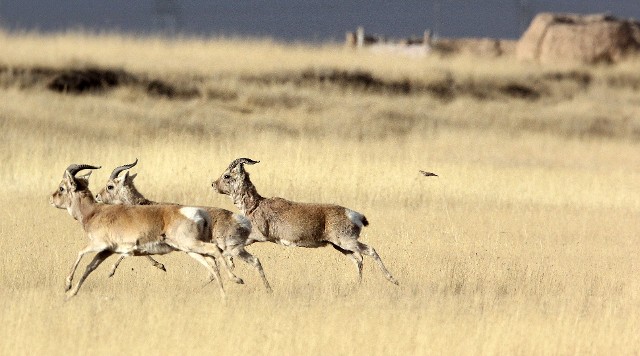 A trio of young males getting chased off by a skylark?
***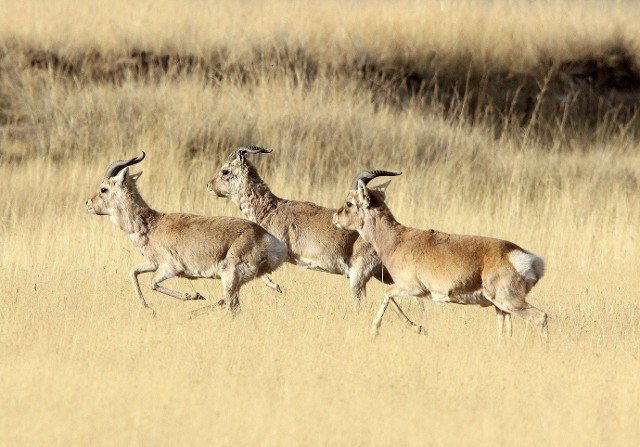 Awesome!
***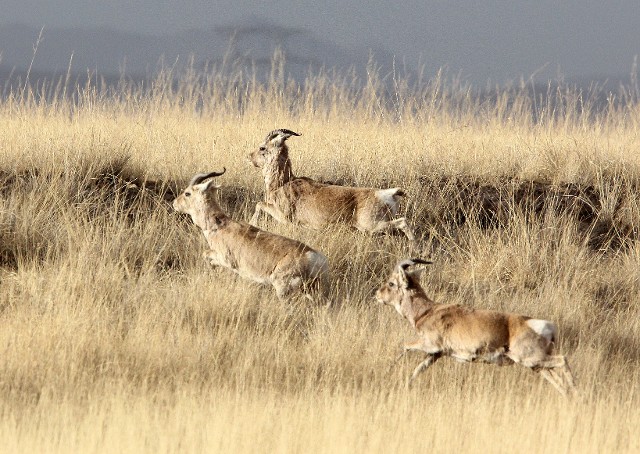 I can only hope my students have a similar experience next month.
***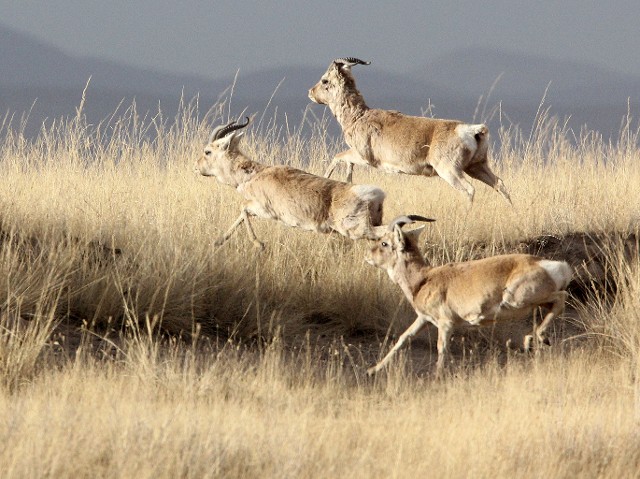 Procapra przewalskii
***
Mammal List Qinghai Lake March 2013
1. Przewalski's Gazelle (Procapra przewalskii)
2. Plateau Pika (Ochotona curzoniae)
3. Tolai Hare (Lepus tolai)
4. Tibetan Horse (Equus ferus caballus)
***
Birds of Qinghai Lake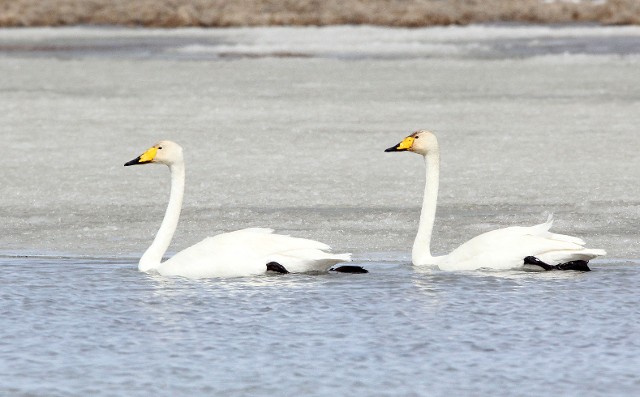 Whooper Swans in the frozen waters of Qinghai Lake.
***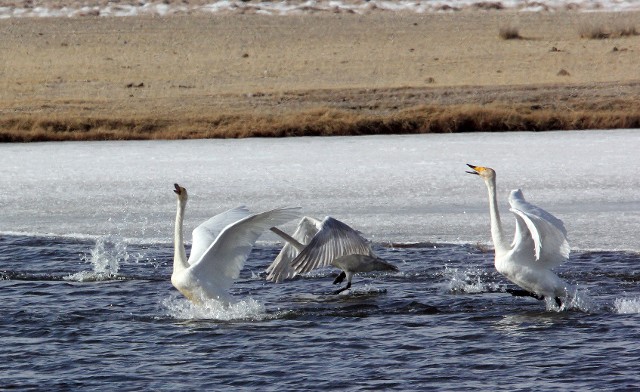 We came across a small group of Whoopers dancing in the ice-filled lake, evidently trying to impress each other.
***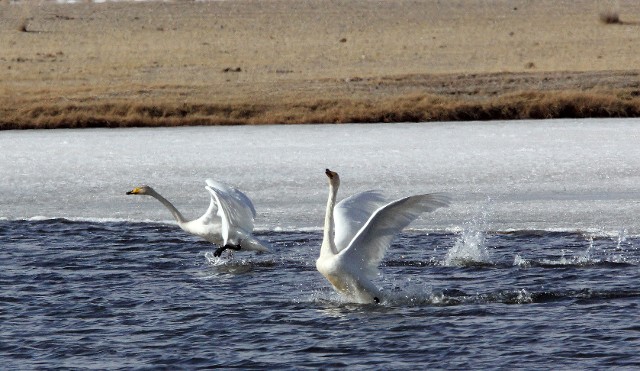 Dancing swans!
***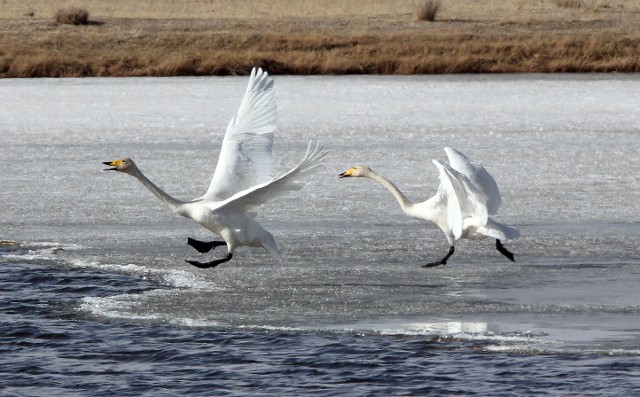 Whooper Swans
***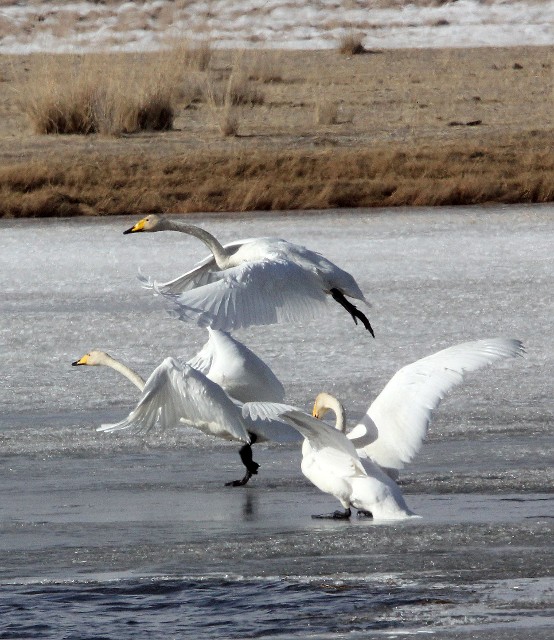 Whoopers!
***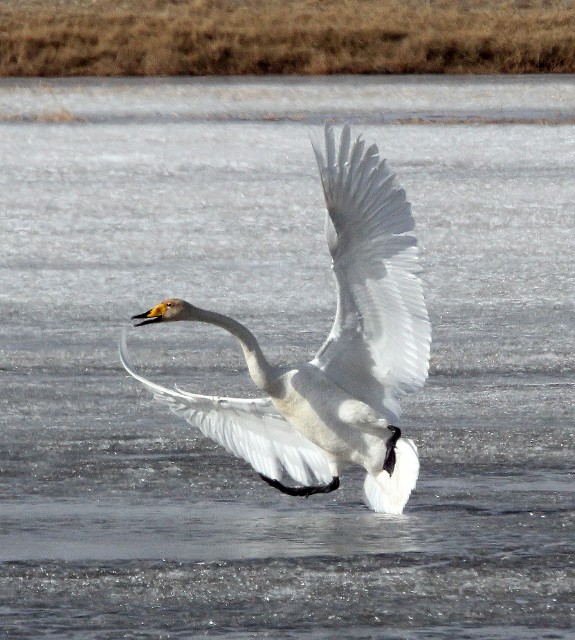 Spectacular!
***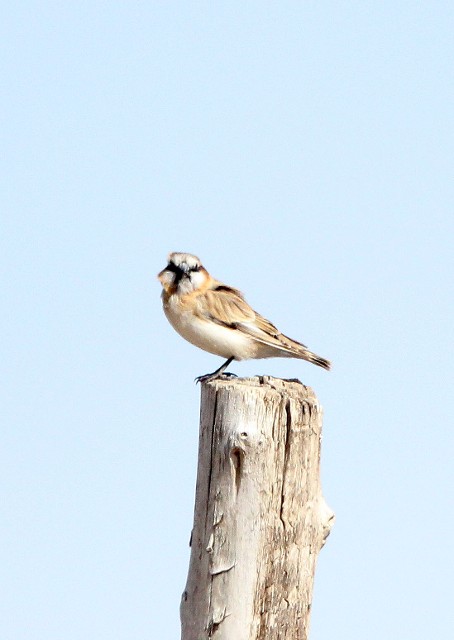 I think this is a Plain-backed Snowfinch.....
***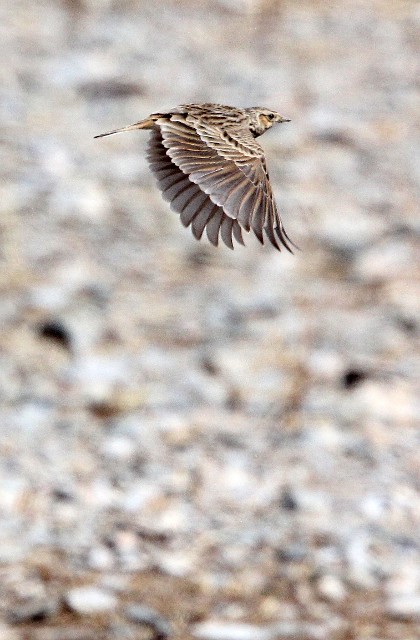 Oriental Skylarks were very common this season.
***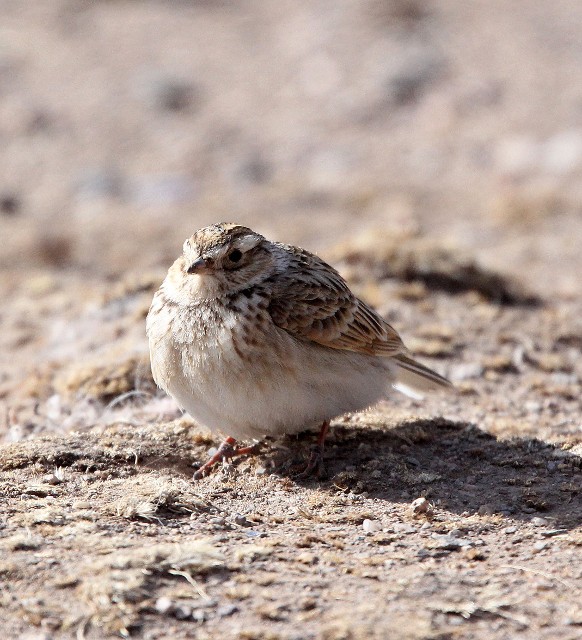 Blyth's Pipit (Anthus godlewski) ....maybe...?
***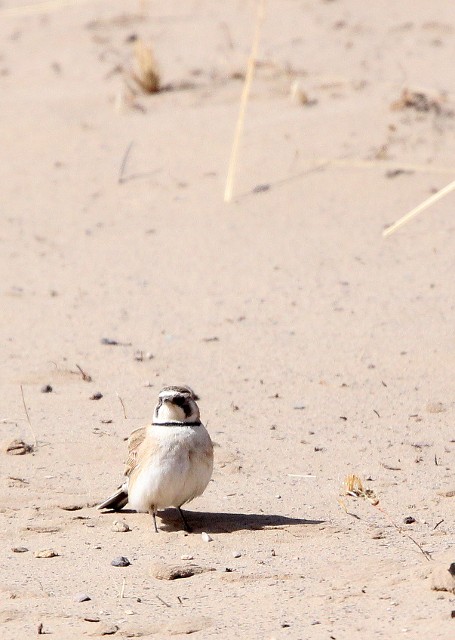 Horned Skylark
***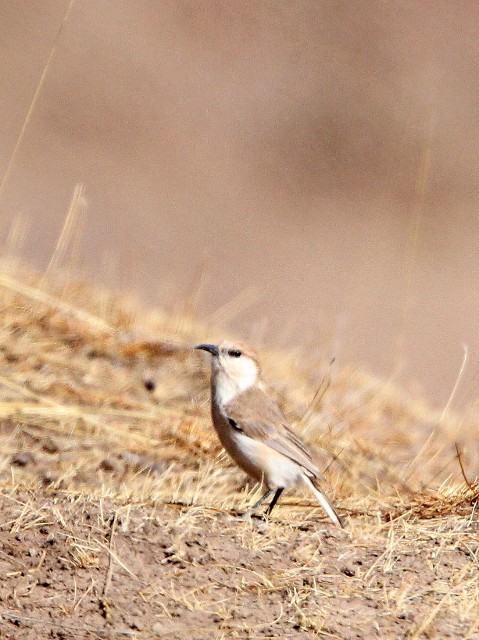 Hume's Groundpecker....I think....
***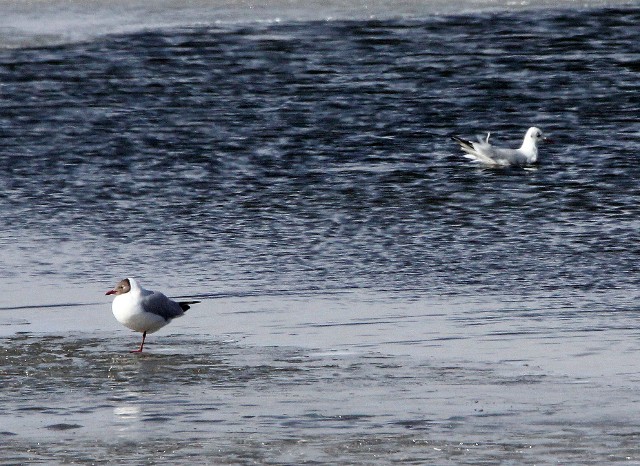 Brown-headed Gull in Qinghai Lake
***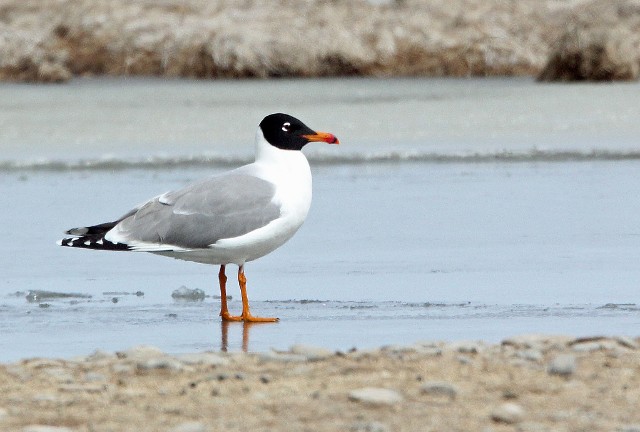 Black-headed Gull
***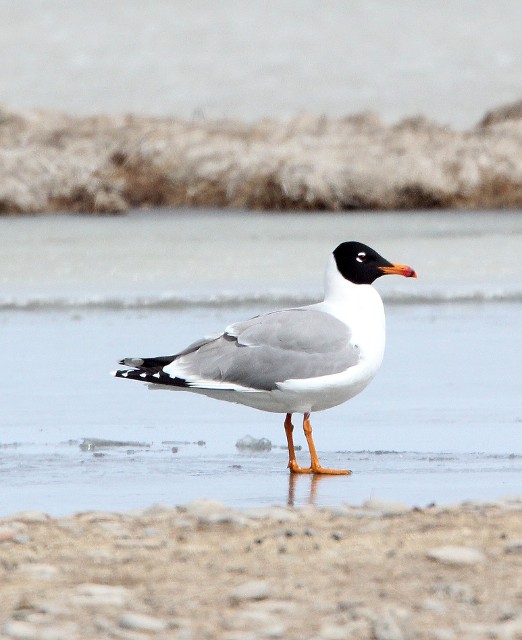 Black-headed Gulls breed in Qinghai Lake in the high thousands.
***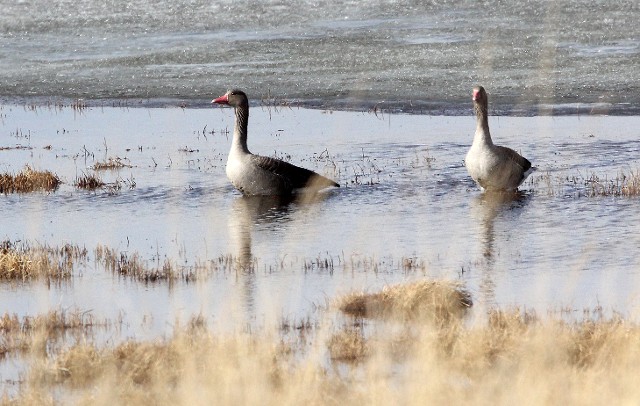 Greylag Geese
***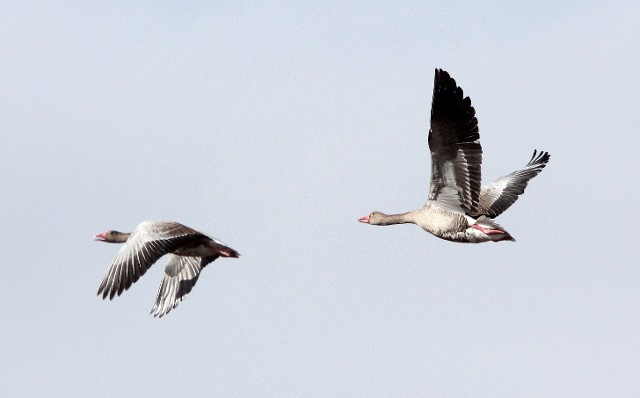 Greylags in flight!
***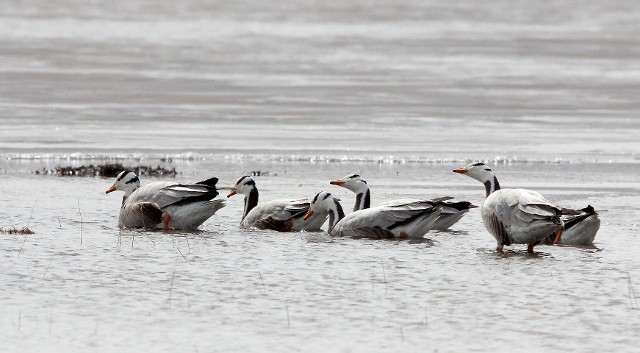 Bar-headed Geese in an ephemeral wetland in the high desert.
***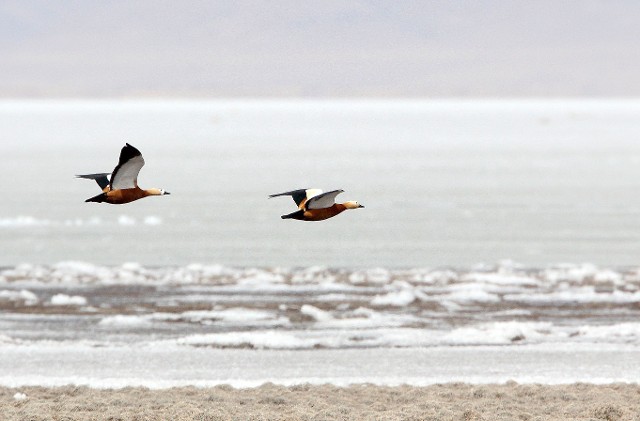 Ruddy Shelduck
***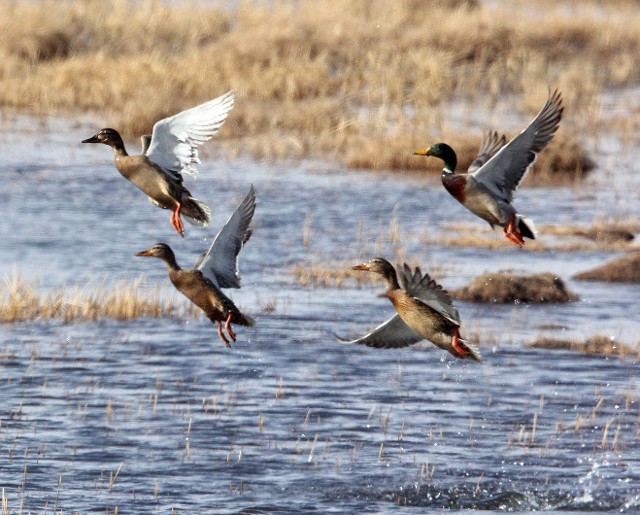 Mallards!
***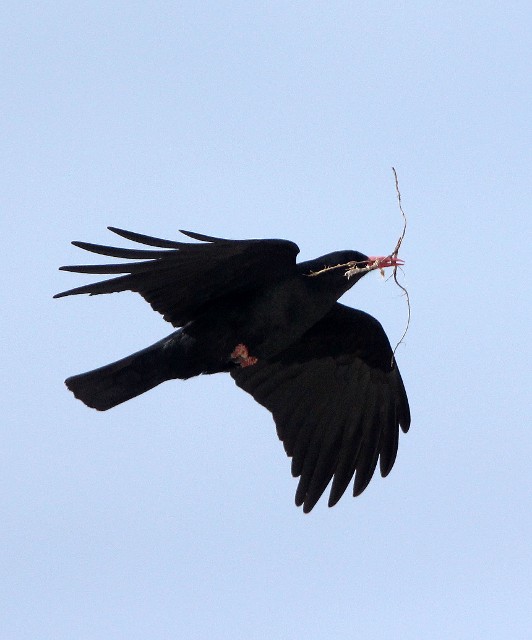 Red-billed Cough building a nest...
***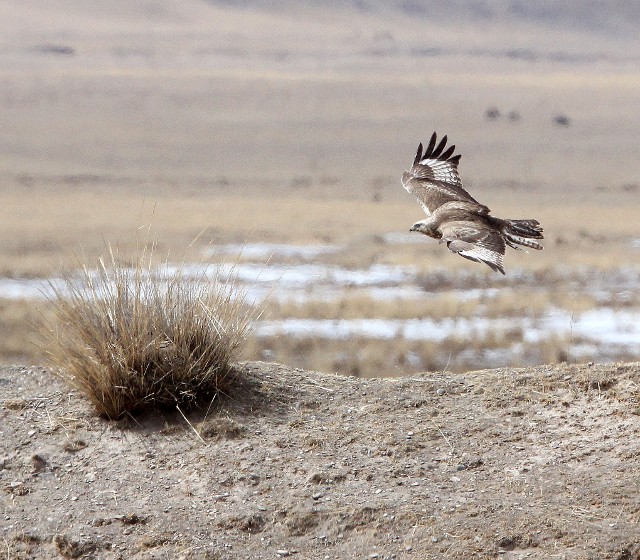 Upland Buzzard....maybe...
***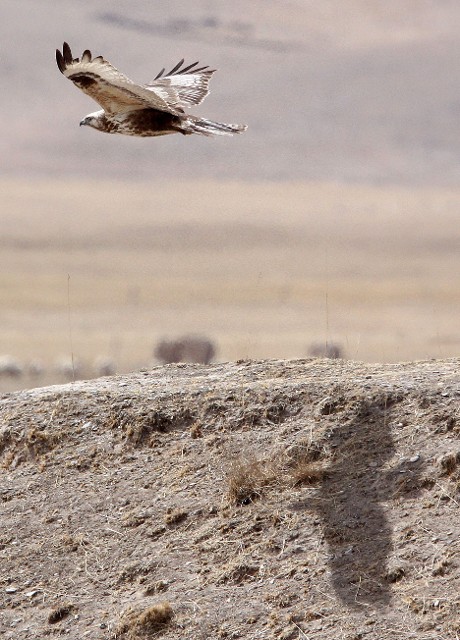 Upland Buzzard
***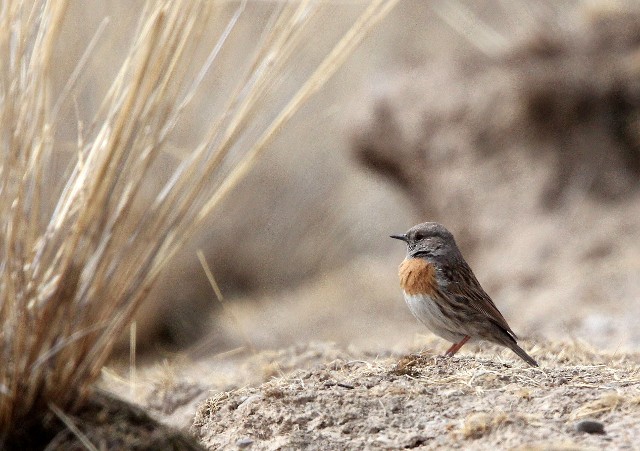 Robin Accentor....again...maybe...
***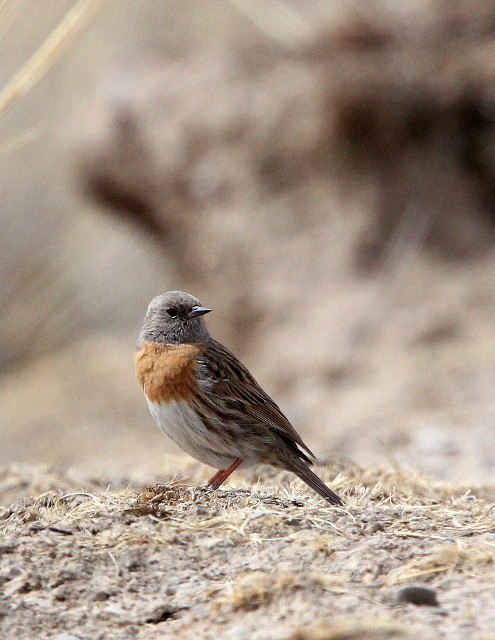 Robin Accentor
***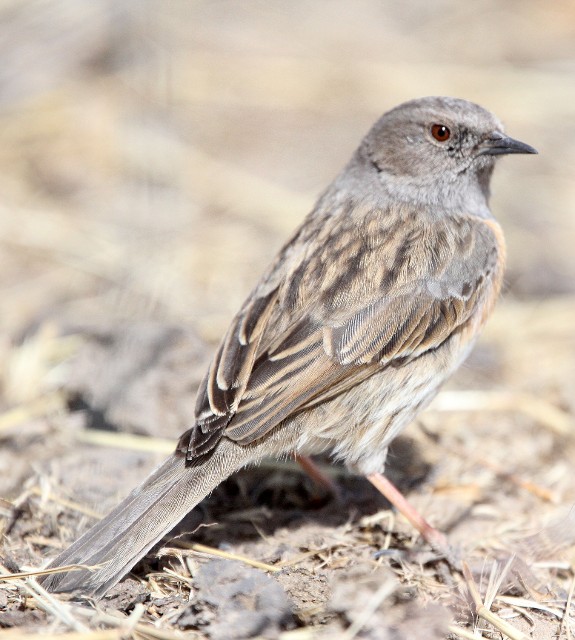 I have the hardest time with the LBJ's in Qinghai...I think this is an Alpine Accentor...Please feel free to correct the hell out of this!
***
Bird List for Qinghai Lake 2013!
Common Pheasant
Greylag Goose
Bar-headed Goose
Whooper Swan
Ruddy Shelduck
Mallard
Common Goldeneye
Common Merganser
Black-headed Gull
Brown-headed Gull
Upland Buzzard
Little Egret
Intermediate Egret
Brown Shrike
Black-billed Magpie
Red-billed Cough
Brown-breasted Bulbul
Oriental Skylark
Horned Slylark
Blyth's Pipit (Anthus godlewski)
Eurasian Tree Sparrow
White-rumped Snowfinch
Plain-backed Snowfinch (Pyrgilauda blanfordi)
White Wagtail
Alpine Accentor (Prunella collaris)
Robin Accentor (Prunella rubecoides)
Brandt's Mountain Finch (Leucosticte brandti)
More Stuff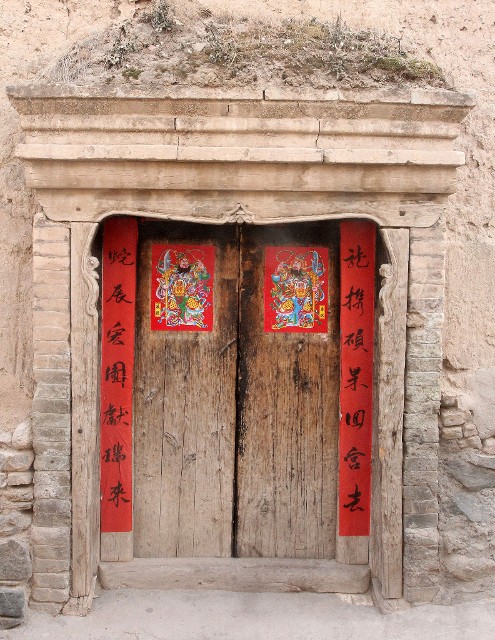 Strolling the back streets of Danger Ancient Town about an hour outside of Xining was actually quite nice. Their doorways were some of the most appealing parts of the 700-year-old town....that is quickly being destroyed and rebuilt in the typical Lijiang style...all new, filled with T-shirt shops and pubs....
***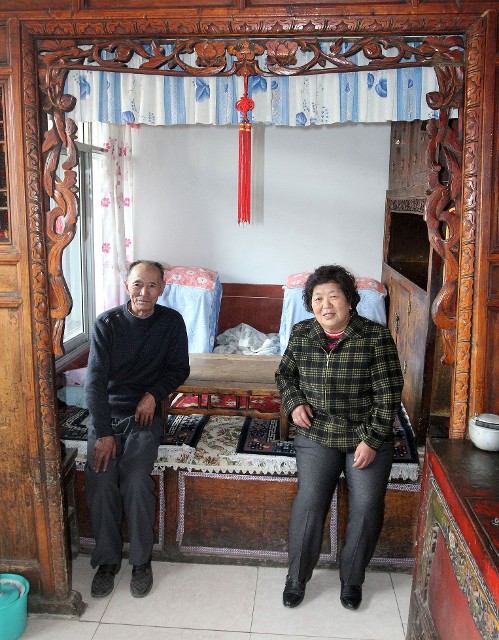 When I was spotted admiring their ancient doorway, they invited us in to their home for some tea and conversation. Such kindness really was the norm for this trip!
***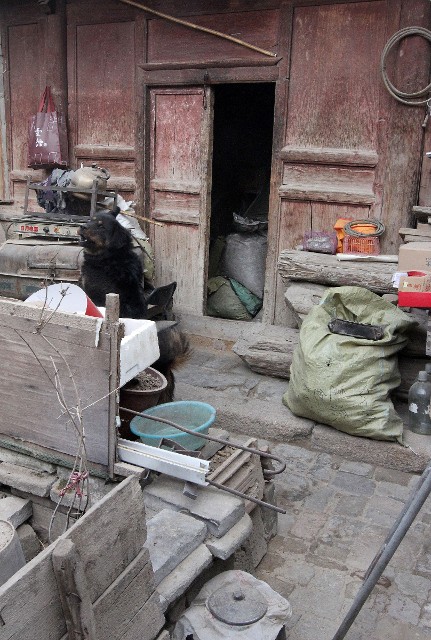 Their courtyard...
***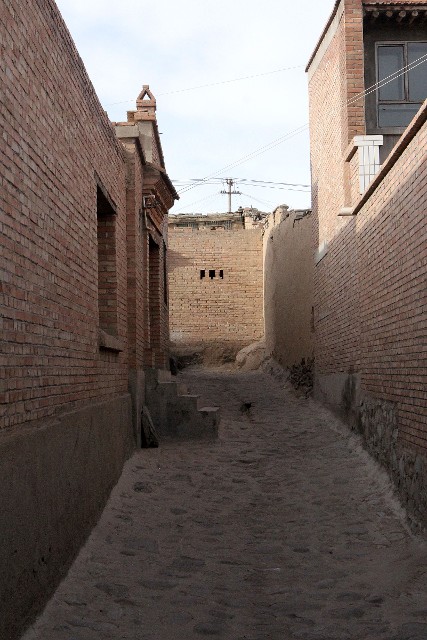 The ancient alleyways of Danger Town!
***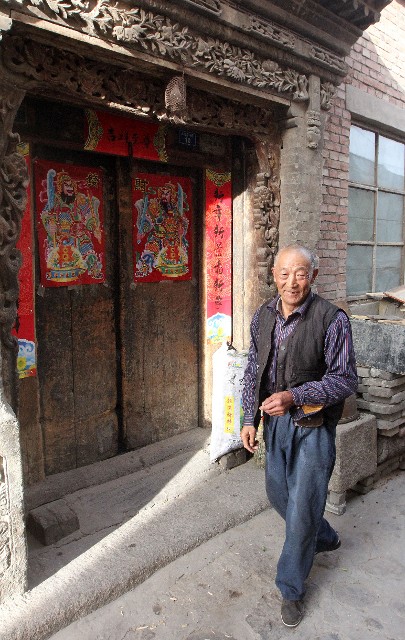 This man grew up in this house but really had no idea how old it was..."Well over 100 years..."
***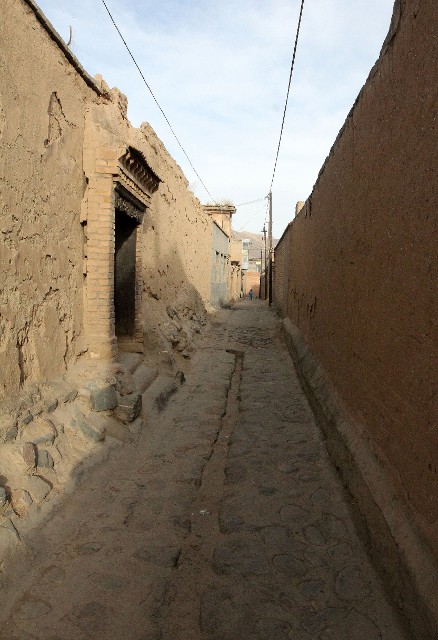 Danger Town!
***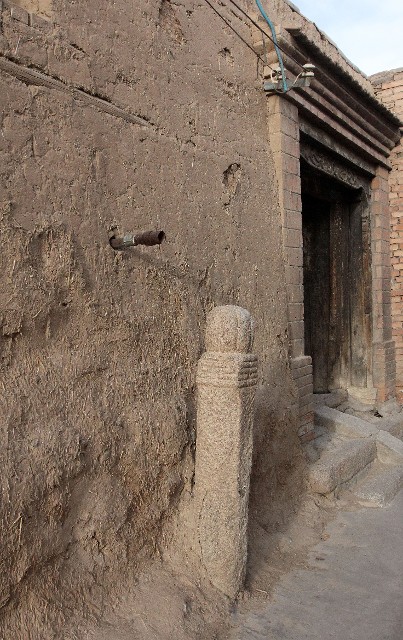 An old horse hitching-post in Danger Town...
***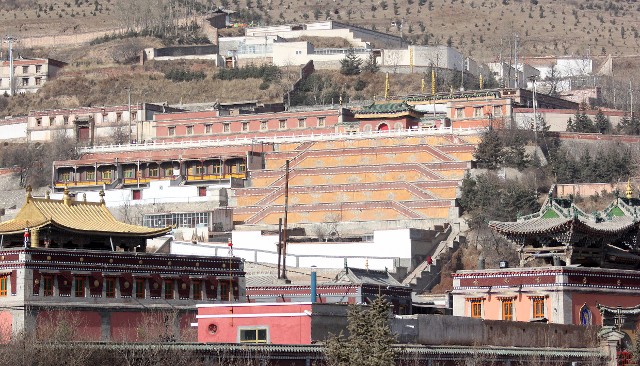 Kumbun (Ta'er) Tibetan Temple complex, near Xining, is one of the most sacred sites in the Tibetan Kingdom.
***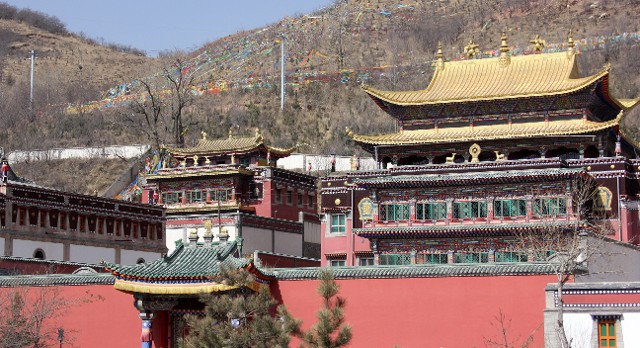 Kumbun Temple
***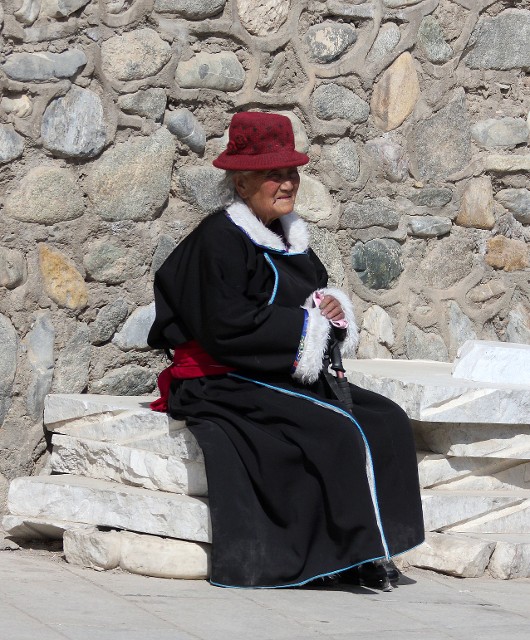 Old woman at Kumbun...
***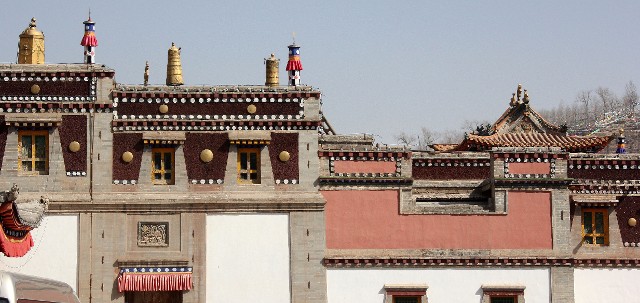 Kumbun Temple
***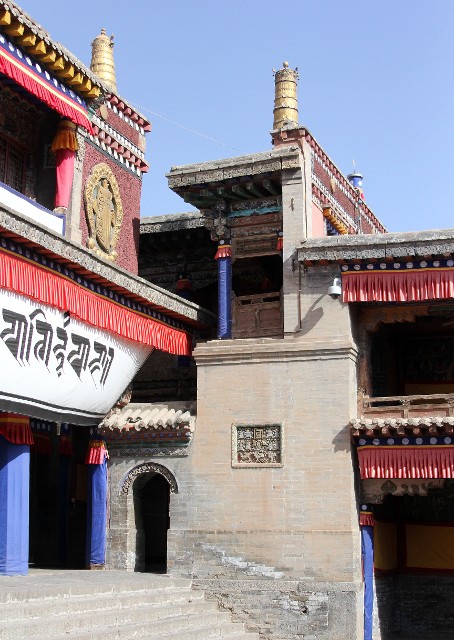 Kumbun is mainly Tibetan but there are some Han and Mongol aspects to the architecture.
***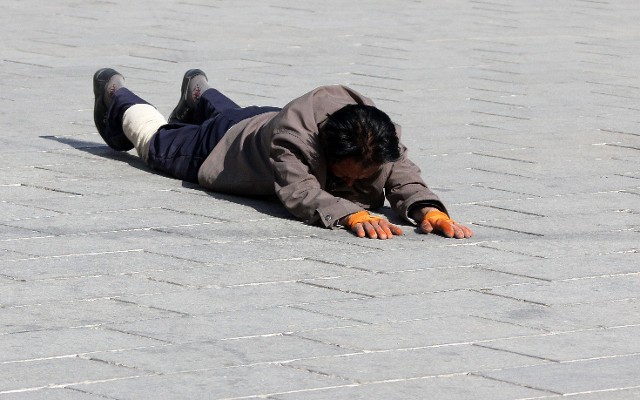 The Tibetan pilgrims are famous for doing the prostration trek all the way to Lhasa!
***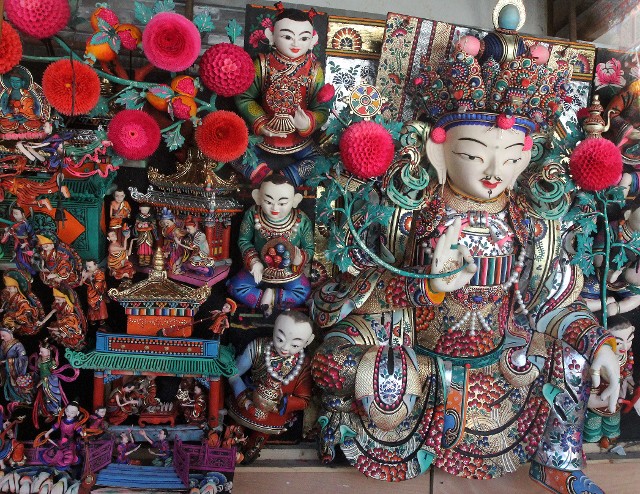 The great yak-butter carving of Kumbun!
***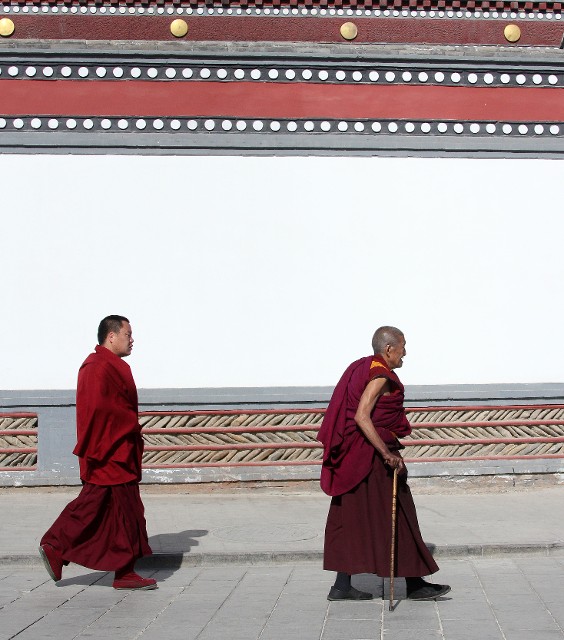 Two monks at Kumbun Temple.
***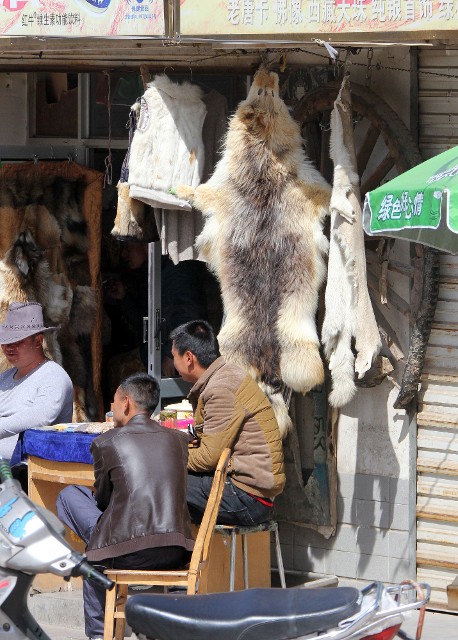 Interesting set of souvineers outside this sacred Buddhist temple...Firs, firs and more firs! And some of them actually looked like real wolves and foxes....Very sad.
***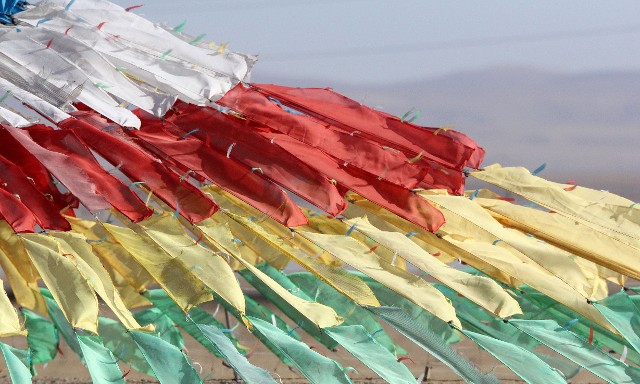 Qinghai Lake
***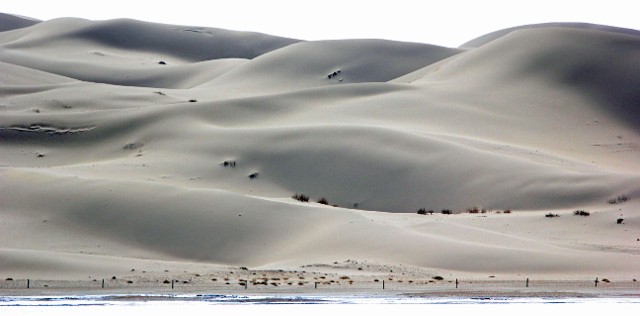 Sand Island Qinghai Lake
***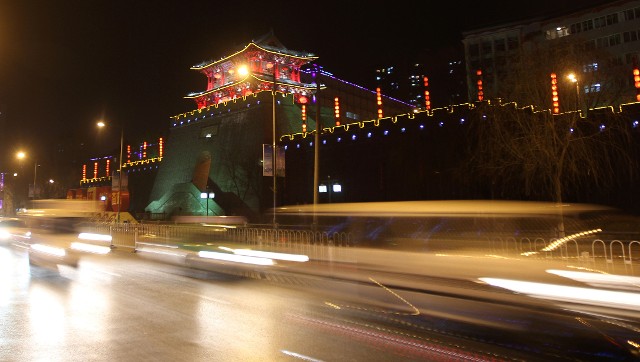 Xining's main gate...
***
Check out our Pbase galleries for more images of Qinghai Lake!
Przewalski's Gazelles of Qinghai-fu
People & Places of Qinghai Lake