Visit our Japan Galleries
How does one summarize and entire year in Japan in one simple web page? I mean, the journals I kept during my year in Japan are in excess of 400 pages themselves! One of these days, I will endeavor to type up those journals and compile them in to some sort of a book. A good title for them would be something like, "Memoirs of an Exchange Student"... I would have to change a lot of names to protect the innocent, but the story would be absolutely fascinating for sure.
The 1984-85 academic year ranks as one of the best years of my life for sure. I was in my junior year in college and I was kicking butt! Before college I was really very poorly prepared for higher education after a three-year break from high school (which I barely passed anyway!), but after some intense soul searching and catching up, I was getting the hang out of the college and academic scene and was pulling a 4.0 in all of my courses. Evidently my Japanese teacher, Mrs. Keiko Weitzman, noticed this and submitted my name to the international studies department which then notified me that I was eligible for a scholarship for a year studying in Japan!
I had never even thought about such a thing. And now I was thinking about studying for a full year abroad and in Japan nonetheless. Hell, when I was searching for my foreign language requirement in college, Japanese wasn't even my first choice! I tried to get in to Chinese language (there were a lot of cute girls in that class…) but it was full, so I had to "settle" on Japanese. And now I was looking at a letter telling me that I could potentially have a full year of study in Japan virtually fully-paid! It' really didn't take me that long to decide – I was going for it. Within a few short months and some simple hoops to jump through, I was on my way to Japan.
Next thing I knew, I was in a hotel in Yokohama, Japan spending a nice week with my girlfriend, Mieko getting the know the country a bit. I arrived a few weeks prior to my actual program start date due to her invitation. So with Mieko, I was introduced to Tokyo and Yokohama. We went to lots of pubs and sights and basically experienced the Japanese scene, which as all so new and different from this hick-Chicago-boy! We had a great time, but one of the highpoints of this time was when Mieko took me to meet Tomoko and see her "Buddha". I wasn't sure exactly why she wanted to take me to see someone's Buddha, and the fact that we were traveling to Kamakura to see this Buddha was totally insignificant to me (I had never heard of the Kamakura Buddha at this point).
So when I arrived at Tomoko's place and started to look at ground level for her Buddha, I was shocked beyond belief when they pointed up above the tree line to see the massive head of the actual Kamakura Buddha! I could not believe that this Buddha actually belonged to Tomoko's family! I suppose strictly speaking it doesn't, but her grandfather and father are the head Obousans for the temple, and the land surrounding the Buddha is all ancient family land. This was my first introduction to Japan's high elite. Later during the next year, Tomoko invited me to a tea ceremony during which I was served tea (as an honored guest) by Emperor Hiro Hito's grandson, who is the son of the current Emperor of Japan! I underdressed for both events significantly.
Well, after some great weeks in Japan, I was finally able to start my program at Waseda University, one of the top universities in Japan. We spent a few days in dorms initially getting to know our classmates who were mostly from American universities, and then mostly from the CSU, UC and Washington State school systems. All in all this was a great group and we had an amazing time together the entire year.
Thankfully we were not in dorms the entire year. I was so fortunate to be placed with perhaps the best family in all of Japan, the Mandai family. This family was phenomenal. From day one, they all treated me as family and included me in every aspect of their lives. My little sister, Sayaka, was great. She taught me so much about Japanese language and culture, even though she was barely eight years old. And my little bro', Teppei, was a little Denise the Menace! They were such a blast to hang around. Dad was absent 99% of the time as he was a typical Japanese "salary man" who spent six days a week working from until , and then sleeping all day Sunday. Now mom, Teruko, was a different story. We became the best of friends this year. We spent hours talking and sharing every day, and we even met outside throughout Tokyo to do things together all the time. I learned more Japanese language and culture through Teruko than I ever did in my intensive study program at Waseda. We became very close.
Throughout my year, I spent the majority of time with my peers at Waseda playing (serious study simply is not on the Japanese university agenda). We partied throughout Tokyo with basically one blow-out bash after another. I often missed the last train home and had to "sleep" in pubs until the next morning. I made some great friends that year and even developed a very serious relationship with a Japanese girl named, Momoyo, who even came back to the US with me and became my first wife. Although the marriage with Momo did not last, I consider my years with her to be very good years of my life. She is now a full professor of Japanese Language at Stanford University! Good for Momo!
During my year there, I was also able to travel extensively throughout Japan to such places as Kyoto, Kobe, Nara, Hakone, Shikoku, Kyushu and many other places. And I was also able to backpack around Southeast Asia for a couple months in the spring as well! I and a few buddies had a great time exploring and getting in to trouble in the region! I am very glad that I was able to experience this other side of Asia, as I may have returned to the US thinking that the Japanese culture was representative Asian culture as a whole, and nothing could be further from the truth.
What a great year this was for me. "Life changing" would be a good way to put it for how it affected me. While I have literally hundreds of images from this year, almost all are in the form of prints and I have not had the chance to scan them (and most likely never will). The following images are a few that were slides.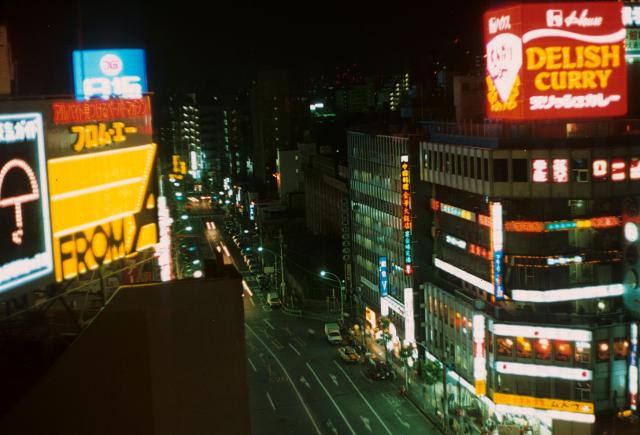 The view of Tokyo's Takadanobaba as seen from "Tak 11", the tallest building in the area. Momo and I used to scale to the top of the building for some "alone" time many weekdays. After a while the Waseda Kokusaibu gang would head up on Friday and Saturday nights for all out major bashes.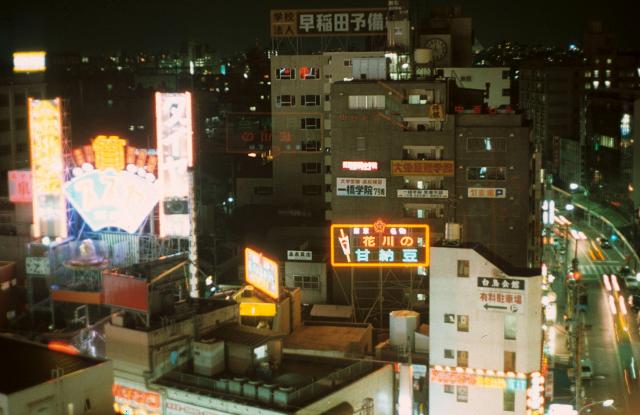 More views from "Tak 11".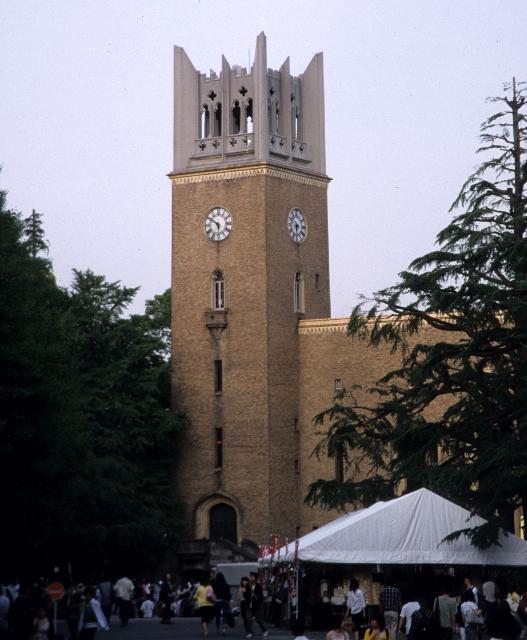 The Okuma Auditorium Tower, Waseda's main landmark. Our Kokusaibu classes were just a block away from this area.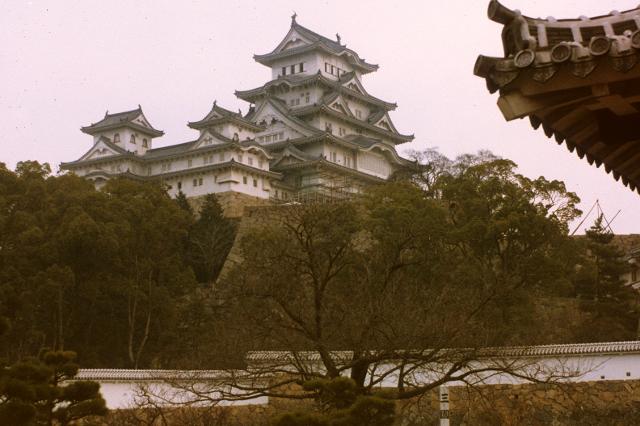 During the spring of 1984, Momo and I traveled throughout southern Japan. We spent a gorgeous day trekking the grounds and castle at Himeji. This is without a doubt my favorite castle in Japan.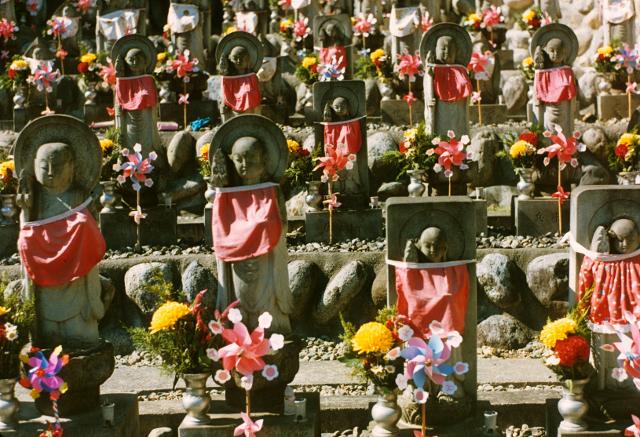 During my first week with the Manday family, we took a trip out to Chichibu. Initially I had no idea what the place was all about, and then Teruko told me that each of these jizo represented an aborted or miscarried baby. She was there to remember a baby she lost many years prior. The part that amazed me the most was how large this place was. It went on for for many mountainsides in every direction!
.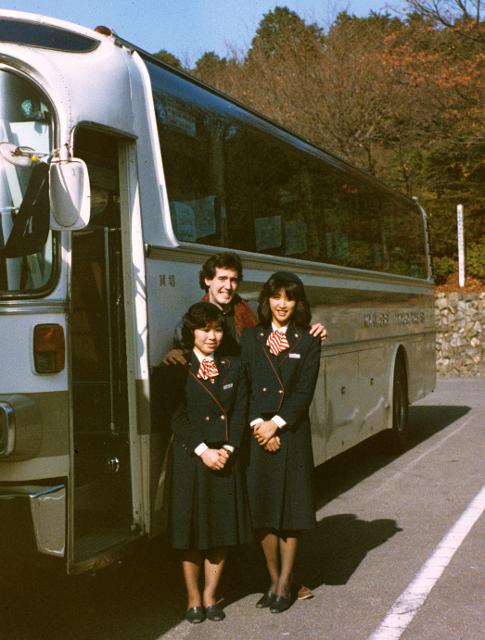 jpg
Me being typically flirty...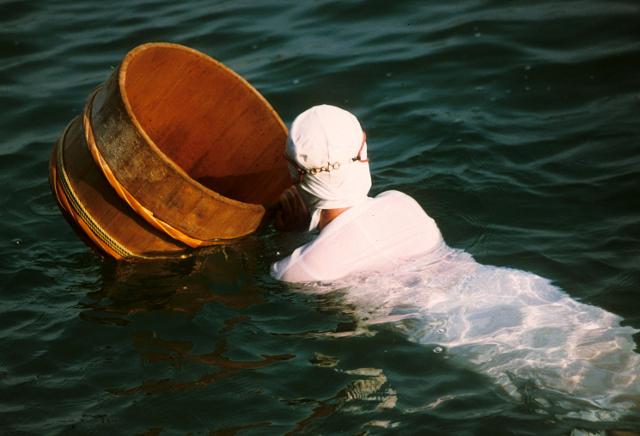 During another trip, we stopped at Mikomoto Pearl Island and watched the pearl divers dive for many minutes at a time. Very impressive. During this trip we also visited Ise Jingu (Shrine) and several other spots in this area.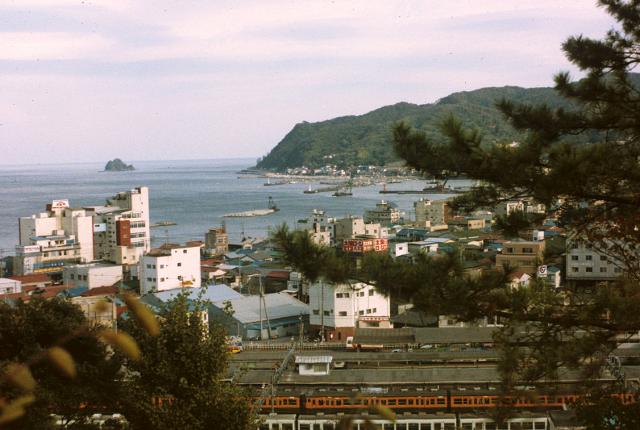 Momo and my first getaway, Atami, on the Ito Peninsula. Here we spent a week in the hot bath town of Atami relaxing in a very traditional ryoukan. We trekked the coastal areas and explored the countryside. Great trip!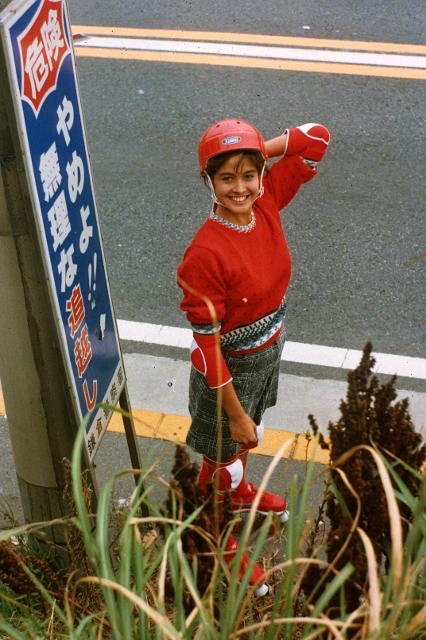 This person was a famous movie starlet who was filming a scene for a Japanese soap opera while we were hanging in Kamakura one afternoon.
This was the grandson of Hiro Hito, the Emperor of Japan at the time. I was invited to this ceremony by my friend Tomoko. It was a star-studded event with many high level dignitaries such as Prime Minister Nakasone and many others. I was very typically underdressed and so was my date, Momo, who was actually very angry with me after her "debute" on Japanese national television that evening!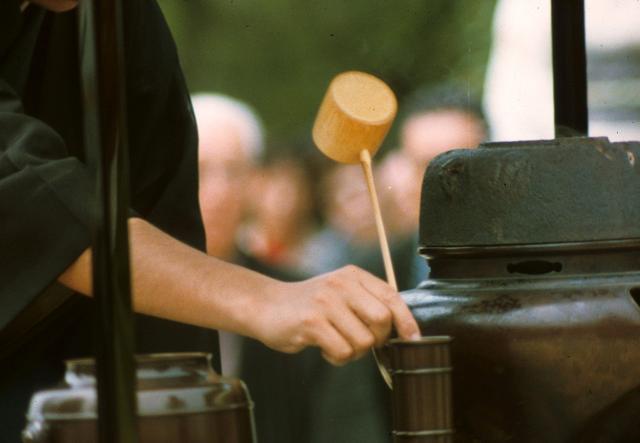 As amazing as this day was, I still find Cha no Yuu extremely boring.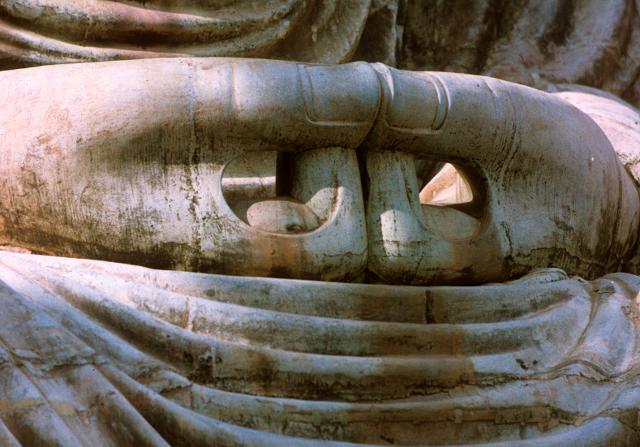 Some images of Tomoko's Buddha. Needless to say, I was a bit blown away that she was actually talking about the Kamakura Buddha!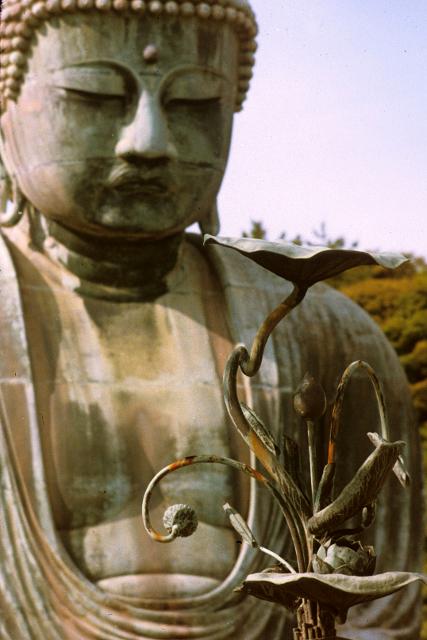 There are few Buddhas on earth more beautiful than the Kamakura Buddha.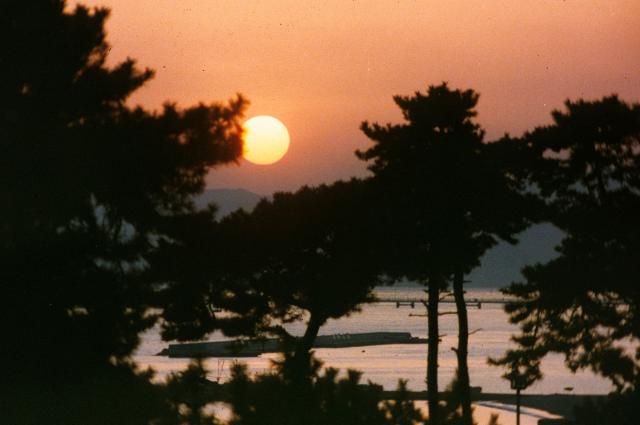 A lovely Kobe sunset during the spring trip to southern Japan with Momo.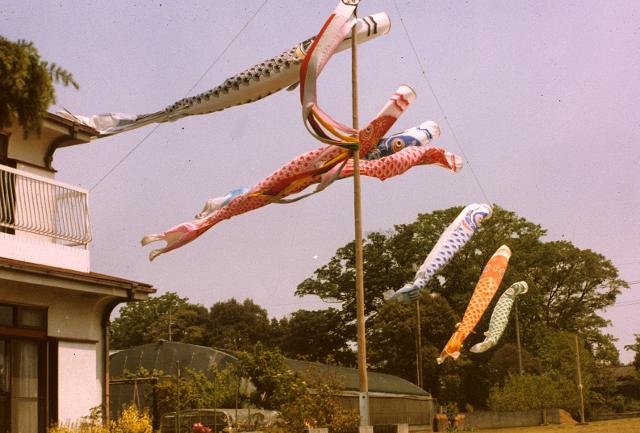 Children's day in Nerima Ku, my home town!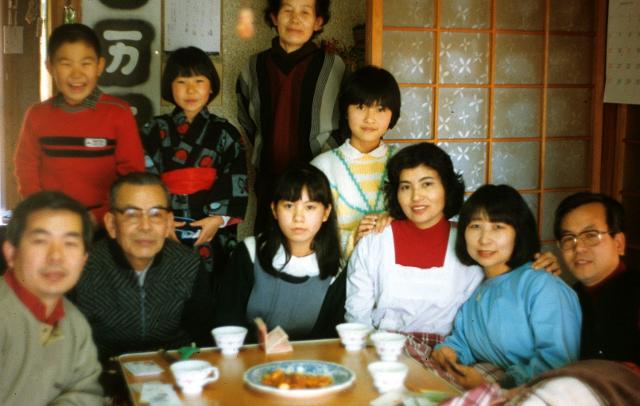 New Year's celebration in Tsuyama town in Okayama Prefecture. I spent a week on the Mandai homestead. An amazing experience! From the right: uncle Mandai, Teruko, Auntie, cousin #1, cousin #2, Sayaka (in the back with the black kimono), Teppei (in the red sweater) and Grandpa Mandai and dad! What a great family!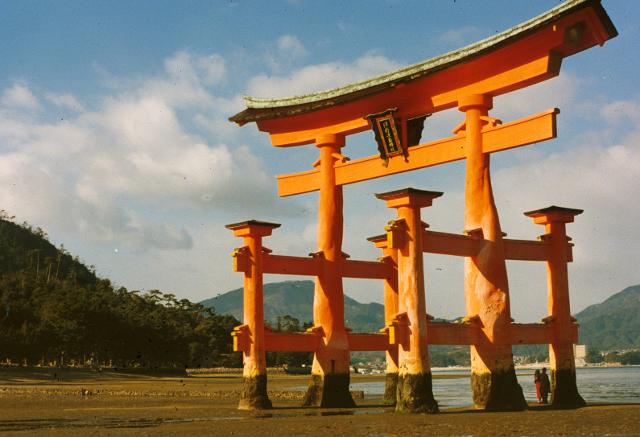 Miyajima seen during another trip to southern Japan.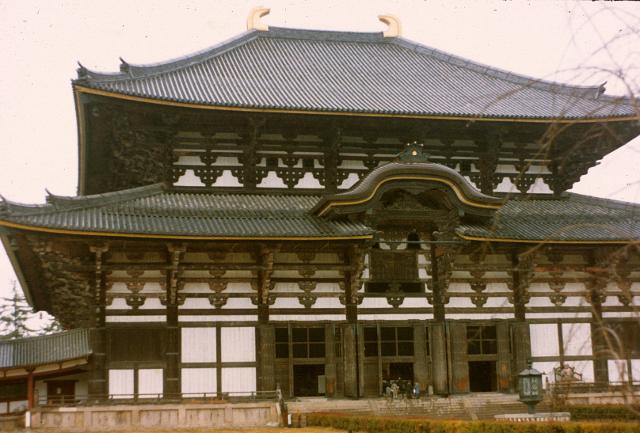 The impressive Horyuji Temple in Nara. This is still the world's largest wooden structure and used to house the world's largest Buddha (at that time). We spent a couple days touring Nara, one of the most spectacular and ancient cities in Japan.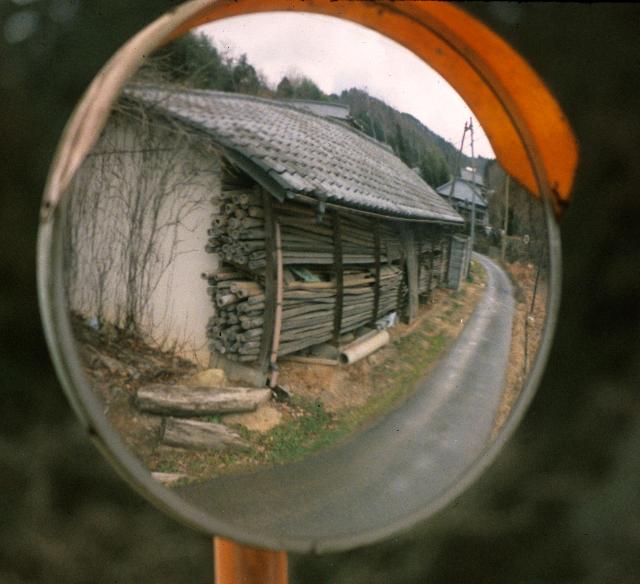 Just a walk through Tsuyama's countryside.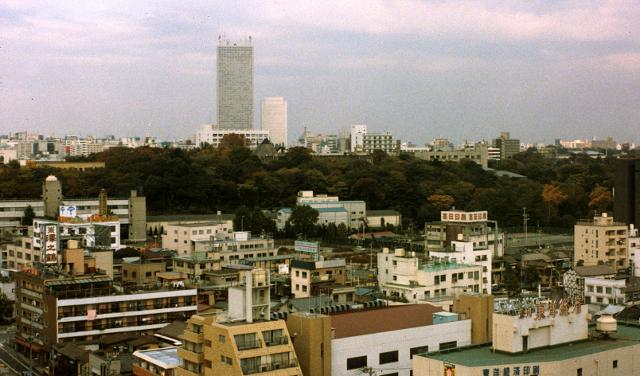 A view of Sunshine city in Ikebukero as seen from my twice-daily train own the Seibu Ikebukero line which took me all the way out to Nishi Oizumi on the outskirts of Tokyo where I lived with the Mandai family.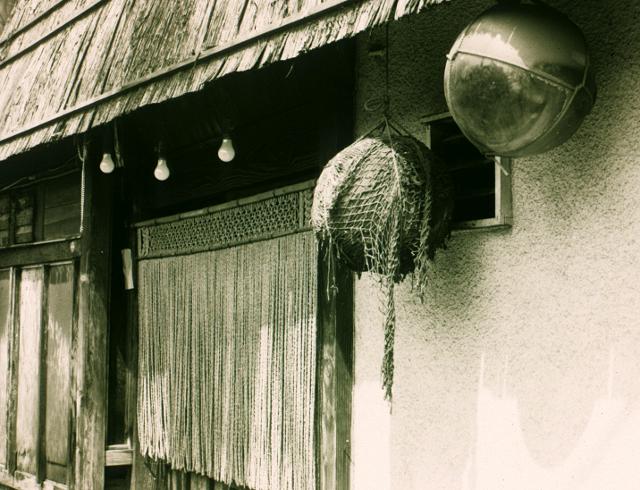 The entry way to my favorite pub in Nishi Oizumi. Often I would stop here after getting off my train and hang with the locals. During the year I was there, and the countless times I would stop to drink, I never once paid for a drink regardless of how hard I tried!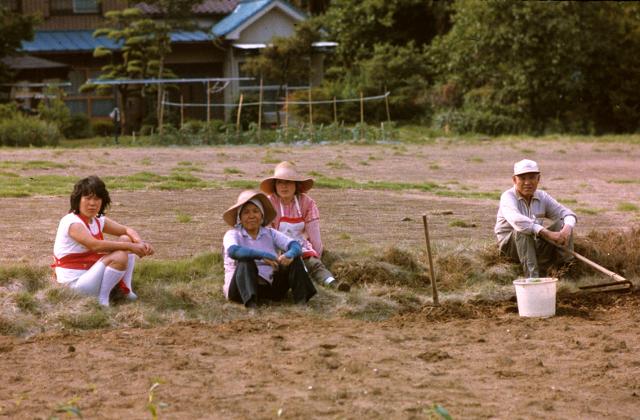 My neighbors in Nerima! At this time, there were still a lot of farms in the area. I bet I would not even recognise the place now.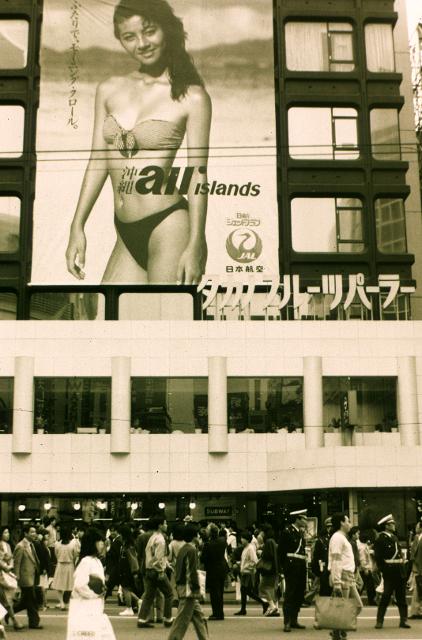 Shopping Sunday in Shinjuku!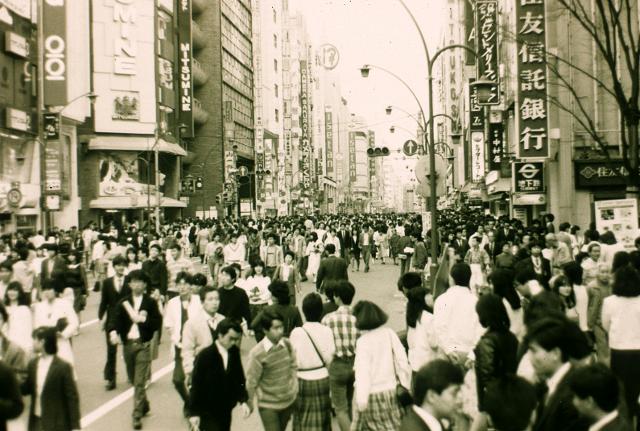 On Sundays, they would close the Shinjuku area to traffic, and it became a cool place to just hang out and people watch!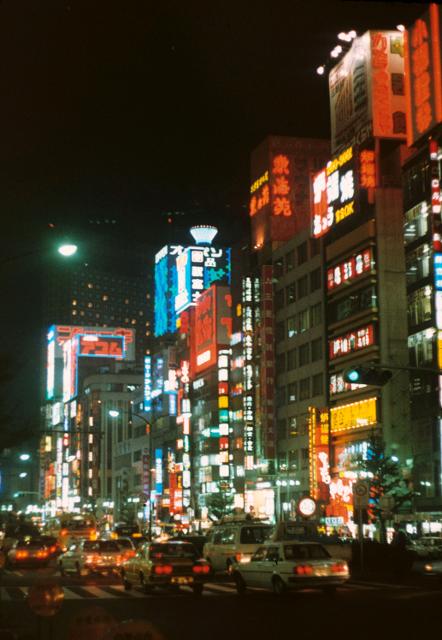 Shinjuku at night! I used to teach English here twice a week and then I would head over to Daikokuya, a tabehoudai/nomihoudai (all you can eat AND drink!)!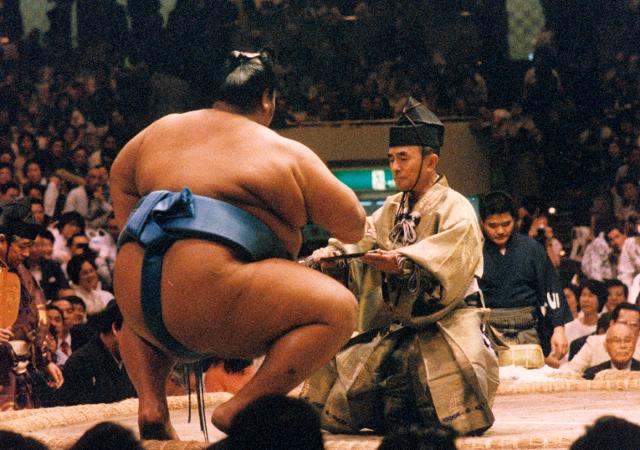 Konishiki! A couple of my buddies and I actually snuck up to the good seats and watched the grand champions battle it out! Great fun until we got caught and had to return to the nose bleed section. But while we were down on the floor, our neighbors got us pretty drunk on fine sake!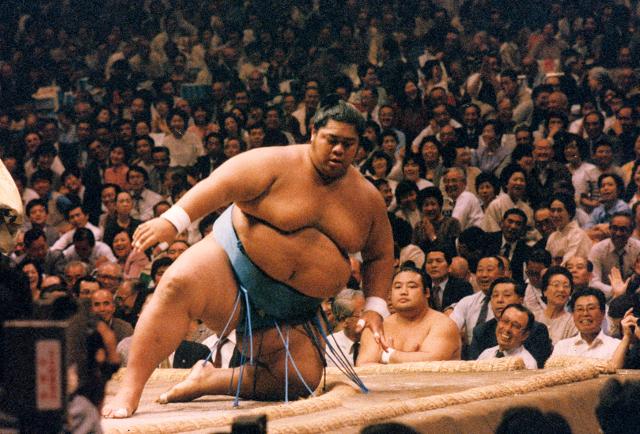 Konishiki!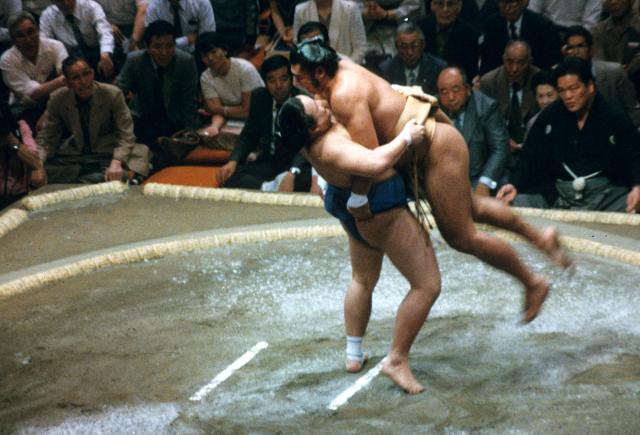 Some more sumo wrestlers battling it out.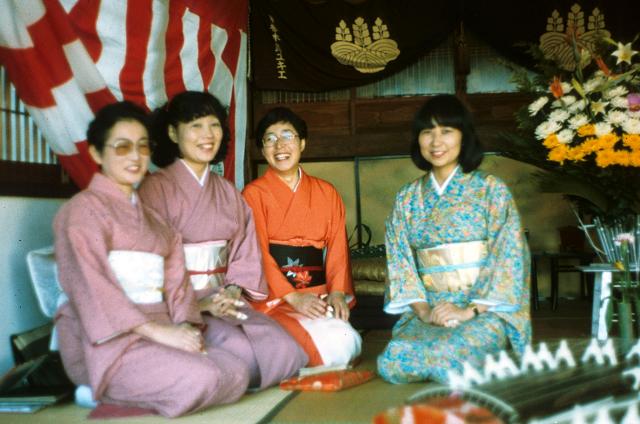 Teruko's koto recital. Teruko was gifted in virtually all areas of traditional Japanese arts and culture. She was a master koto player.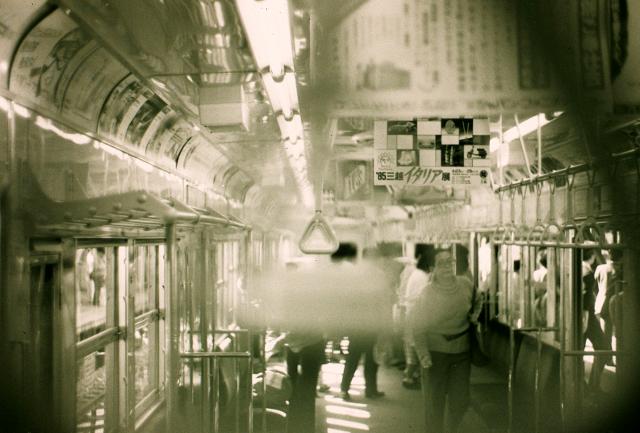 A unique view of the Yamanote-sen line.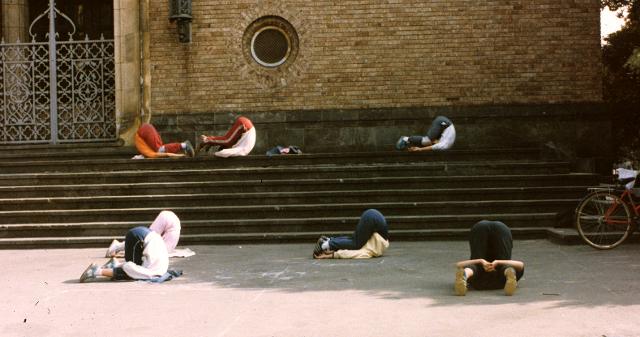 We used to call this "Butts in the Air" corner. For some reason certain Waseda clubs would come here and "exercise", but this club would be hear everyday and put their butts in the air. We loved hanging out here and seeing the variety of sights!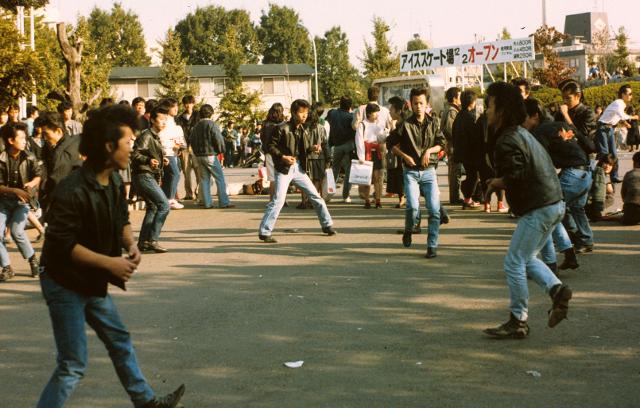 Yoyogi Park was another interesting place to go on a Sunday afternoon. In those days, kids would come there with their boom-boxes and dance all day long. The only problem was that they would not allow any outsiders to join in! Bummer!
Visit our Japan Galleries